 Sky Blue FC announced today they have waived goalkeeper Caroline Stanley. This announced comes just two days before start of 2017 preseason in the National Women's Soccer League.
The 23-year-old was signed to Sky Blue as a free agent before the start of the 2016 preseason. She started 11 games for Sky Blue FC in the 2016 NWSL season, where she registered a total of 940 minutes in goal. Stanley made three saves and collected an overall record of 2-4-4.
Before signing on with Sky Blue, the goalkeeper spent the 2015 season with the Seattle Reign. She was an amatuer player at first beofre she signed with the club in July of 2015. She made one appearance for the Reign in an away match against the Boston Breakers on August 1, 2015.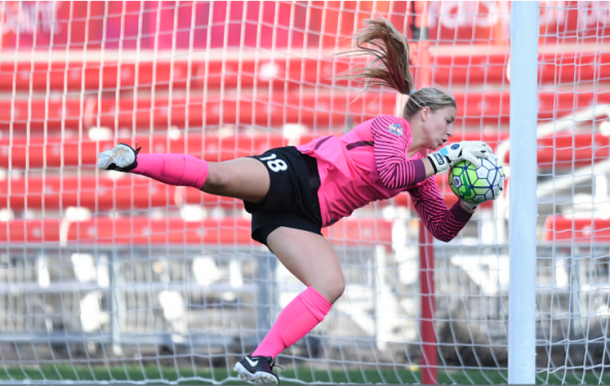 Stanley spent her college career playing on year at University of Missouri before transferring to the University of Southern California. She started 17 out of 18 matches her sophomore year, making 95 saves. In her junior year she started all 20 games for the Trojans, making 78 saves. By her senior year, she started every game and captained the team. She was also the only senior to start, setting game records of most saves per match.
On the international level, the goalkeeper has been part of multiple youth teams representing the United States throughout the years - from U-15 all the way to the U-20 level. Most notably she took part in the CONCACAF U-17 World Cup Qualifiers in 2010, where she saved a penalty kick to beat Costa Rica.
Sky Blue FC will begin their preseason ahead of the 2017 NWSL season on Monday, March 13. They will open their fifth season in the league with on the road against Seattle Reign on Saturday, April 15. Kick-off is at 10 p.m. Eastern Time.