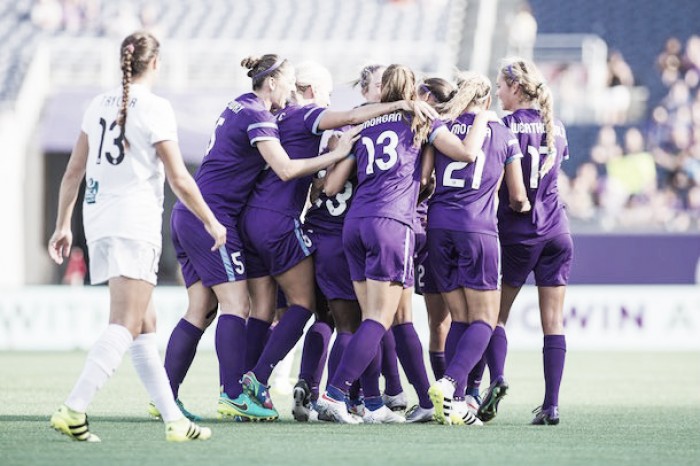 The Orlando Pride have announced their roster for their preseason camp commencing this week. Last year's expansion team is moving into 2017 hoping to improve on their second to last place finish in their inaugural season. The roster is very heavy on forwards, but with star Alex Morgan in Lyon, the competition to take her place will be fierce.
Four goalkeepers selected
The four goalkeepers on this roster include Aubrey Bledsoe, Ashlyn Harris, Amanda Kopale, and Hannah Seabert. Harris, who has been a regular call-up to the USWNT for the past few years started for the team last season. Bledsoe was rostered with the team last season as well, so most of the competition will be between Kopale and Seabert, who are both trialists. Having just graduated from Florida State and Pepperdine, respectively, they will both be trying to make their mark this week and break into the team.
Ten defenders announced
Laura Alleway, Mckenzie Berryhill, Steph Catley, Monica Hickmann Alves, Alanna Kennedy, Ali Krieger, Cami Levin, Camila Martins Pereira, Toni Pressley, and Lorina White all make up the ten defenders named to this roster. Krieger, formerly of the Washington Spirit, is another USWNT player who will bring star power to the team and stability to the back line. Catley and Kennedy will not be in camp due to commitments in Australia. White, who recently graduated from Ball State University, is the only trialist defender.
Five Midfielders named
Jocelyn Blankenship, Nickolette Driesse, Kristen Edmonds, Maddy Evans, and Dani Weatherholt will compose the Pride's midfield as of preseason. Blankenship is a trialist who recently graduated from Loyola Marymount University, and Driesse is one of the team's draft picks. In her time at Penn State, she was a team captain and named to the All-Big-Ten First Team, among other honors. Edmonds, Evans, and Weatherholt are all returning after playing with the team during 2016.
Eleven forwards round out the roster
The Pride's roster this preseason is very lopsided in that eleven players will be competing for a very limited number of attacking positions. Christina Burkenroad, Danica Evans, Jamia Fields, Sarah Hagen, Rachel Hill, Alex Morgan, Kim Reynolds, Carol Rodrigues, Jasmyne Spencer, Tabitha Tindell, and Chioma Ubogagu will all be trying to find their place in the Pride's lineup. Morgan, Hill, and Rodrigues will not be in camp, but there are still plenty of players more than willing to take their spot. If the numbers remain similar on the other end of preseason, the pride's lineup will be very attacking minded, and not by choice.
Roster by Position
Goalkeepers (4): Aubrey Bledsoe, Ashlyn Harris, Amanda Kopale, Hannah Seabert
Defenders (10): Laura Alleway, Mckenzie Berryhill, Steph Catley, Monica Hickmann Alves, Alanna Kennedy, Ali Krieger, Cami Levin, Camila Martins Pereria, Toni Pressley, Lorina White
Midfielders (5): Jocelyn Blankenship, Nickolette Driesse, Kristen Edmonds, Maddy Evans, Dani Weatherholt
Forwards (11): Christina Burkenroad, Danica Evans, Jamia Fields, Sarah Hagen, Rachel Hill, Alex Morgan, Kim Reynolds, Carol Rodrigues, Jasmyne Spencer, Tabitha Tindell, Chioma Ubogagu