Two games, six points. That's a start to an MLS season the Portland Timbers have never had - their previous high point total in March was four, and as that point total indicates, they've never won more than a single game in the first month of the season. Until now.
The Timbers scored a fantastic goal on Sunday but didn't really do much else, en route to a 1-0 win over the winless LA Galaxy (wow, that feels good to write).
The good
Road win. The Timbers finally shook off their "can't win on the road" nightmare, at a place they like to win. This was their first regular season road win since October 2015, in this same venue, and their first road win at all since MLS Cup 2015. Can this narrative die now?
Fast start. The MLS Timbers have never earned more than four points in the month of March, until this season. They've also, obviously, never won more than one game. While two games out of 34 mean relatively little, max points from those games do mean the "slow start" narrative can also die.
Bench depth. One of coach Caleb Porter's keys this offseason was shoring up depth throughout the squad. That depth was tested this week with Liam Ridgewell and Vytas out, and Alvas Powell as a last minute decision. And that depth did the job. Roy Miller was serviceable and steady, and Marco Farfan showed why he's going to be a force in a few years. People misunderstand "bench depth" to mean "we have to have a bench that's as good as our starters" - that's incorrect. Bench depth means guys that can come in, do a job for 90 minutes, and not make a ton of mistakes, and that's exactly what we got yesterday.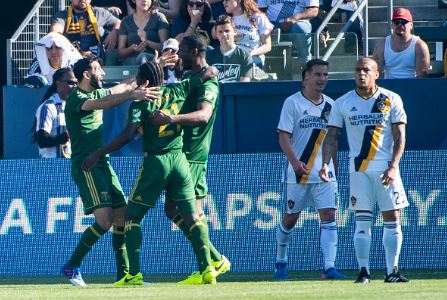 That goal. The Dos Diego's goal was amazing - but I want to focus your attention on Sebastian Blanco's absolutely perfect pass to a full-sprint Diego Chará, who didn't need to break stride or adjust in order to nod the ball on to Diego Valeri, who returned the favor with a square ball to Chará for the tap-in. But seriously - I could watch that pass from Blanco all day.
I saw this kind of passing accuracy from him in the preseason, and thought that once it got dialed in, it would be amazing - but that's next-level stuff.
The bad
Most of the game. The Timbers went a man up after Jelle van Damme was sent off in the 34th minute for a...questionable second yellow, about which more later.
After the sending off, though, the Timbers very much looked like the team playing a man short - they didn't defend the ball very high, they were very conservative, and in the end Jake Gleeson was the only reason they claimed all three points, thanks to a crucial save in the dying seconds of stoppage time.
David Guzmán. As much as he works, as much as he is going to be key for the Timbers this season, he can't be that key if he keeps going to ground. There's always an adjustment period for central and south American players as they learn that theatrics aren't really tolerated here, and Guzmán will get there, but that adjustment period needs to happen quickly or he'll become a liability.
Ben Zemanski. I get the funny quality of "all the Zips", but you know what? memes are mostly dumb. Also dumb: playing Ben Zemanski. I made the argument earlier that depth doesn't need to be as good as the front line starters, but the drop-off from even depth to where Zemanski is now is precipitous.
Pre-injury, he was serviceable - he was a lot of hustle and a little bit of skill. Post-injury, though, the way the Timbers are set up now, he's definitely the weak link in the chain. Jack Barmby would have been a better option, and the fewer minutes Zemanski sees this season the happier I'll be.
The ugly
Jelle van Damme. I mean, have you seen this guy? He's a nasty player who, even if the second yellow was harsh, probably deserved his sending off. It won't be his last.