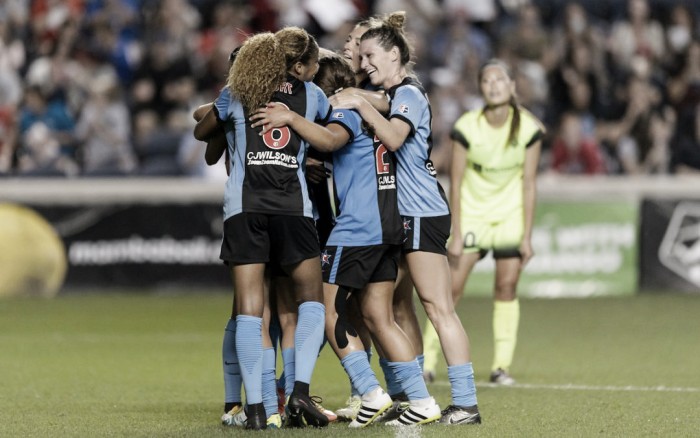 The Chicago Red Stars have released their 30-player roster for preseason, which begins today (March 13). Head coach Rory Dames will have to whittle his squad down to just 20 come the start of the season.
No goalkeeping predicament
There should be no difficulties for Dames choosing his goalkeepers for this season, as the Red Stars have named only two for preseason - both returning from 2016.
Now #1 with the US Women's National Team, Alyssa Naeher will be key to any success Chicago achieve. With no major tournaments this year she is unlikely to miss much game time, but Michele Dalton, who is entering her third year for the club, is a more than able backup.
Defensive continuity
For years now Chicago have been known for a solid defence, and this part of their roster is unlikely to change for this year. Arin Gilliland, Sarah Gorden, Samantha Johnson, Julie Johnston, Katie Naughton, and Casey Short all return, while the only addition is University of Evansville product Emily Richardson.
Competition in the midfield
Danielle Colaprico, Taylor Comeau, Vanessa DiBernardo, Courtney Raetzman, Sofia Huerta, Alyssa Mautz, and Mary Luba all return for Chicago, but they face big competition as six new names have also been included: these include NWSL Draftees Lauren Kaskie and Morgan Proffitt, and Brittany Ratcliffe, who played 14 matches for the Boston Breakers last season.
Jackie Altschuld, out of the University of San Diego, Ashley Gogolin from Wright State, and Cal State Northridge alum Kourtney Kutscher make up the midfielders.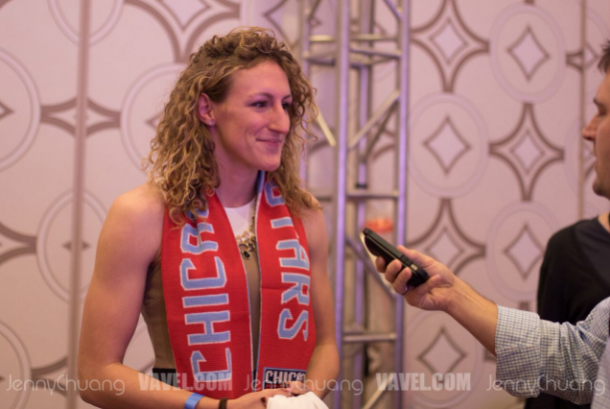 Reserves push on
Ashleigh Ellenwood and Janelle Flaws, both standouts of last year's Red Stars Reserves, have been named to the roster, alongside regulars Jen Hoy, Stephanie McCaffrey, Christen Press, and Cara Walls.
Joining them are Summer Green, who was traded to the Red Stars from the Seattle Reign prior to this year's draft, and Simone Kolander, who picked up a plethora of awards playing for the University of Minnesota.
Difficult choices ahead
Chicago announced last year that all returning players were offered a contract; this leaves just one spot on the roster for one of these trialists. A safe bet would be on Proffitt, given how highly she was taken in the draft and her experience with the Reserves team - but you cannot rule out fellow draftee Kaskie, and the experience of Ratcliffe can hardly be overlooked either.
If not selected, there is still hope for these players if they choose to stick around, as the Red Stars have a strong Reserves programme and, as shown by the likes of Flaws and Brianna Smallidge last year, there is the opportunity to be involved in matchday squads.
Full roster, by position
GOALKEEPERS (2): Michele Dalton, Alyssa Naeher
DEFENDERS (7): Arin Gilliland, Sarah Gorden, Samantha Johnson, Julie Johnston, Katie Naughton, Emily Richardson, Casey Short
MIDFIELDERS (13): Jackie Altschuld, Danielle Colaprico, Taylor Comeau, Vanessa DiBernardo, Ashley Gogolin, Lauren Kaskie, Kourtney Kutscher, Morgan Proffitt, Courtney Raetzman, Sofia Huerta, Alyssa Mautz, Mary Luba, Brittany Ratcliffe
FORWARDS (8): Ashleigh Ellenwood, Janelle Flaws, Summer Green, Jennifer Hoy, Simone Kolander, Stephanie McCaffrey, Christen Press, Cara Walls