The Houston Dash announced their preseason roster as they kick off preseason for the 2017 NWSL season. The roster contains 16 contracted players, four federation players and two of the Dash's draft picks from the 2017 NWSL College Draft. In addition to these players, there are three invitees head coach Randy Waldrum.
New faces
Houston's three draft picks will be entering their first season as professionals in the NWSL. Jane Campbell of Stanford most recently comes from traveling with the USWNT as they participated in the SheBelieves Cup. Ohio State's Nichelle Prince joins the Dash after competing in the Algarve Cup with Canada. Rounding out the rookies, Erin Smith is coming off a successful season with Rutgers.
The squad features three non-contracted invitees for the Dash. Waldrum has invited Megan Crosson, Jaylyn Odermann and Amber Munerlyn to train with the team. Crosson, a product of Santa Clara has trained with the Dash in previous seasons, joining as an amateur player. Munerlyn hails from UCLA, playing in all 22 games in her season season in 2016. Lastly, Odermann comes from Nebraska, where she started all 17 games in her 2016 senior season.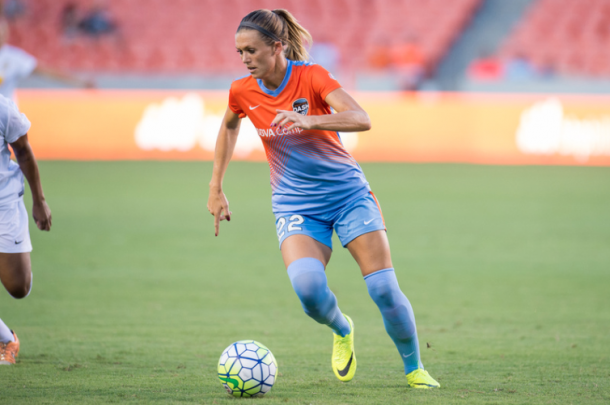 Defense heavy for Waldrum
With an inconsistent a backline throughout the history of the Dash, Waldrum is hoping he can find a solid core group this season. The roster features a total of 10 defenders, including two of the invitees and one of Houston's draft picks. Waldrum has also signed defenders Bruna Benites and Janine Van Wyk, who can both add experience to a troubled back four.
Stephanie Ochs and Cami Privett both return, and it's important to note these two were originally attacking players that Waldrum converted over time. In addition, Poliana and Cari Roccaro return, hoping to bring some stability.
2017 Preseason Roster by Position
Goalkeepers (3): Jane Campbell*, Bianca Henninger, Lydia Williams
Defenders (10): Bruna Benites, Megan Crosson**, Claire Falknor, Jaylyn Odermann**, Stephanie Ochs, Cami Privett, Poliana, Cari Roccaro, Erin Smith *, Janine Van Wyk
Midfielders (6): Andressa, Morgan Brian***, Amber Brooks, Anna Maria Gilbertson, Caity Heap, Carli Lloyd****, Denise O'Sullivan
Forwards (6): Janine Beckie***, Rachel Daly, Melissa Henderson, Amber Munerlyn **, Kealia Ohai, Nichelle Prince ***
*2017 NWSL College Draft pick
**Non-roster invitee
*** Federation player
****Not in preseason camp