 Prior to the LA Galaxy game, the Portland Timbers had some injury problems - Alvas Powell, Vytas Andriuškevičius, and Liam Ridgewell were all questionable. Powell, of course, played and had a decent game, but Vytas and Ridgewell sat out.
Tuesday, we heard more about the extent of these injuries, plus a brand new one that we all saw happen. Liam Ridgewell tweeted that he's "a couple weeks of graft" away from fitness with a foot sprain; Caleb Porter thinks he'll be ready to go against New England on April 2.
Vytas is day-to-day with a calf strain, and Porter says it "might be tight" for him to be fit for Saturday's game.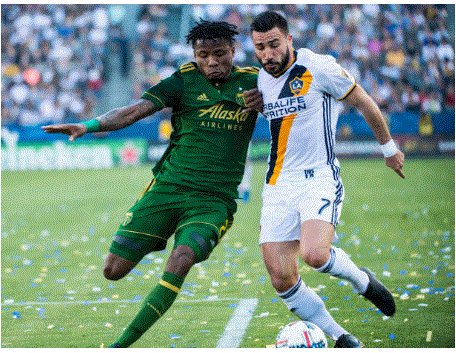 The other injury is to the shoulder of David Guzmán. As you may recall, Guzmán injured that shoulder on a play that looked for all the world like a dive - whether he was trying to draw contact and mistimed it or whether he legitimately dove is kind of splitting hairs. It was a dumb idea, it was executed badly, and now he has a separated shoulder to show for it and is a doubt for the Houston game this weekend.
When asked about Guzmán's injury, Porter told Jamie Goldberg of Oregonlive:
"With that injury, it's day-to-day because these guys aren't baseball players where they use that shoulder a ton, it has to be calmed down enough where it's functional."
Guzmán should miss a couple days of training while the shoulder calms down, then will be evaluated as Saturday approaches.
The good news is that based on Sunday's evidence, the Timbers' newly acquired depth pieces can do the job - Roy Miller and Marco Farfan were solid, and while Houston is a really good team, I think at home the Timbers second string defense can roll with them just fine.