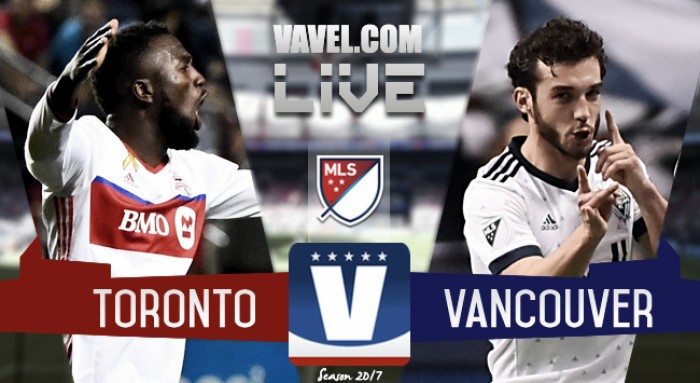 Vancouver Whitecaps 0 - 2 Toronto FC
Full-time: The referee blows the final whistle and Toronto come away with all three points. The Brek Shea red card will be a major talking point but overall, Toronto deserve the win.
90+3' Mavinga blasts the ball from a long way out and it goes horribly wide.
90+2' CHANCE! Moor makes a complete hash of his clearance and it falls to Hurtado in space. The Whitecaps striker gets into the box but slashes at the ball and it goes well wide.
Three minutes have been added on here by the referee.
90' Vancouver haven't given up and Mavinga gives up a cheap free-kick right outside Toronto's box. The free-kick is headed away and Teibert's effort goes way over the bar.
88' Williams brings Morrow down and Toronto win a free-kick in midfield. Bradley continues to ask the referee why no Vancouver players have been booked in the last five minutes and the TFC captain has to be careful here.
87' YELLOW CARD: After all of that, Bradley becomes the second player in the book.
86' The referee calls Bradley and Laba to him as things begin to boil over a little here. Players are coming together in a huddle near the referee and exchanging a few words.
82' Mavinga is on hand to stop the Whitecaps from capitalizing on another set piece by Bolaños.
81' SUBSTITUTION: Chris Mavinga comes in for Ricketts.
Vancouver Whitecaps FC 0 - 2 Toronto FC
Osorio picks up the ball in space at the top of the box and plays it to Altidore. The striker spins Waston and puts his shot into the far netting.
80' GOAL! Altidore puts Toronto 2-0 up!
79' Edwards is in the box and tries to find Osorio but his pass is stopped by Waston.
Vancouver Whitecaps FC 0 - 1 Toronto FC
Edwards makes an immediate impact as he finds Altidore at the back post. The US international nods the ball on for Vázquez to head in from close range.
76' GOAL! Toronto take the lead!
75' SUBSTITUTION: Toronto make their second change as Raheem Edwards comes in for Hagglund. Toronto may change formations here.
74' SUBSTITUTION: Kekuta Manneh and Erik Hurtado come in for Mezquida and Montero.
72' Vázquez almost helps Toronto break through as his first pass can't quite reach Altidore and his second pass finds Beitashour breaking into the box. The Whitecaps find a way to block both opportunities and the resulting corner leads to nothing.
70' RED CARD! Brek Shea is initially booked for a foul on Hagglund and after saying something to the referee as he walked away, Elfath gives him a straight red card for dissent. Vancouver are down to ten men.
69' Montero is called back for offside after Vancouver looked like they had found some space near the Toronto penalty area.
68' The Whitecaps give up the ball in midfield and Ricketts uses his pace to drive forward towards the goal. He takes a speculative shot that goes wide of the far post.
66' CHANCE! What a save by Richey! Toronto combine well and Morrow almost finds the back of the net but the goalkeeper is up to the task and gets a big hand to the shot.
64' SUBSTITUTION: Toronto make their first change as Víctor Vázquez comes on for Cooper.
63' Montero lays the ball off for Shea who sets his sights on goal but his shot is deflected away for a corner by Moor. The Whitecaps are definitely on top right now and Toronto can't seem to put a foot on the ball.
62' Bolaños and Shea work the ball between them out wide and Shea gets to the byline but his pass looking for Mezquida is cleared away.
61' Teibert tries to find Montero in the box but Hagglund stretches just enough to head the ball away. Vancouver are slowly taking over now. Teibert gets the ball again but his long range shot goes straight to Bono. That's Vancouver's first shot on target today as they start to push Toronto back.
60' Vancouver push forward again as Shea gets onto the long pass but there are too many defenders around him and Montero for either player to get a good shot on goal.
59' Bradley heads the set piece delivery away and it falls to Mezquida outside the box but his shot goes high and wide.
58' Mezquida gets a free-kick which Vancouver take quickly and then Cooper fouls Bolaños and the home side have another free-kick from a good position.
57' Bolaños takes the corner but Bono comes out and claims it well. Now Shea fouls Morrow as he tries to track back and stop the full back from getting forward.
56' Mezquida gets away from Bradley and tries to find Brek Shea at the far post but Beitashour is on hand to concede the corner and stop Shea from scoring.
55' Bradley sends in another Toronto corner and again, Waston is the first to it as the corner comes to nothing for TFC.
53' Bolaños gets the ball again but his cross towards Montero is too high and Bono has no problems catching the ball.
51' Vancover apply some pressure here and Bolaños plays a cute little chip pass for Mezquida to latch onto but he's closed down quickly by Hagglund before he can get his shot away.
50' Toronto have two chances to almost break through the Whitecaps' backline but first Ricketts and then Morrow mis-control the ball and the opportunities disappear for Toronto.
48' A mix up between Morrow and Altidore messes up a great opportunity for Toronto after Bradley puts in a great ball for either player to attack. Morrow doesn't shout loud enough for Altidore to hear him and the two run into each other, causing Morrow to kick the ball out for a goal kick.
46' CHANCE! Toronto kick us off and the ball is played quickly forward to Altidore who finds Ricketts. The striker turns well but his curling effort is deflected out for a corner. The resulting corner is cleared away by the Whitecaps' defense.
46' SUBSTITUTION: Vancouver makes a change at half-time as Christian Bolaños comes in for Alphonso Davies.
Half-time: With about only one minute added on, both teams head into the locker rooms still scoreless. Toronto will be the happier of the two sides after having most of the possession and creating more chances in front of goal.
45' Hagglund is the target again but Parker nods out for a second corner for Toronto. Waston wins the ball in the air twice and Vancouver are able to clear their lines.
44' Altidore takes a shot on goal but it's blocked by Tim Parker. Play stops as Toronto have a corner and Osorio regains his right boot that he had lost earlier in the build up.
40' Play stops for a little bit as Cooper jumps into Matías Laba and the midfielder stays down on the ground. No foul is called and play resumes as Laba gets back up again.
38' CHANCE! Tosaint Ricketts gives the ball away right at the edge of his own box and Williams sends the ball in to Montero who had made a near post run. The Colombian gets a touch to the cross but his attempted backheel doesn't find anyone running in behind him and the chance is wasted.
34' Now Vancouver want a penalty after Montero is initially stopped by Moor and Mezquida picks up the rebound. Eriq Zavaleta makes a challenge on the midfielder and the referee deems it a fair challenge.
33' Ismail Elfath warns Altidore that his next foul will earn him a yellow card after persistent infringement by the striker.
32' Fredy Montero almost gives the Whitecaps the lead as he closes down Bono and blocks his kick away. Luckily for the goalkeeper, the ball spins wide of his goal.
29' Alphonso Davies is called for offside after drifting away from his marker near the byline.
27' CHANCE! Another one for Toronto as Bradley continues to send in good deliveries. The ball is just too high for Hagglund and Drew Moor can't adjust quickly enough to put his shot on target.
26' CHANCE! Toronto win another free-kick in midfield and it finds Morrow all alone in the box. His first touch isn't great and Waston is able to recover and get the ball out for a corner while Morrow continues to ask the referee why he didn't award a penalty. Great heads up play by Bradley to find Morrow.
20' Altidore concedes another foul at midfield after losing out to Russell Teibert.
19' Altidore applies a little pressure to Richey and it makes the goalkeeper boot the ball out into the stands. Altidore takes the throw-in quickly but ends up fouling Jordan Harvey and the Whitecaps get the ball back.
18' CHANCE! Bradley delivers a great ball into the box from a free-kick that finds Hagglund at the back post but the defender wastes a great opportunity and heads the ball across the goal and out.
17' Toronto win the ball back in midfield and find themselves with numbers on the break. Altidore picks out Morrow whose pass into the box is poor and Vancouver clear it away.
16' Still not many chances in front of goal to speak of. Neither team has actually registered a shot on target yet.
13' Altidore combines with Armando Cooper in a little pocket of space but the move breaks down as a Whitecaps' defender makes a crucial interception to stop Altidore's pass finding an unmarked Justin Morrow in the box.
12' The ball ends up near the byline as Jonathan Osorio tries to keep it in. He gets crunched by Sheanon Williams in the corner but again, the referee does not blow his whistle.
11' The Whitecaps' head coach Carl Robinson is having a few words with the referee after disagreeing with a free-kick call going Toronto's way.
10' Now Jozy Altidore wins Toronto a free-kick in a good position for the visitors. Michael Bradley stands over the set piece. Kendall Waston gets his head to the ball and Vancouver are able to clear their lines.
8' Mezquida is brushed off by Nick Hagglund as Vancouver almost found themselves in a two-on-one situation on the break. Mezquida wants a free-kick but nothing doing.
6' Nicolás Mezquida wins an early free-kick for Vancouver. The midfielder steps up to deliver the set piece but it goes straight to Alex Bono in Toronto's goal.
1' And we're off. Toronto get the ball forward early but Spencer Richey has no problems collecting the cross.
If you haven't made it down to BC Place, which is experiencing a bit of wind right now, you can watch the game on CTV, TSN1 or MLS Live.
Quick notes on today's starting lineups: Kekuta Manneh, who has always terrorised Toronto's backline when he has played, is on the bench for the second game in a row. Clint Irwin finds himself replaced by Alex Bono is TFC's goal.
Toronto FC Starting XI: Bono; Zavaleta, Moor, Hagglund; Beitashour, Cooper, Bradley, Osorio, Morrow; Ricketts, Altidore.
Vancouver Whitecaps Starting XI: Richey; Williams, Waston, Parker, Harvey; Laba, Teibert; Davies, Mezquida, Shea; Montero.
In a few moments, we will share the initial lineups of Vancouver Whitecaps FC vs Toronto FC live score, in addition to the latest information that surges from the BC Place Stadium. Do not miss a detail of the match with the live updates and commentaries of VAVEL.

Prediction: This game seems set up for Toronto to capitalize on Rickett's speed, especially late on in the game as the Whitecaps tire because of heir midweek excursions. Toronto does have issues defensively which Vancouver can profit from but ultimately, the likes of Altidore and Michael Bradley could prove to be the difference in the game. I will go with a: Vancouver Whitecaps FC 1-2 Toronto FC.
The head coach of the Whitecaps is Carl Robinson and Greg Vanney is in charge of Toronto FC. The referee assignments are also out with Ismail Elfath being the center official for this one and he will be assisted by Apolinar Mariscal and Mike Rottersman on the sidelines. The fourth official on the day will be Daniel Radford.
Projected Lineup for Toronto FC (3-5-2): Irwin; Zavaleta, Moor, Hagglund; Beitashour, Cooper, Bradley, Vazquez, Morrow; Ricketts, Altidore.
Projected Lineup for Vancouver Whitecaps FC (4-4-2). Tornaghi; Williams, Waston, Parker, Harvey; Davies, Laba, Jacobson, Techera; Manneh, Montero.
The match will be played at BC Place in Vancouver, BC on March 18th, 2017. The game will broadcast on CTV or MLS Live and kickoff is set for 4:00 PM EST.
This game usually has goals in it, with Vancouver coming out on top in a 4-3 away win against Toronto the last time the two teams met, so we can expect the same if the way the two teams tend to lose concentration periodically at the back is anything to go by. Vancouver may want the win more, however, especially after a disappointing 2016 and their slow start to the season so they could come flying out of the gate on Saturday.
The 3-5-2 formation continues to search for its groove this season for Toronto. Although Steven Beitashour could return this weekend to give the team more balance, width has been a major issue for Toronto. Beitashour himself and Morrow have not been great with their service from out wide and with Giovinco out, the creativity in the middle of the park will decrease, so both wing backs will have to sharpen up their crosses in they want to give Altidore the right service to thrive on.
Toronto will be on the road for the third straight game and after starting their season with two draws, one which was a 2-2 thriller against the Philadelphia Union, so they will want to find their first win against the Whitecaps. Jozy Altidore has started the season well and in the absence of Sebastian Giovinco due to injury, the US international will be the focal point of the attack for Toronto. Should Toronto choose to play on the counter, the pace of likely starter Tosaint Ricketts will cause the Whitecaps' backline all sorts of problems given the opportunity.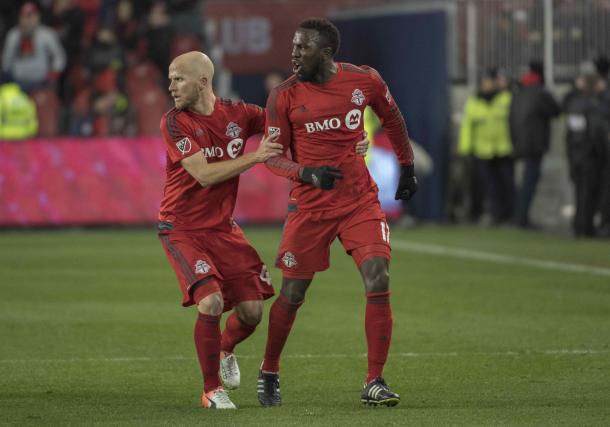 Paolo Tornaghi is expected to be in goal for Ousted and the backup goalkeeper will be tested against a very good Toronto offense. Couple that with the Whitecaps trip to Mexico during the week for the CONCACAF Champions League, and the Whitecaps will have to find a second gear to fight through the exhaustion of that trip to keep Toronto at bay.
Vancouver comes into this game after a collapse at the San Jose Earthquakes which saw them leading early in the game by two goals to nil, before the sending off of goalkeeper David Ousted and a subsequent collapse of concentration in the backline during the second half led to them losing them game 3-2. The Whitecaps will be looking to avoid a repeat of that against Toronto and will want their main striker, Fredy Montero to continue on as he has to begin the season. The Colombian striker has scored in all but one game for the Whitecaps since he joined the team and will want to keep his good form going against Toronto this weekend.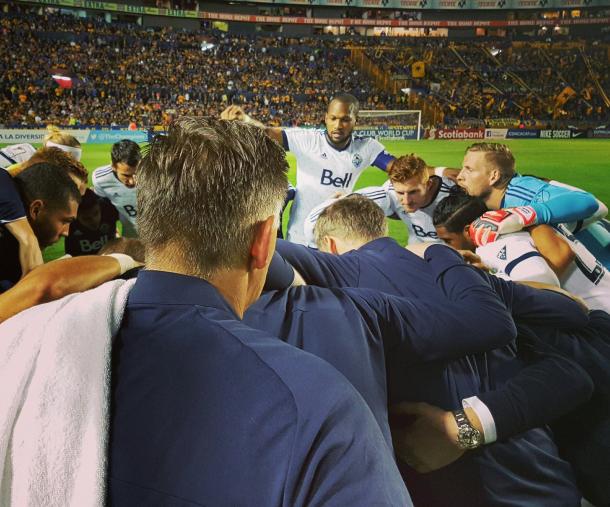 As Canada sees its first major game on a nationally broadcasted station, CTV, both the Whitecaps and Toronto FC will be looking to record their first three points of the season in front of the entire nation and those watching elsewhere in the MLS.
Hello once again to VAVEL USA's coverage of Major League Soccer this weekend. I am Kudzi Musarurwa, your host for the first all-Canadian tie of this season for this Vancouver Whitecaps FC vs Toronto FC live stream result.