 After two matches, Minnesota United FC is probably wishing that they were still in the NASL, as they are 0-0-2, with 11 goals allowed so far in MLS. Their last match was against fellow expansion side Atlanta FC, who won a 6-1 match on a snowy day in Minnesota. That followed up an opening-night loss to the Portland Timbers.
"We haven't been good enough in both boxes," said Head Coach Adrian Heath at practice this week. "That's the harsh fact. If you don't do well in both boxes, you ain't winning many games because you're not scoring many goals and you're conceding too many. The rest of the game, the rest of our play, doesn't really concern me.
"But there are some shoots of optimism that we can work around. Even that 25 minutes before halftime [against Atlanta]: if we'd have got the second goal, I thought we were right back in the game. But every time that we've got some sort of momentum in any game, we've conceded a goal and it just takes the wind out of the sails and we have to start again."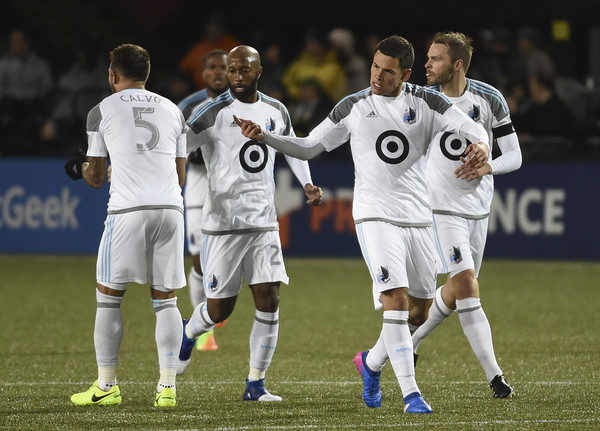 Things won't get any easier this week, as they travel to Colorado to face the Rapids, who despite being outplayed in both of their first two matches, are 1-0-1, only losing last week against New England because of an own goal. Through two weeks, the Rapids have taken the third-fewest shots in MLS, meaning that Minnesota will have to break through the tough Colorado defense.
International duty calls
To make matters worse for Minnesota, they announced on Friday that three starters have been called up for national team duty next weekend. Midfielder Carlos Venegas and defender Francisco Calo will take the pitch for Costa Rica next weekend in FIFA World Cup qualifying play, while midfielder Rasmus Schuller will take the pitch that same weekend for Finland in their FIFA World Cup qualifying match, as well as an international friendly against Austria.
Colorado had just one player called up next weekend for international duty, as goalkeeper Tim Howard will be with the United States national team when they face Honduras and Panama next weekend. Both are FIFA World Cup qualifying matches.
Injury report
Both teams are shorthanded entering the match. Midfielder Bernardo Anor (hamstring) and goalkeeper John Alvbage (knee laceration) will be watching from the sidelines on Saturday night for Minnesota. Colorado is even worse off, as they have four players who won't see playing time on Saturday including goalkeeper John Berner (wrist), defender Axel Sjoberg (hamstring), forward Kevin Doyle (head), and forward Alan Gordon (back).
Match Information
Date - March 18
Time - 8 p.m. CT (7 p.m. MT)
Location - Dick's Sporting Goods Park, Commerce city, Colo.
Minnesota Broadcast - MY29 (TV), AM 1500 ESPN (Radio)
Colorado Broadcast - Altitude 2 (TV), AM 950 (English Radio), 87.7 FM (Spanish Radio)
Previous Matchups
This will be the first-ever meeting between the two sides.