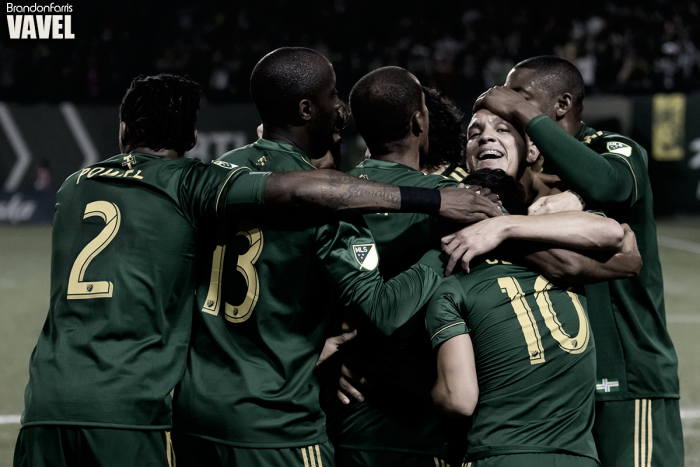 Another game, another win. It's only three games in, so I'm absolutely not getting ahead of myself and thinking the Portland Timbers are going to dominate the league and lay waste to all they encounter, but it's kinda fun to be not even done with March and to have nine points in the bank, isn't it?
The good
Three point three three three. That's the Timbers' goals/game so far this season - ten goals in three games. Again, the small sample size caveat applies here since it's only been three games, but that 3.33 G/Gm is more than double last season's average of 1.41 goals/game. And, coincidentally, is exactly double their 1.66 average after three games last year (5 goals in their first three). Progress!
The Eastern Conference-winning Red Bulls averaged 1.79 G/Gm last season, and the Supporters Shield-winning FC Dallas averaged 1.47; the Timbers' strong start means they're well on their way to being in that range come October.
Adaptability. This week, like last week, the Timbers were shorthanded. This week, like last week, it didn't matter. The subs stepped up again - Roy Miller made a couple mistakes, but overall continued having a much more solid start to the season than most would have expected, and the last minute swap of Zarek Valentin for the ill Marco Farfan didn't result in a dropoff of quality either, at least once the team all got on the same page in the second half.
David Guzmán
He is every bit as good as advertised and is already hogging the conversation around "best new Timber" in a way that nobody really expected. He works his butt off, he breaks up attacks, and the way he frees up Nagbe and Chara to get forward - seriously, did you see how many times Chara made it to the Houston end line this weekend? - really opens up the Timbers attack in very dangerous ways.
The bad
That first half. Oof. As I said above, I don't expect that the Timbers will dominate every minute of every game just because they're off to a good start, because that's not how sports works. But it seemed like all ten outfield Timbers were on ten different pages for the first half on Saturday. Errant passes missed markings, and shambolic performances from nearly every Timber made for some unpleasant viewing in the first 45 minutes.
Alvas Powell. I am a big fan of Powell. His first season showed what he was capable of, and while he struggled in 2016, I wrote that off to his injury and subsequent recovery, in which there were probably setbacks that hampered his development a bit. So overall, I like him a lot, but on Saturday night, he was dire. Part of that is that he was playing much more forward than he normally does, so when the Timbers were struggling to hang on to the ball he probably felt like he had to get back and fix things, which pulled him out of position and caused all kinds of pain.
He, like most Timbers, had a better second half than first, but "two steps forward, one step back" is seemingly Alvas' career trajectory, and Saturday's game did nothing to prove otherwise. I had high hopes that 2017 would be more of a "two steps forward" season, and hopefully, it still can, but he's gotta do better than he did Saturday.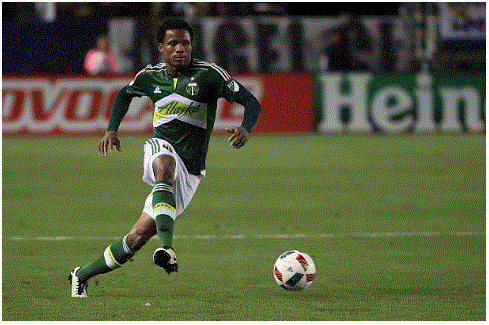 MLS refereeing. I don't really blame Allen Chapman for either penalty call - by the letter of the law, both DaMarcus Beasley's and Diego Chara's penalties were correct.
However, Blanco's ball hit Beasley in the elbow as his arm was pulled into his chest because he turned his body to shield himself from taking a ball in the sternum. His arm wasn't extended to prevent the ball from advancing. And Chara's penalty was called when he put his forearm up so that Cubo Torres' ball wouldn't hit him square in the face.
Here is the language from the FIFA Laws Of The Game (Law 12, page 82) around hand ball offenses:
"Handling the ball involves a deliberate act of a player making contact with the ball with the hand or arm. The following must be considered:
- the movement of the hand towards the ball (not the ball towards the hand)
- the distance between the opponent and the ball (unexpected ball)
- the position of the hand does not necessarily mean that there is an infringement"
The operative phrases here are "deliberate act", and "movement of hand towards the ball". In neither case do either of these two phrases apply. They were both reflexive, defensive moves.
You know what would solve this? Video replay. Good news! It's coming this summer! Both those cards should have been reviewed and would probably have been overturned, and that's good - I'd much rather get things right than have a hot take talking point the following day.
THE UGLY
One of the great things thus far this season is there hasn't been much ugliness from a Timbers perspective, and that trend continued this weekend. On to Columbus, home of more than a few happy memories of our recent travels.