 In the year following their World Cup victory, it is not uncommon to find members of the USWNT and their loyal supporters wearing t-shirts and carrying signs emblazoned with "Equal Play, Equal Pay" and other similar slogans. The fight for equal pay has infiltrated the team culture nearly as much as the "I Believe" chant that became synonymous with the team's dominance in 2015. Fans of all ages are now aware of the pay disparities that keep female athletes from achieving the notoriety that their male counterparts enjoy.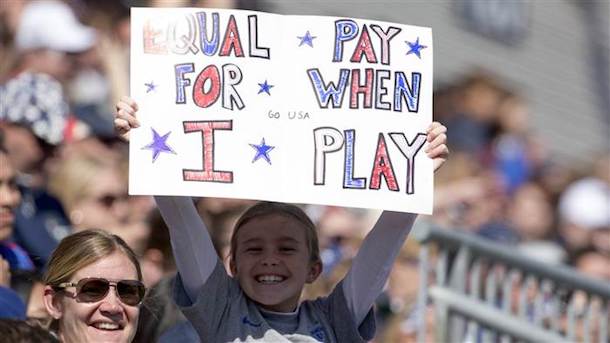 This is far from being an issue that just affects soccer players. As USA Women's Hockey approaches their World Championship tournament, the players have announced a strike for higher wages, something that the USWNT has alluded to but never quite followed through on. The stakes here are higher than ever as their biggest tournament grows closer, but no trophy is worth sacrificing their bargaining ability and a chance for a living wage. The parent organization of USA Hockey brought in a total of 41.9 million USD in 2014, yet only pays their female athletes $1,500 a year. That's over a thousand dollars less than what one could earn by working one hour per day for minimum wage. For another comparison, the minimum salary in the NWSL is $15,000 per year, and that is a player without national team duties. The rigors of professional athletics are the same for competitors of all genders, so shouldn't compensation be the same? (Yes.)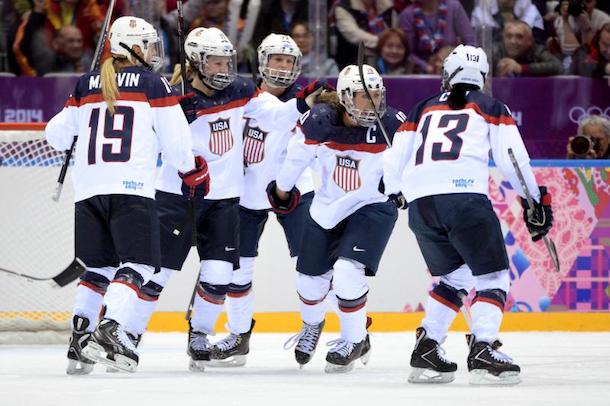 USA Hockey has announced that they will be reaching out to replacement players since the national team has refused to budge, but they have also altered their training camp schedule in anticipation that a mutually satisfactory solution will be found, and negotiations with the players and their lawyer are ongoing. It's clear that they will not cave in for anything less than exactly what they want, and USA Hockey will be hard pressed to find a brand new team that has a chance of succeeding at the World Championships. Should the women succeed, a new precedent for female athletes will be set, opening doors for their soccer playing counterparts.
Before, the idea of striking before a major tournament seemed like just an overzealous threat that would never be actualized, but the unwavering support of the Women's hockey team from the USWNT should be enough to make Sunil Gulati and others at US Soccer nervous. While wages are not as low as in hockey, players have made it clear that they are far from satisfied with their governing body's response to their equal pay fight and have not yet out ruled a strike to make their point.
It is not acceptable for U.S. Soccer to profit off their female athletes without compensating them equitably. The three-game annual #SheBelieves cup tournament is centered around a message of empowerment for younger fans who dream of playing for the team. She believes she will be great, she believes she can achieve anything, but what good does belief do if her hard work is rewarded with less money and attention than her underperforming male counterparts receive? The quality of play of the USMNT has declined in recent years, losing them money and credibility on the global stage. While the women's team has had their bumps, they are still sitting near the top of the global rankings. Regularly drawing higher crowds and earning millions more in revenue has not been enough to justify a change in the eyes of US Soccer, but should there be no change by the 2019 World Cup, a strike would not be far out of the realm of possibility.
As the World Championships loom, USA Hockey is going to have to make a decision: what do they value more, their women's team or the "Old boys club" mentality they seem to enjoy? Times are changing and as women's sports gain more traction in sports media, it is no longer enough to throw athletes crumbs and expect them to be satisfied. That antiquated attitude is being abandoned every day; UConn Women's Basketball becomes one of the most famous collegiate athletic dynasties of our time and the most-watched soccer game in U.S. history is a match played by women. A woman's place isn't in the kitchen; it's on the field, the court, the track, and the ice, and it's USA Hockey and US Soccer's job to wake up to that or face becoming as anachronistic and stale to fans as the values they employ.