In the second of two opening-day matchups of the second annual Portland Invitational, the Chicago Red Stars will be taking on the Portland Thorns on Portland's home turf of Providence Park. This could ultimately be the most challenging match for both teams in the tournament, with both the Red Stars and the Thorns coming into the 2017 preseason with the rosters from their respective 2016 playoff semifinal runs relatively intact. Both teams will certainly want to start the tourney strong, though one could also expect a certain amount of rotation to allow Red Stars head coach Rory Dames and Thorns head coach Mark Parsons to get a good look at some of the newer faces on each preseason roster.
Battle of the Midfield
Both the Red Stars and the Thorns are coming into this game with an impressive set of options in the midfield position. Chicago features some of the most exciting up-and-coming connective midfield talent in Danielle Colaprico and Vanessa Dibernardo, as well as players that can push further up the field, such as Sofia Huerta. Additionally, the impressive wingback tandem of Arin Gilliland and Casey Short are always looking to track up-field to set up striker Christen Press, whether she's positioned as a lone striker, or moving back into more of an attacking number 10 role.
The Thorns are equally matched with their midfield talent, with Allie Long likely moving into her more natural attacking midfield position, with support from Lindsey Horan and the French international Amandine Henry. This arsenal is impressive before one even factors in USWNT mainstay Tobin Heath, who will be looking to get in behind the seams that Chicago's forward facing wingers might leave exposed, and create havoc to leave strikers like Christine Sinclair and Nadia Nadim free to run at the back line.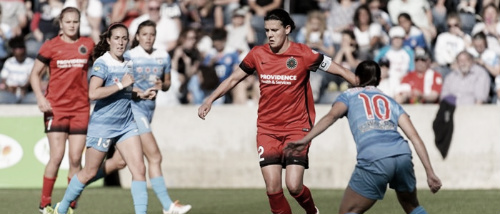 Can both defenses hold up?
The biggest question marks for both of these squads tend to show up consistently in their respective back lines. The Thorns lost their number one keeper Michelle Betos to Norwegian side Vålarenga during the offseason, and it will be interesting to see who Parsons puts between the posts for this initial face-off (though one imagines it will be recent USWNT camp invitee Adrianna Franch). Communication between whichever Portland keeper that suits up and her defense will be key to keeping the defensive line disciplined and intact. Chicago's biggest issue tends to be inconsistency in the center back position, with lapses in intensity and over-reliance on long balls sometimes allowing the opposition to score early.
Ultimately, this matchup will be determined by which team can utilize roster consistency to control and connect through the midfield, and can properly set up their respective strikers with ample opportunities in front of goal. This one could end up being a high scoring affair, and an exciting look at two of the leagues consistently strong clubs going head-to-head before the NWSL officially kicks off on April 15th.
The Chicago Red Stars will take on the Portland Thorns on March 26th at 5pm PST, and the match will be streamed at ThornsFC.com