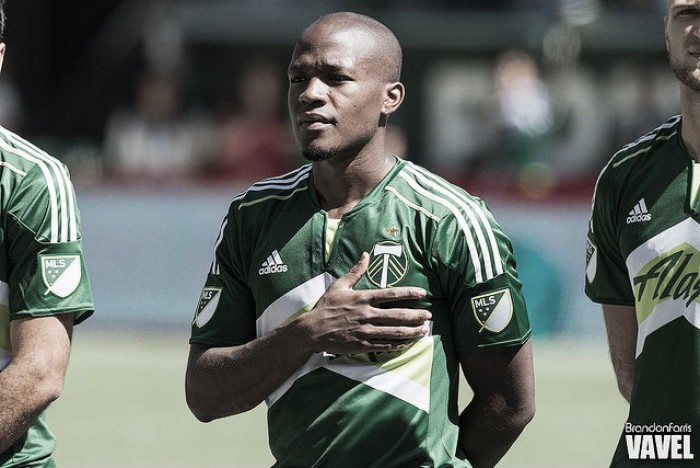 Well, being undefeated was fun while it lasted, right? The Portland Timbers went to Columbus Saturday and came home empty-handed, losing to the Columbus Crew 3-2 on a late goal from Columbus rookie Niko Hansen.
The good
Goals! Adi scored again, so in the absence of almost anything else good, that's what I'll go with. His goal in first half stoppage time tied the game at 2 and gave the Timbers some hope going into the second half. Adi's goal was his 45th as a Timber; his next goal will see him pass John Bain as the team's all-time leading scorer in any era. And even on a day when the Timbers didn't have much in the way of offense, they scored two goals, which bodes well for the future.
Streak-breaking. Losing is never fun, and I don't enjoy it, but I am glad in a way that the Timbers lost when they did. Winning streaks are always good things, but winning streaks to start a season are deceptive, and they tend to overinflate people's expectations because there's no context for them - they are the context. The Timbers' first three wins came against a team making a strong early case for the "worst MLS team ever" title, an aggressively rebuilding Galaxy team, and a Houston team that was probably their only legitimate test so far.
What that means to me is that the Timbers are neither as good as they looked during their streak or as bad as they looked on Saturday. Now that there's a loss in the books, the team and the fans can focus on what the team actually is, as opposed to wishcasting what they look like without any crooked numbers in the two rightmost columns of the standings.
The bad
Vacancy. It's obvious and reductive to say that the Timbers are a different team without Darlington Nagbe and David Guzmán, but on Saturday we got the clearest indication yet of what those absences actually looked like on the field, and it was as ugly as I feared it might be.
The Timbers fielded 11 players on Saturday, but you'd never know it from the acres of space in midfield that they allowed the Crew to flood, effectively denying the Timbers any sort of possession or fluidity. Nagbe might not score much, but he's absolutely essential for the Timbers in transition and forward movement. Missing that was huge, as was missing Guzmán's ability to tidy things up in the back of the midfield.
Walkabout. I am going to start by saying that I like Jake Gleeson a lot as a goalkeeper, and I'm not going to apologize for either liking him or defending him. A lot of the criticisms of Gleeson are rooted in the impressions he made as a young reserve player, but guess what? People learn as they grow. And Gleeson, in case you weren't paying attention, has done just that. At a position where in the eyes of a lot of fans you're either infallible or unredeemable, Gleeson has been solid, both as a spot starter (remember, he kept a clean sheet in the Vancouver playoff game, after the Adam Kwarasey penalty shootout game) and as the number one. He's not the best goalkeeper in the league, but he doesn't need to be; he's more than good enough to be the Timbers' keeper right now.
He still punches the ball rather than catching it more than I would like, but his shot stopping is Rimando-esque, and he's good at communicating with his defenders, which is something Timbers keepers haven't always done.
All that said, though, the goal he gave up to Ola Kamara on Saturday...woof. There's no need for him to come out this far; he should have let his defenders handle it. But wait! His defenders were a mess! So maybe in his head in that split second, he thought "They need me to step up here I'd better get out there and get on this OH CRAP I WENT TOO FAR NOOOOOOO" as the ball floated over his head.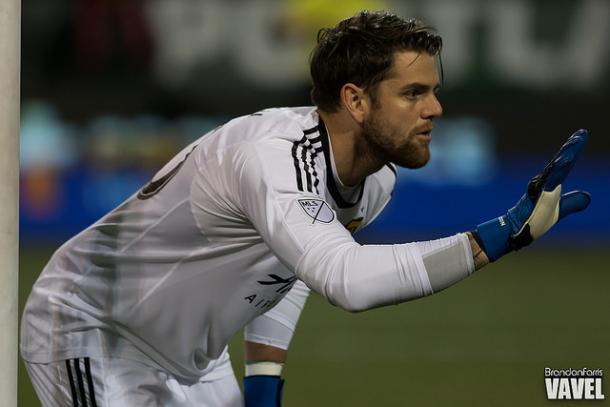 The one thing I am confident of after that, having watched Gleeson progress over the years, is that he won't get caught out like that again - he'll realize that it was dumb to commit out that high and will learn from his mistakes.
Defending. Remember all season, when I was saying how pleasantly surprised I was with the quality of the Timbers' defensive replacements? Well, to put it statistically, I think we found their upper bound, and it wasn't pretty. For the third game in a row, the Timbers used a combination of Lawrence Olum and Roy Miller as center backs, and what we got was what I was expecting from their first game - a lot of indecision, a lot of positional dunderheadedness, and a general lack of ability that works fine in an emergency, for one game at a time, but shouldn't be a long-term solution at all. Liam Ridgewell and Vytas should both be back this week, so that'll help.
The Ugly
So much to choose from here. The inconsistent refereeing, that saw Diego Valeri get carded for, apparently, running? The aforementioned shambolic defending? The end of the winning streak? The lack of attendance in Columbus? All in all, this was one of those games you just write off as "one of those games" and then you move on to the next one.