The Washington Spirit announced their updated preseason roster yesterday. Head coach Jim Gabarra originally brought in 32 players for the 2017 NWSL preseason. Now, Gabarra and his staff have cut it down to 24, along with two players who are not yet counted in camp - Kelsey Wys and Cali Farquharson. These two players will report to camp with the Washington Spirit in April.
A total of eight players did not make this smaller roster. These include goalkeeper Lindsey Harris, defenders Tessa Gavilsky and Molly Menchel, midfielders Sharon Wojcik, Fran Garzelloni, and Marion Crowder, and lastly forwards Ninfa Ramirez and Clare Pleuler.
With a rather interesting offseason for the Spirit, the roster consists of 12 returning players for the 2016 roster. The Spirit have six new signings, and the rest remaining are either non-roster invitees or unsigned draft picks.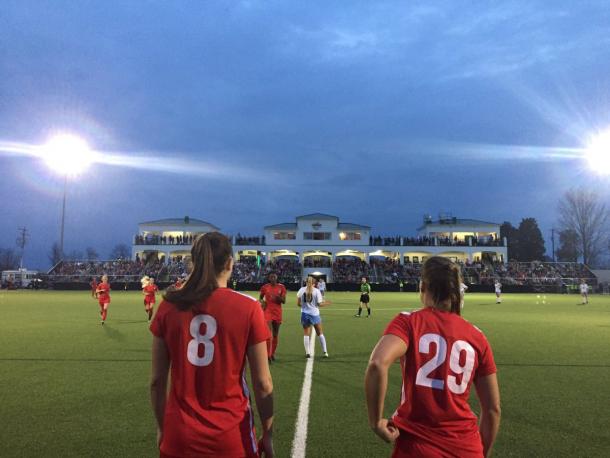 The Washington Spirit opened preseason play with a 3-0 win over Penn State, then went on to earn a 5-0 victory over 22-time NCAA Champions the University of North Carolina. They will continue their preseason matches this weekend on Saturday, April 1 against Duke University at Maryland SoccerPlex. Kickoff is at 2 pm Eastern Time. They will then wrap up their preseason by hosting the University of Virginia on April 8 also at Maryland SoccerPlex.
The Spirit will then start its fifth season in the NWSL by hosting the North Carolina Courage on Saturday, April 15. Kickoff is at 3 pm Eastern Time.
Updated Roster by Position
Goalkeepers (4): Kori Butterfield*, Didi Haracic, Stephanie Labbé, Kelsey Wys (NYR)
Defenders (6): Whitney Church, Caprice Dydasco, Estelle Johnson, Kassey Kallman, Alyssa Kleiner, Shelina Zadorsky
Midfielders (7): Cameron Castleberry^, Meggie Dougherty Howard, Tori Huster, Lauren Lazo*, Joanna Lohman, Kristie Mewis, Line Sigvardsen Jensen
Forwards (9): Lindsay Agnew, Gloria Douglas*, Cali Farquharson (NYR), Francisca Ordega, Arielle Ship^, Havana Solaun, Katie Stengel, Crystal Thomas*, Cheyna Williams
* Indicates Non-Roster Invite
^ Indicates Unsigned Draft Pick