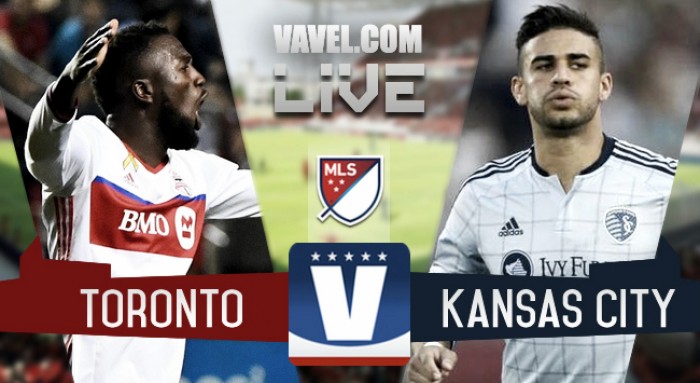 Full-time: And that's the end of the game. A really sloppy affair in the rain here a BMO Field as neither team is able to break the deadlock.
90+1' Besler brings down Beitashour and Toronto have a great chance to score now.
90' CHANCE! The corner comes in and Toronto are forced to clear right on the line. The wind helped that ball travel and Bono lost flight off the ball. Luckily for him, one of his defenders was on hand to kick the ball off the goal line. Edwards gets a good nod on the ball to stop the goal.
89' Fernandes picks up the ball and drives at the Toronto backline. His effort bounces off a defender and goes out for a corner.
88' Blessing has been a real livewire since coming on. He skips by a few Toronto players before taking a shot which has Bono coming down quickly to stop and gather.
86' Blessing wins a second free-kick for Sporting KC which Bono collects easily.
84' The substitution earns Sporting KC a free-kick in midfield with his first touch of the ball.
83' SUBSTITUTION: Latif Blessing comes in for Saad.
81' YELLOW CARD: Altidore becomes the second player in the book before the Toronto corner is taken.
80' Giovinco plays in Edwards and again his final ball is not good as it finds a Sporting defender instead of his own teammates.
79' Vásquez finds Giovinco in the box and he turns Opara but he can't g enough power on his shot to trouble Melia in goal.
77' Toronto get into a great position and Edwards has the chance to play in a teammate but he delays his pass and Sporting get enough players back to prevent the ball finding a Toronto player in their box.
76' SUBSTITUTION: Armando Cooper comes in for Osorio as Toronto's final substitution of the night.
75' Toronto get another corner which bounces around the box before Giovinco fouls Mustivar and gives the possession back to Sporting KC.
73' Giovinco and Edwards combine before the Italian gets his shot blocked. The rebound falls to Vásquez who tries a first time volley that is deflected out for a corner.
71' Dwyer gets into the box and tries to find Fernandes but his pass is behind his teammate and Toronto can bring the ball out.
70' Sánchez breaks from midfield and find Dwyer who spreads it out wide to an unmarked Fernandes. Bono stands tall and tips the ball over the crossbar. The sresulting corner is cleared away by Toronto.
69' YELLOW CARD: Ilie Sánchez gets the first card of the night after bringing down Osorio.
67' Toronto step it up here but their final ball has been disappointing.
65' SUBSTITUTION: Soni Mustivar comes in for Medranda.
64' Medranda holds the ball up well and finds Espinoza charging into the box. The midfielder tries to play the ball back but his pass deflects off Dwyer and out for a goal-kick.
62' SUBSTITUTION: Jozy Altidore joins the game and comes in for Ricketts.
61' Giovinco finds a pocket of space and tries to play in Vázquez when Edwards might have been the better choice. The pass is intercepted and Sporting clear their lines.
59' CHANCE! Giovinco almost produces a moment of magic! His free-kick goes up and over the wall and beats the goalkeeper but cannons off the crossbar. Inches separated Giovinco from his first goal of the season there.
58' Giovinco finds a little space in front of the Sporting backline and is fouled by Besler in a great position for Toronto.
56' Espinoza finds Zusi in space but his effort goes over the crossbar from quite far out.
53' CHANCE! Dwyer has the best opportunity of the game but can't capitalize on it. Bradley plays a poor pass which is pounced on by Dwyer and the striker is one-on-one with Bono but shoots right at the keeper. He won't get too many chances like that.
49' Vázquez continues to grow in this game and finds Beitashour out wide. The wing-back sends the ball in, which takes a deflection and falls to Edwards but his effort has no power and goalkeeper Tim Melia grabs the ball.
47' Vázquez plays a great pass across the field to Edwards who's first touch is good but instead of squaring the ball across the box, he elects to shoot from a tight angle and doesn't get his shot on target.
46' Ricketts kicks the ball to Bradley to start the second half.
Half-time: Giovinco and in particular Osorio, could have put Toronto in the lead despite Sporting KC's dominance but they didn't and it's 0-0 at the break.
45' Ricketts get played down the line by Edwards and he gets into the box but Sporting have numbers back and his effort is blocked.
44' Sporting win a free-kick which is initially cleared by Toronto. Saad gets a second look at goal but he send his effort wide.
Osorio has had three looks at goal with his third being his best chance and he hasn't taken any of them.
43' CHANCE! What a chance for Toronto! Nick Hagglund gets by Zusi with some quick feet and crosses the ball towards Osorio and Vázquez. The ball comes to Osorio who brings the ball down well and then proceeds to sky the ball over the crossbar from six yards out.
40' SUBSTITUTION: And that's the end of Irwin's night as he is replaced by Alex Bono in goal.
36' Espinoza plays a great ball to find Saad in the box and Irwin comes out to make a big save. Unfortunately for the goalkeeper, he lands awkwardly and seems to have injured his knee.
34' Osorio is found in space at the top of the box and again, his accuracy is way off. Neither team has managed to get a clean strike on goal yet.
33' Sporting try to edge their way into Toronto's penalty area but Dwyer shoves Moor and Toronto get the free-kick.
31' Jimmy Medranda takes an ill-advised shot from a long way out and it goes flying into the stands. For all of Sporting's possession, Toronto are the ones who've had the best chances to open the scoring so far.
30' Saad sends his delivery right to the first line of defense and the follow-up by Zusi goes straight out.
28' Edwards fouls Fernandes in a very good position for Sporting KC.
27' Giovinco finds Beitashour unmarked again and the wing-back cuts it back for Vázquez but he slips as he tries to get to the pass and another chance goes by for Toronto.
22' Bradley wins the ball in midfield and Toronto breaks. The TFC captain then chooses the wrong option and tries to find Tosaint Ricketts instead of Giovinco and the move breaks down.
20' Edwards produces some nifty footwork to nutmeg Graham Zusi and he finds Jonathan Osorio unmarked at the top of the box. The Midfielder screws his effort horribly wide though.
19' Saad sends the ball deep to Opara who gets this head on the ball but nods it into the side netting.
18' Toronto call for offside as Dwyer picks up the ball but recover quickly to block his long-range shot and concede a corner.
15' Toronto really haven't gotten into this game apart from that one attack through Beitashour. Sporting are pressing well and keeping Toronto penned back in their own half.
13' Eriq Zavaleta is called for a foul on Soony Saad and Sporting look to try and find an opening with the set piece.
10' CHANCE! Toronto work the ball from the back well and the ball eventually comes to Beitashour who slides the ball across the face of goal. Giovinco whiffs at the ball and the chance disappears for Toronto. You'd expect him to score easily there.
7' Bradley is fouled in midfield by Roger Espinoza as Toronto try to get a foothold in this game in the early going.
Slight correction here: Toronto are in their usual 3-5-2 formation with Beitashour and Edwards as the wing-backs.
5' Sebastian Giovinco tries to latch onto a long ball by Michael Bradley but he's called back for a foul on Ike Opara.
2' Dwyer gets onto a long ball and Drew Moor has to make a last ditch challenge to clear the ball before it reaches Gerso Fernandes. Dwyer gets the ball back and tries to find a teammate in the box but his pass is cleared again.
Sporting KC apply some early pressure but a ball into the box goes straight into Clint Irwin's hands.
1' Dom Dwyer gets things underway for us and here we go!
Altidore is on the bench for Toronto tonight and Greg Vanney has seemingly gone for a 4-4-2 with Raheem Edwards and Victor Vázquez getting the nods to start. Sporting KC are seemingly unchanged and will use their usual 4-3-3 formation tonight.
Sporting KC (4-3-3): Melia; Zusi, Opara, Besler, Sinovic; Espinoze, Sánchez, Medranda; Fernandes, Dwyer, Saad.
Toronto FC (4-4-2): Irwin; Hagglund, Moor, Zavaleta, Beitashour; Edwards, Bradley, Osorio, Vázquez; Giovinco, Ricketts.
Good evening everyone and welcome to the first match in the MLS after the international break. We have our starting lineups already and it seems as though Toronto have sprung a few surprises tonight.
Prediction: Toronto are very hard to beat at home, losing just two of their last nine games at home and they will want that streak to continue on into this season. Sporting has also struggled away from home, winning only one of their last 16 games away from home. It's all set up for a Toronto win and unless Sporting spring a few surprises on Toronto, expect a home win here.
Greg Vanney is the head coach of Toronto FC while Peter Vermes is his counterpart for Sporting KC. The referee assignments see Alan Kelly as the center official and he will be assisted by Matthew Nelson and Logan Brown on the sidelines. The fourth official on the day will be Silviu Petrescu.
Projected Line for Sporting KC (4-3-3): Melia; Zusi, Besler, Opara, Sinovic; Espinoza, Sanchez, Feilhaber; Medranda, Dwyer, Fernandes.
Projected Lineup for Toronto FC (3-5-2): Bono; Zavaleta, Moor, Hagglund; Beitashour, Cooper, Bradley, Osorio, Morrow; Giovinco, Altidore.
The match will be played at BMO Field in Toronto, ON on March 30th, 2017. The game will broadcast on FS1 or TSN and kickoff is set for 7:30 PM EST.
Where they have struggled is at the top. Dom Dwyer has had a slow start to the season and hasn't managed to find the back of the net yet. Which means that most of the attacking impetus has fallen onto the shoulders of midfielder Benny Feilhaber. Feilhaber is questionable for this game with a thigh injury and if he is unable to go come game time on Friday night, Sporting will have a sizable gap in midfield and in creativity to fill.
Sporting Kansas City is coming into this game with the same form as Toronto. After two consecutive draws, the away side picked up their first win of the season in the last round of matches with a 2-1 win over the San Jose Earthquakes. The key strength for Sporting during their first three games has been the strength of their backline. Led by defender Matt Besler, the defense has only conceded one goal so far in their campaign and have kept the number of shots that their goalkeeper has had to face to a minimum. That backline also included the re-moulding of Graham Zusi from a right winger to a right back so even with his inexperience in that position, the Sporting defense has remained positive for the team.
Toronto's main struggle so far this season as a lack of fluency in their play. With the quality they have going forward, their play has been sloppy and uninspired which has limited service to the likes of Altidore and Giovinco. They will need to improve on that if they expect to pick up another win in front of their fans in the first home game of the season.
Toronto FC has begun to find their groove once again after a solid 2-0 win over Vancouver Whitecaps FC last time out, and even though for most of that match, it seemed as though the game would end in a draw, Toronto made the necessary changes to win. This was also without the presence of Sebastian Giovinco who missed the game due to injury but will be back for this clash with Sporting on Friday night. Toronto also expects the likes of Jozy Altidore, Michael Bradley, and Armando Cooper all back from international duty without any injuries to report of. Along with Giovinco, Toronto has a very formidable front line that will test the resolve of any defense in the league.
Welcome back to VAVEL USA's coverage of Major League Soccer this weekend. I'm Kudzi Musarurwa, bringing you this match-up between Toronto FC and Sporting Kansas City.