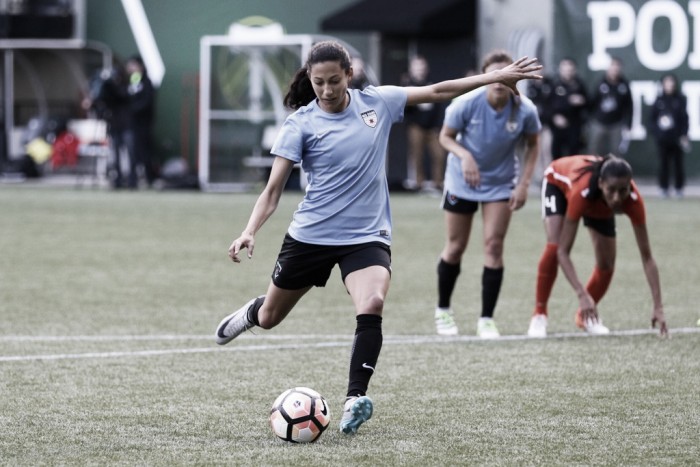 Kicking off the second round of matches for the 2017 Portland Invitational, the Chicago Red Stars and Houston Dash faced off in Providence Park on Wednesday night. Chicago's key players re-joined the squad after missing the first game against the Portland Thorns, and they proved to be crucial in scoring against the Dash.
Christen Press is back to lead Chicago
As soon as the game kicked off, both sides were creating chances. Three minutes in Houston's Janine Beckie tried her luck, but her shot hit the crossbar. For the next 20 minutes, both sides were getting shots off, but goalkeepers Jane Campbell for Houston and Alyssa Naeher for Chicago were able to take care of any threats that came their way. In the 26th minute, Houston earned a free kick 15 yards outside of the box. Andressa sent in a cross to find Poliana, but it was a little too high and Naeher was able to get to it.
The back and forth action continued once again and kept goalkeepers on their toes. Jen Hoy was fouled in the box in the 41st minute, earning a penalty kick for the Red Stars. Christen Press was able to convert and give her team the 1-0 nothing lead just before half. The Dash could not answer before the halftime whistle blew, but Bruna Benites was given a yellow card for a late challenge on Vanessa DiBernardo.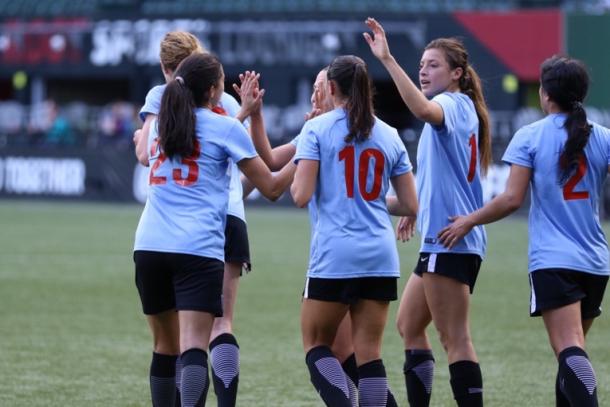 Houston equalizes, but Press stays on top
As the second half began, Houston took off in attempts to equalize. They were able to build up a few chances, but it was Chicago that countered and attempt to score again. Sofia Huerta found the back of the net in the 53rd minute off of a ball from Press, but she was called offside. In the 56th minute, Poliana almost equalized, but her shot missed the inside of the post and Benites couldn't get the rebound. Chicago was once again down Houston's throats two minutes later, but Campbell was there to save it near post.
Chances came for both sides as the game continued, but no goals came from any. Each team made rounds of substitutions hoping for an answer. Finally - and in an ironic way - Houston would equalize. Substitution Melissa Henderson was fouled in the box by Taylor Comeau, and in the 82nd minute Henderson converted the penalty to level the score 1-1. It wouldn't last long because two minutes later Chicago was on Houston's half again and once again Christen Press was able to score for Chicago to make it 2-1.
Both teams have one more game left in the tournament. On Sunday, the Chicago Red Stars will face the U.S. U-23 Women's National Team at 5 pm Pacific Time. The Houston Dash will take on hosts Portland Thorns after at 7:30 pm Pacific Time to wrap up the tournament.