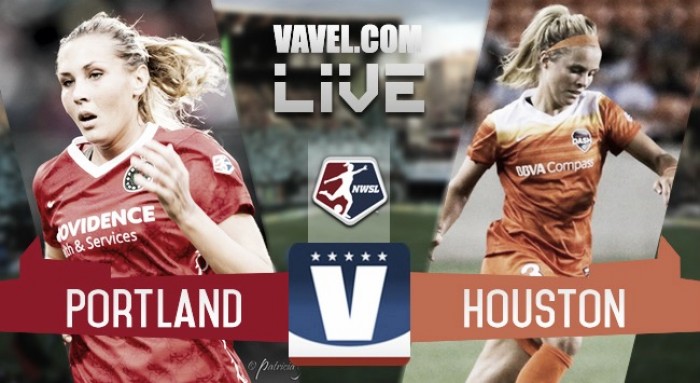 Thanks for following along! This is Bianca Verar with VAVEL USA signing off!
FULL TIME: Portland Thorns 1-1 Houston Dash
90+3' Dash Substitution: Caity Heap on for Andressa
90+2' Ochs tries with her left foot but Eckerstrom gets to it
90+2' Brooks' free kick finds Daly, but Daly's offside
90+2' Weber almost scores but Williams stands her ground to ensure no goal
90+1' Dash Substitution: Janine Van Wyk comes on for Poliana
90+1' Poliana is taken off the field on a stretcher
90' Three minutes of stoppage time
90' Poliana down for Houston
89' Weber takes it all the way to the end line and earns the Thorns another corner
88' Shim takes a shot off her chest and tries a left-footed volley but it goes over
86' Weber goes towards goal but Roccaro stays with her until she wins the ball and clears it out for a throw in
77' Portland Thorns 1-1 Houston Dash
76' DASH GOAL! Daly equazlies with a crack in the upper corner
75' Thorns Substitution: Meg Morris in
75' Weber comes from behind to win a header and gets tangled up with Benites, but the foul is called against her
69' Dash Substitution: Claire Falknor in, Henderson out
68' Weber fouled and she's down
66' Thorns Substitution: Nadim out, Mo Fitzgerald in
65' Andressa gets fouled at midfield
62' Thorns Substitution: Kendall Johnson out, Ellie Boon in
61' Ochs serves a free kick in and Benites gets her head on it, but it goes out for a goal kick
60' Hubly serves it in looking for Nadim, but Williams gets to it in the air
59' Johnson tries to cross it in, but it's deflected for a corner
56' Andressa tries from the corner of the box but Eckerstrom is there to collect
56' Weber called offside
46' Back in action in Portland
HALFTIME: Thorns lead 1-0
45+2' Dash serve a corner in, but Eckerstrom gets there
45' Two minutes of stoppage time
43' Nadim earns a yellow for a late challenge on Daly
41' Henderson serves it in, but Eckerstrom is there
41' Henderson earns corner kick for Houston
39' Shim tries again from distance, but it goes wide
37' Houston builds up an attack and Andressa tries her shot from distance, but Eckerstrom catches it in her hands
36' Weber tries to play a ball through to Nadim but Roccaro clears
33' Daly entered the match again
32' Thorns earn their fourth corner of the match
30' Daly is on her feet and walking off the field
28' Hubly comes in for a late tackle, Daly falls and the back of her head hits the ground
29' Shim's corner is punched away by Williams and is eventually cleared
28' Daly earns a yellow card
26' Johnson serves it into the box looking for Nadim but it's too much
25' Herndon fouls O'Sullivan
24' Shot from Weber handled by Williams
24' Hubly fouls Andressa from behind. Free kick for Houston
19' Through ball played for Daly, but she's called offside
18' Portland Thorns 1-0 Houston Dash
16' GOAL! Nadim's service off a free kick into the box is sent back her way, but it finds Shim at the top of the box and she puts it away for the Thorns
14' Henderson slides to make a shot, but an outstretched, diving Eckerstrom is there to hit it away
12' Boureille comes off the field, as she's the one who collided with Benites
11' Thorns earn another corner, but play is stopped. Benites is down in the 6 yard box
10' Herndon's shot at the top of the box goes wide
9' Portland gets down the field and earns a corner
8' The header off the Dash's corner just barely goes over
8' Dash build up an attack, but it finally goes out for a corner
6' Corner is fumbled around and lands at Bruna's feet but bounces and Eckerstrom dives to catch the bouncing ball
5' Daly sends a cross in, but a Thorns defender heads it over for a corner before Ochs can get on it.
4' Nadim fouls Roccaro for a free kick deep in the Dash's half
2' Thorns backline plays a long ball all the way to the Dash's 18, but Williams is there to collect.
1' Kick off in Provdence Park!
Lineups are being announced and the anthem is being sung.
Houston Dash Available Substitutes: Crosson, Falknor, Heap, Henninger, Munerlyn, Van Wyk
Amber Brooks will wear the captain's band for Houston while Emily Menges wears the captain's band for Portland.
This is Lydia Williams' first match for the Dash in the Portland Invitational.
Houston Dash Starting XI: Williams; Poliana, Bruna, Privett, Roccaro; Brooks; O'Sullivan, Andressa; Ochs, Daly, Henderson.
Portland Thorns Starting XI: Eckerstrom, Cox, Sonnett, Menges, Johnson, Shim, Hubly, Boureille, Herndon, Nadim, Weber.
That is all the analysis and pre-game coverage for now. Make sure you check back here when we get closer to kick off on Saturday!

It'll be an interesting match up on both sides, with so many key players missing. The last time this occurred was in July of last season, when all international players reported for Olympic duty. That time, the Houston Dash was able to come out with a win over the Thorns, who at the time were at the top of the table. Except that time, the Dash had Ohai leading the charge.

On the Houston Dash side, they will miss forward and captain Kealia Ohai for the second match in a row, as Ohai left for national team duty earlier in the week. Canadian forward Janine Beckie will also not be available due to the fact she is reporting to camp for the Canada Women's National Team. Goalkeeper Jane Campbell should be in camp with the USWNT as well, but an injury to Bianca Henninger and a previous injury with Lydia Williams had the young goalkeeper thrown into the Dash's first match of the tournament towards the end of the second half. Since then, Campbell started and played the full game against the Red Stars. Seeing as the two other keepers are injured, there is a possibility we will see Campbell in goal again for the Dash on Saturday before heading out to Texas for national team duty. Lastly, rounding out the injured is midfielder Morgan Brian who suffered a minor knee injury and has not seen action with the Dash in Portland. She also had to pull out of USWNT camp due to this injury.
For the Portland Thorns, they are missing Tobin Heath due to a minor back injury. Heath would have been on national team duty if not for this back injury, so this is a blow to both the USWNT and the Portland Thorns. She has not played in any preseason matches with the Portland Thorns so far in 2017, so she will once again sit out on Saturday night. Lindsey Horan is also forced to sit out for both the Thorns and the USWNT with a minor injury. In addition, the Thorns will be missing the likes of midfielder Allie Long, along with defenders Emily Sonnett and Meghan Klingenberg. These three have reported to USWNT camp and will not be available for Saturday's match. Lastly for the Thorns, veteran Christine Sinclair is also reporting to camp with the Canada Women's National Team for upcoming friendlies.

Both teams will be without a number of key players, whether it be because they are reporting to camp for the U.S. Women's National Team or due to injury.
The Houston Dash will also be looking for a win. Although they were able to come out on top in the dying minutes of their match against the U-23s - which they actually trailed for about 15 minutes, they were unable to earn any points against the Chicago Red Stars despite Melissa Henderson's equalizer off of a penalty kick. They will be looking to beat the hosts as they close the tournament up.
The Portland Thorns are looking to come back after letting the lead slip away from them against the U.S. U-23 Women's National Team on Wednesday night. So far they are 1-1 for this Invitational tournament, with their win coming off a converted penalty kick from Nadia Nadim over the Chicago Red Stars to open the tournament. Portland will hope to close play with a win over the Houston Dash.
Hello and welcome to VAVEL USA's live minute-by-minute Portland Thorns vs Houston Dash coverage and commentary. On April 1 the 2017 Portland Invitational wraps up as the hosts Portland Thorns face the Houston Dash. Kickoff is at 7:30 pm Pacific Time, but until then we'll have some pre-game analysis from me, Bianca Verar. Make sure you stay tuned and follow along.