 It's April 1st, and the Portland Timbers are coming off their most successful March in the MLS era - nine points from four games more than doubling their previous best early-season point haul. As we enter month two of the MLS season, the Timbers are in good shape standings-wise, if not necessarily health-wise, and they welcome the New England Revolution to Providence Park needing to see more out of their backup defenders than they did last week in Columbus.
Get Well Soon
Back when Liam Ridgewell and Vytas first got injured, Timbers coach Caleb Porter was operating under the assumption that the duo would be back soon-ish. Vytas' calf strain was supposed to keep him out for a game or two, and Ridgewell's recovery from a foot injury was expected in time for Sunday's game.
Neither recovery has happened on its hoped-for schedule, and both will miss the game Sunday. Deputizing, again, will be Roy Miller and Marco Farfan. Miller had a pretty rough go of it last Saturday, stoking the fears of everyone who thought that the player we saw have a shocker against Columbus is the real Roy Miller, and that the solid, effective player we saw in the first three games of the season was the mirage.
Farfan, of course, missed last week's game with the flu, but of the substitutes he's the one I worry about the least. For an 18 year old kid, he's demonstrated a pretty great maturity level, and if his skills aren't quite what they will be in two years or so, his speed and smarts do a lot to help the Timbers keep things solid at the back.
WELCOME BACK
The other excellent news for this weekend is, of course, the return of Darlington Nagbe and David Guzmán from their respective international teams. Guzmán in particular was sorely missed last weekend as the Timbers' midfield was overrun by the Crew, and having him behind Diego Chará doin' work again will be a welcome sight indeed. Stopping Juan Agudelo and Kei Kamara is not an easy task, and even if the Timbers do that, Lee Nguyen is always a threat.
With Guzmán doing his usual job closing up the back of the midfield, though, I worry less about the threat posed by New England's attack - the Timbers will still have their hands full, for sure, but the hands that are full are more than capable of doing the job.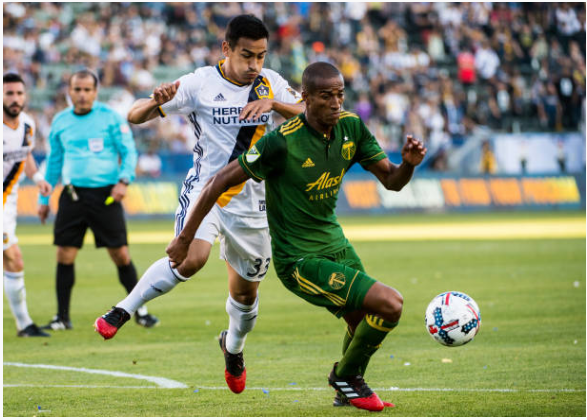 Please be better, Roy
(Photo: Shaun Clark, Getty Images)
TEAM NEWS/PREDICTED LINEUPS
It was mentioned up top, but again: Ridgewell is definitely out, and at the time of writing Vytas is out, although his status is much more day-to-day than Ridgewell's at this point. If Vytas can't go, expect to see Marco Farfan.
The Revolution are fully healthy and can utilize their first-choice lineup for this game.
TIMBERS:
Gleeson; Powell, Olum, Miller, Farfan; Guzmán, Chará, Blanco, Valeri; Nagbe, Adi
REVOLUTION:
Cropper; Farrell, Delamea, Angoua, Tierney; Caldwell, Kouassi, Nguyen, Fagundez; Agudelo, Kamara
WHAT/WHERE/WHEN/HOW
Portland Timbers v. New England Revolution
Providence Park, Portland
Sunday, April 2, 2017
6PM PT/9PM ET
TV: ESPN2
Streaming: WatchESPN (subscription only)