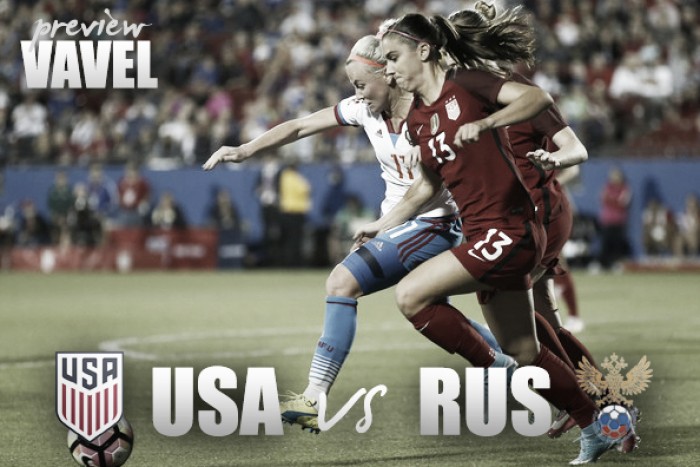 Since 2014, which was the last time both teams gathered for a friendly, much has happened for both Russia and the USWNT. While the USWNT won 8-0 in their last match in February of 2014, they displayed dominance and strength with their 4-0 victory this past Thursday night where the two teams gathered together in Frisco, Texas. Now with the second friendly taking place tomorrow, there is much to be expected from both teams.
Russia looking for a better outcome
Although Russia didn't receive the outcome that they would've liked from Thursday's match, this friendly is helping their improvement as they are currently preparing for the Union of European Football Association (UEFA) Women's Euro that is to take place this summer in the Netherlands.
Being the 15th UEFA ranked team and the 25th place in FIFA rankings, they have a second opportunity to face the US and possibly put up a more stronger fight to attain a victory that will contribute to their success for the UEFA.
With the US putting four goals in the back of the net, Russia can definitely improve on their defense tactics if they want to keep the US from scoring. In Thursday's match, there were many times where US midfielder Rose Lavelle was able to come through the backline without much of a fight and faced players one on one and successfully outran them.
Their new head coach Elena Fomina is the first woman in history to coach the team. As a former player she has had more than 100 caps and even had the privilege of being the captain at the 2003 FIFA Women's World Cup. Since taking over the coaching position, Fomina has a new group of players to work with and must find the right players to fit her teams playing needs in order to help her team succeed.
Russia Women's National Team Roster by Position:
GOALKEEPERS (2): 1-Tatiana Shcerbak (Kubanochka), 12-Alena Belyaeva (Chertanovo), 21-Iuliia Grichenko (CSKA)
DEFENDERS (6): 4-Tatiana Sheikina (Ryazan-VDV),8-Daria Makarenko (Ryazan-VDV), 13-Anna Belomyttseva (Ryazan-VDV), 18-Elvira Ziiastinova (CSKA), 19-Ekaterina Morozova (Chertanovo), 22-Ksenia Kovalenko (CSKA)
MIDFIELDERS (8): 5-Ekaterina Lazareva (Spartak), 9-Anna Cholovyaga (CSKA), 10-Elena Terekhova (CSKA), 11-Ekaterina Sochneva (CSKA), 16-Anastasiia Pozdeeva (Zvezda-2005), 17-Ekaterina Pantiukhina (Zvezda-2005), 20-Margarita Chernomyrdina (Chertanovo), 23-Elena Morozova (Kubanochka)
FORWARDS (3): 2-Nelli Korovkina (Chertanovo), 6-Nadeshda Karpova (Chertanovo), 15-Elena Danilova (Ryazan-VDV)
Another win for the US?
The last match the US played took place in their annual SheBelieves Cup in February, which didn't result in coming out on top as hoped. Since then, head coach Jill Ellis has made some changes to her roster by bringing in sixteen year-old forward Sophia Smith, seventeen year-old Jaelin Howell, and the Boston Breakers newly acquired defender Megan Oyster. In their recent match against Russia, Ellis tried a 4-4-2 formation rather then residing to her three-back formation, which wasn't working out too well as their last place result in their own tournament was enough proof.
Despite Tobin Heath, Lindsey Horan, and Morgan Brian being out due to injuries, the US have been able to hold down on a successful performance on the field.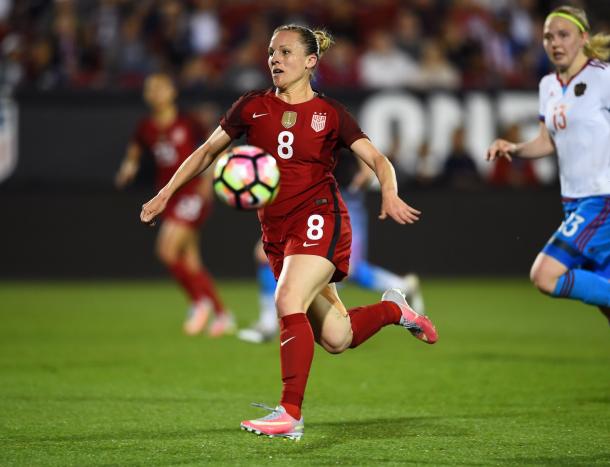 Forward Amy Rodriguez made her first appearance back on the pitch Thursday night after having her second son. Megan Rapinoe also made an appearance in the second half as well, which allowed the team to have skilled veteran players mix well to balance the amount of new incoming players who are making their first caps with the US.
USWNT Roster by Position:
GOALKEEPERS (3): 18- Jane Campbell (Houston Dash), 1- Alyssa Naeher (Chicago Red Stars), 24- Ashlyn Harris (Orlando Pride)
DEFENDERS (6): 7- Meghan Klingenberg (Portland Thorns FC), 11- Ali Krieger (Orlando Pride), 5- Kelley O'Hara (Sky Blue FC), 22- Megan Oyster (Boston Breakers), 4- Becky Sauerbrunn (FC Kansas City), 7- Casey Short (Chicago Red Stars)
MIDFIELDERS (6): 25- Jaelin Howell (Real Colorado), 16- Rose Lavelle (Boston Breakers), 10- Carli Lloyd (Houston Dash/Manchester City), 20- Allie Long (Portland Thorns FC), 3- Samantha Mewis (NC Courage), 15- Megan Rapinoe (Seattle Reign)
FORWARDS (8): 19- Crystal Dunn (Chelsea FC), 13- Alex Morgan (Orlando Pride/Olympique Lyonnais), 21-Kealia Ohai (Houston Dash), 23- Christen Press (Chicago Red Stars), 2- Mallory Pugh (UCLA), 8- Amy Rodriguez (FC Kansas City), 26- Sophia Smith (Real Colorado), 12- Lynn Williams (NC Courage)
Match Info
The second friendly of the year between the US and Russia will take place at BBVA Compass Stadium in Houston, Texas. The match is scheduled to take place at 11a.m PST, 1p.m CT and will be aired on ESPN.