Portland Thorns FC has released their new roster. The Thorns begin the 2017 NWSL season on Saturday against the Orlando Pride. The game will be aired on Lifetime as the first NWSL Game of the Week at 3:00 pm ET.
The team has made several changes. Tobin Heath was listed as a midfielder last year, while this year Heath is listed as a forward. Reversely, Mallory Webber was listed as a forward in 2016 and is now listed as a midfielder. A very versatile player, Meg Morris, is listed as a forward this year. Previously, Morris was traded from Sky Blue FC as a defender last year, and before that she played as a midfielder for the University of North Carolina.
There have been some new additions to the roster such as forward Ashleigh Sykes, a new signing from Australia. Sykes won the Golden Boot in the W-League where she scored twelve goals. She will join the team on June 10.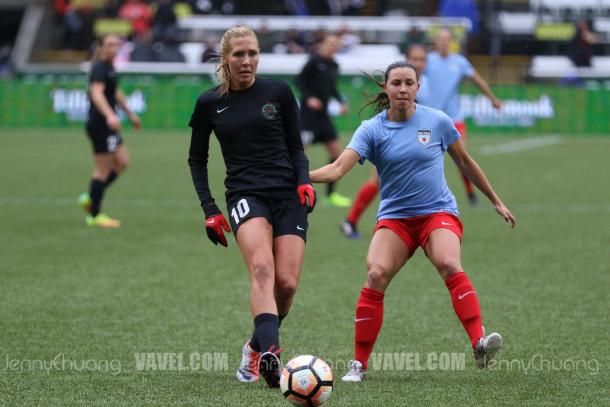 Britt Eckerstrom is also a new face on the Thorns roster. Eckerstrom was signed after Michelle Betos left for Norway to play for Vålarenga. The Thorns obtained Eckerstrom from the NC Courage, who drafted her in the 2016 NWSL draft. Besides Michelle Betos, another name missing from the roster is defender McKenzie Berryhill. The Thorns had acquired Berryhill in the 2016 NWSL draft, but Orlando Pride has now received Berryhill off waivers.
Additionally, defender Kat Williamson is missing off the 2017 roster due to retirement. Williamson played for the Thorns for three years, including the inaugural NWSL Championship in 2013. The four players the Thorns drafted in the 2017 NWSL draft do not appear on this list. The excluded are Rachel Hill, Savannah Jordan, Tyler Lussi and Caroline Flynn.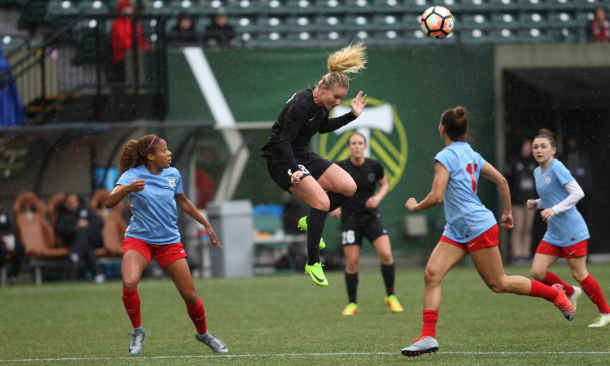 19 out of 20 Spots Filled
GOALKEEPERS (2): Britt Eckerstorm, Adrianna Franch
DEFENDERS (5): Kendall Johnson, Meghan Klingenberg (USA), Emily Menges, Katherine Reynolds, Emily Sonnett (USA)
MIDFIELDERS (7): Celeste Boureille, Dagny Brynjarsdottir (ISL), Amandine Henry (FRA), Lindsey Horan (USA), Allie Long (USA), Mana Shim, Mallory Weber
FORWARDS (6): Tobin Heath (USA), Meg Morris, Nadia Nadim (DEN), Hayley Raso (AUS), Christine Sinclair (CAN), Ashleigh Sykes (AUS)