Before I start, I gotta be clear: I'm thrilled that the Portland Timbers are where they are. Leading the Shield race, leading the Western Conference - after six games, the Timbers almost could not have dreamed of a better start.
But.
People in all sports talk about the concept of "strength of schedule". It's basically what the college sports world bases itself on - teams make it to and get seeded in the NCAA basketball tournament, in no small part, thanks to who they play. College football is similar.
In the pros, the concept is still there, although it's not necessarily emphasized as much - after all, there are a limited number of teams in each pro league to play, so while strength of schedule is a neat data point to start the season, it's not a major driver of conversation among fans as the season goes on.
So far, the Timbers have played six games. Those games have come against:
- Quite possibly the worst team in MLS history
- An LA team that is in the middle of a serious rebuild
- Last year's last-place finisher in the West
- Last year's next-to-last-place finisher in the East (although they're better this year)
- A mediocre team from the East, widely regarded as an inferior conference to the West
- The current last-place team in the East
So while I'm thrilled that the Timbers are where they are, I'd also argue that we should expect them to be there, given their quality and the quality of their opposition up to this point. The first serious test of the Timbers' new look for 2017 comes on Saturday, though, with the visit of Sporting Kansas City to Providence Park.
LOCKDOWN
We all know about the Timbers' attacking prowess this year. What you may not know is that Sporting has, after five games, given up two goals. If you're a rate stats fan, that's one goal approximately every 225 minutes of play. Either way, SKC is probably going to be the hardest defense Portland has faced all season.
What makes their defense so good? Well, their back line - Graham Zusi, Ike Opara, Matt Besler, and Seth Sinovic - is a solid group of players that, while aging (all but Opara are 30), will not make a lot of mistakes. Defender-turned-winger Jimmy Medranda, a player who impressed a lot of people last season in the back four but who is arguably better as a midfielder, was deputized last week in the absence of Benny Feilhaber.
That move paid off well; Medranda's a fast, aggressive player who is arguably better served when he is able to push forward more than he can as a left back. His biggest question mark in the midfield is his endurance; he noticeably tired out in the second half last week, and his last two starts have been 65 and 74 minutes. If he can stretch to 90, he'll be a huge threat as a midfielder.
Feilhaber may return for this game, as well - he had a hamstring problem that kept him out of Sporting's last couple games and is reportedly back in full training. There's been no official word that he'll be in the eleven for Saturday, but if he's back that's just another threat the Timbers will have to deal with. Given that SKC has struggled to score goals at all this year, the return of Feilhaber might be just what they're looking for to get their offense on track.
HOME COOKIN'
For the Timbers, it's a slow but steady return to health. While there's still no timetable for Liam Ridgewell's return, Vytas made the bench last week, and will presumably do so again this week. His return to the starting 11 has been blocked, though, by Marco Farfan, who will get the start again this weekend at home, since it's not a school night.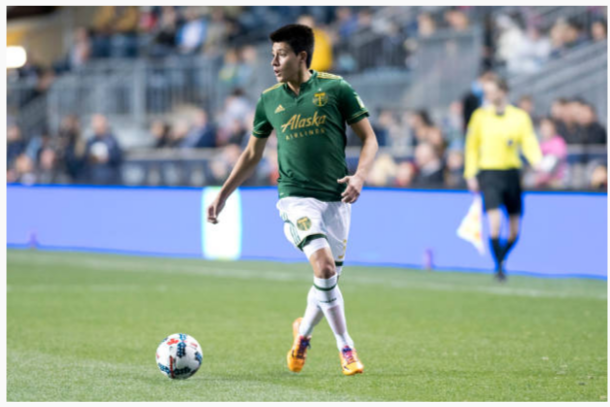 Otherwise, the Timbers are as they were last week, mostly - Darren Mattocks was stretchered off towards the end of the game, but should be OK for this weekend after being in training during the week. Otherwise, it'll be the same team that's scored in 21 straight home games and has an eight-game home unbeaten streak, trying to keep that pair of streaks alive against a really good defensive team that has yet to get it going on the offensive end. I'm not normally a fearless predictor, but I gotta say, I kinda like those odds.
PREDICTED LINEUPS
Timbers:
Gleeson; Powell, Olum, Miller, Farfan; Guzman, Chara; Blanco, Valeri, Nagbe; Adi
SKC:
Melia; Sinovic, Besler, Opara, Zusi; Espinoza, Medranda, Sanchez; Fernandes, Dwyer, Saad
WHAT/WHEN/WHERE/HOW
Timbers v. Sporting Kansas City
Saturday, April 15, 2017
Providence Park, Portland
Portland: KPDX 13
Kansas City: Fox Sports KC
Streaming: MLS Live (Subscription, regional blackouts apply)