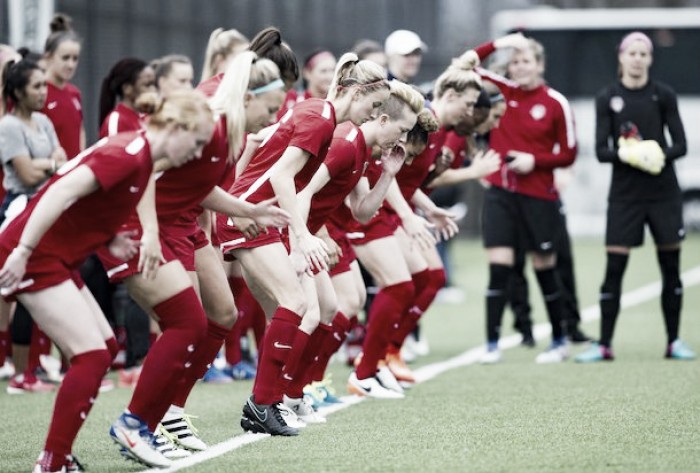 The Washington Spirit have finalized their roster for the 2017 season, filling 19 of the 20 available roster spots. A team with a turbulent roster for much of the season, the team now has some stability to work on rebuilding and replacing what they lost in the departures of veterans such as Ali Krieger to the Orlando Pride and Christine Nairn to the Seattle Reign. The roster includes three goalkeepers, six defenders, six midfielders, and seven forwards. The roster fills two international spots and holds two federation players, both from Canada. The roster does not include anyone currently on the USWNT.
Goalkeepers: 
The rostered goalkeepers are Kelsey Wys, Didi Haracic, and Stephanie Labbe. When Wys, who finished the 2016 season as the starting keeper, returns from injury, she will be fighting for a hold on that spot against Labbe, who held the spot prior to her departure for the Olympics. Labbe, who competes with the Canadian National Team, will be looking to earn back what she lost, especially after her successful run as the starting goalkeeper for her country during the Olympics.
 
Defenders:

 The rostered defenders are Whitney Church, Caprice Dydasco, Estelle Johnson, Kassey Kallman, Alyssa Kleiner, and Shelina Zadorsky. Dydasco tore her ACL in the 2016 NWSL final against the Western New York Flash (now North Carolina Courage), and so she has been placed on the 45-day disabled list. Zadorsky, who plays with Labbe on the Canadian national team, along with Church and Johnson played a large role in the Spirit's backline during the 2016 season, but now the focus will shift to finding a roster that not only functions but is successful without former captain and outside back Krieger.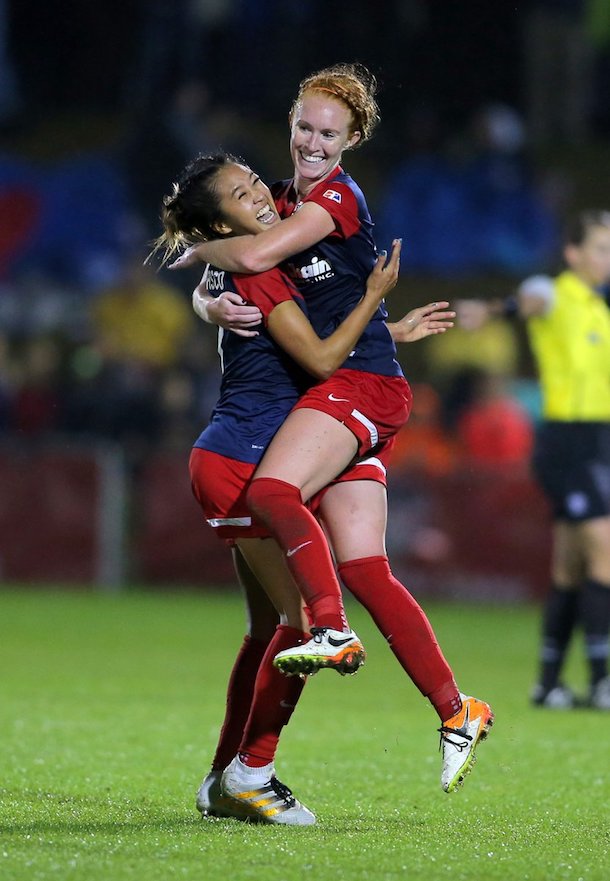 Midfielders:

The rostered midfielders are Cameron Castleberry, Meggie Dougherty Howard, Tori Huster, Joanna Lohman, Kristie Mewis, and Line Sigvardsen Jensen. Mewis, a transfer from the Boston Breakers and former member of the USWNT will be looking to break into the new team's lineup, while Huster and Lohman will hope to continue being as impactful in their positions as last year. 
Forwards:

This roster carries seven forwards that include Lindsay Agnew, Cali Farquharson, Francisca Ordega, Arielle Ship, Havana Solaun, Katie Stengel, and Cheyna Williams. Considering there are more players rostered as forwards than any other position, the Spirit's formation will likely be one that is more attacking-minded. There are also many familiar faces for fans including Williams, Ordega, and Stengel, but there are also new players as well to challenge those veterans for their spot, like Ship, a draftee from the University of California - Berkeley.
Roster by Position:

GK (3): Kelsey Wys, Didi Haracic, Stephanie Labbe
DEF (6): Whitney Church, Caprice Dydasco, Estelle Johnson, Kassey Kallman, Alyssa Kleiner, Shelina Zadorsky.
MID (6): Cameron Castleberry, Meggie Dougherty Howard, Tori Huster, Joanna Lohman, Kristie Mewis, Line Sigvardsen Jensen
FWD (7): Lindsay Agnew, Cali Farquharson, Francisca Ordega, Arielle Ship, Havana Solaun, Katie Stengel, Cheyna Williams