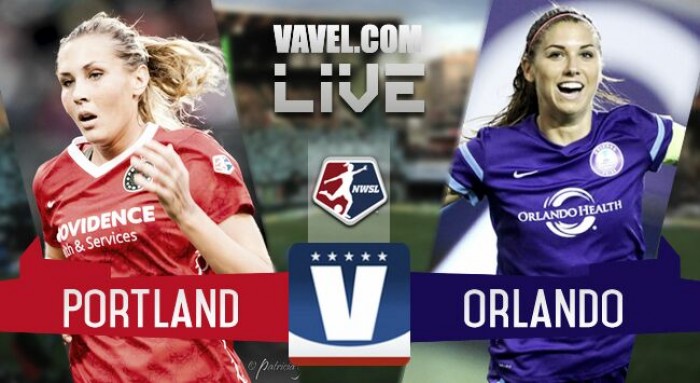 Thanks for following this Portland upset over Orlando here on VAVEL. A match review will be up shortly. I'm George Burkett signing off.
FULL TIME: Portland Thorns 2-0 Orlando Pride
Final whistle blows with Portland winning over Orlando 2-0
90+1' Long called for a foul just outside of the box but the Pride is unable to capitalize.
Four minutes of stoppage time added.
89' Chance for the Pride with a corner but unable to make anything happen.
86' Sinclair is sandwiched and goes down hard. She is back up and still in just after a minute of resting.
85' Sinclair gets a great ball into the box to Long that is called offsides AGAIN after finding the back of the net.
82' Free kick for Portland with Long on the end finding the back of the net. Referee called Long offsides keeping the score 2-0
79' Portland with a dangerous free kick just outside the box but is sent over the crossbar with speed.
78' Morris is brought in for Nadim
77' Pride makes their final substitution with Pressley taking over for Monica.
75' Edmonds tries to bend the ball in but Franch is able to gain control and reject the goal.
74' Foul giving the Pride a dangerous kick just outside the box
73' Portland putting pressure on the back line but nothing is to come of it.
71' Fields makes way for rookie D. Evans
70' Sinclair gets a ball to Shim but the shot is over the bar
67' Shim is brought on for Horan for Portland's second substitution
66' Long steals the ball and sends it to Sinclair that takes Harris 1v1 and sends it past putting Portland us 2-0
64' Camila running through and getting a ball off but sends it over the crossbar
63' Franch comes up with a big save in traffic
62' Pride's first substitution with M. Evans on for Weatherholt
60' Frist substitution Raso in for Weber
The corner was handled with ease
58' Weatherholt wins a corner for the Pride
55' Pride gets a corner but unable to convert
54' Klingenberg crosses to Weber but Weber misses the ball.
53' Nadim able to get behind Pride's back line but Harris gets a great block.
51' Catley gets a ball on frame in but Franch able to get control.
50' Hand ball called on Portland giving a dangerous free kick.
49' Thorns taking their time in the backfield and sends a long ball forward but cleared by the Pride.
48' Pride trying to thread the Thorns back line but unable to make anything happen.
46' Long gets double teamed in the backfield and Pride is able to get a shot off. Franch able to keep it out of the net.
And we are back with the Pride starting us off.
Time to refill the drinks and stay tuned for the second half.
And there is half time. Portland is up with the penalty kick 1-0.
45+1' Ubobagu able to get a cross in but is wide and goes out over the goal.
2 minutes of stoppage added
42' Spencer down in the box after a collision with Ubogagu
41' Free kick came amounts not nothing.
41' Franch comes out of the box and makes a poor clear and then fouls Ubogagu. Free kick just outside the box.
39' Free kick amounts to nothing as Franch handles the ball in without trouble
38' Pride freekick just outside the final third with Henry called for the foul.
35' Yellow card shown to Boureille, but the play was called offsides before the foul. Looks like the yellow was dropped.
33' Orlando playing with haste after going down by 1.
32' Nadim up for the kick and sends Harris the wrong way. Portland up 1-0
30' Kennedy for a handball in the box giving Portland a penalty kick.
29' Portland gets a great run up the side and gets a high header off but Harris collects.
27' A back and forth between Spencer and Fields gives a couple of crosses into the box that Portland handles without a problem.
25' Horan pushes a little too hard and gives Orlando a free kick.
23' Sinclair sends a ball deep and Harris came out of her box with a diving header to clear the ball.
20' Thorns have now started pushing high and creating big opportunities. They are still unable to beat Harris.
19' Klingenberg gets a great ball and gets a shot off just wide of the goal.
17' Pride corner but ball sails over everyone and went out of bounds without being touched.
16' Sinclair gets in behind the Pride and gets 1v1 with Harris. Harris comes up with a huge save keeping it at 0
15' Corner taken with Franch making an easy save
14' Spencer in behind a receives a corner for Pride.
13' Weber gets in behind the Pride backline and sends a cross with no one to connect with.
12' Pride fouled and a free kick just outside the final third. Handled by the Thorns with ease.
11' Pride are holding the ball in the back hoping to get something up front. Sends a long ball with no one there.
9' Franch had a heavy touch and Spencer jumps at the opportunity but the shot is wide.
8' Foul by Spencer on Sonnett. Free Kick Thorns
6' Pride pushing hard and causing problems for the Thorns back line. A few opportunities but nothing has developed.
4' - Klingenberg Crosses in but a bad header on the other end sends the ball wide.
1'- Weber gets a great run and puts a shot on goal that was handled by Harris.
And we are off with the Thorns kicking off
Danielle Chesky is our head referee today.
Kickoff will be in a few minutes.
Both teams are walking out onto the field at Providence Park.
Marta is not available for this game. She is working out Visa issues and will hopefully be good to play in the Pride's home opener.
Orlando Starting XI: Camila, Ubogagu, Spencer, Weatherholt, Monica, Edmonds, Catley, Kennedy, Krieger, Fields, Harris Subs: Leven, Alleway, Burkenroad, Pressley, Bledsoe, D. Evans, M. Evans
Portland Starting XI: Franch, Boureille, Sonnett, Menges, Klingenberg, Henry, Long, Horan, Nadim, Sinclair, Weber Subs: Eckerstorm, Cox, Johnson, Shim, Raso, Morris
Good afternoon everyone. George Burkett here. Kick off between the Portland Thorns and the Orlando Pride will be at 3 PM EST. The game will be broadcast on Lifetime but I will bring you play by play action as it happens right here. Stay tuned for updates.
Portland's Key: With Portland's midfield and backline remaining intact, if they are able to maintain possession in the midfield, they will be able to reduce the speed of the game that Orlando will be looking for. By slowing the game, they will be able to become more precise with their passes and might be able to crack the extra strength the Pride has put in back.
Orlando's Key: With the extra players in the back, the Pride will have more of a chance to get something moving up front provided coach Tom Sermanni stays away from the 3-back he was using during the pre-season games. If he uses a normal formation, a 4-back, I think the Thorns will be hard pressed to get a shot on goal and will have to watch the turnover balls due to the speed from the Pride's front line.
The Thorns will be a tough fight for the Pride since the Thorns midfield and backline are virtually untouched but the Pride has also picked up strength in their backline and has picked up speed and depth in the front.
Thorns forward Tobin Heath has announced she will be missing the first game of the season due to an injury sustained during the off-season.
Portland is also showing changes in their roster. Britt Eckerstrom was picked up from the North Carolina Courage after they lost Michelle Betos to Valarenga in Norway. Kat Williamson retired leaving another hole to fill. None of the 2017 College Draftees made the roster.
The Pride's biggest change was the acquisition of famed Brazilian forward, Marta. Although Marta was just recently picked up, she is rumored to be available for this game.
Orlando is starting the season looking to better their dismal ninth place finish in the 2016 NWSL season. The off-season brought change within the back line getting help with the signing of USWNT defender Ali Kreiger and Australian National player Alanna Kennedy. Two rookies acquired in the 2017 NWSL College Draft, midfielder Nickolette Driesse and forward Danica Evans, have also made their way onto the 2017 NWSL season roster. Alex Morgan will not be playing as she is in France playing with Olympique Lyonnais until June when her contract is up.
This will be one of four games being played on Saturday with a fifth being played on Sunday. You can get all your gameday previews at VAVEL USA.
This will be the first game being broadcast with NWSL's newest television broadcasting partner, Lifetime. Lifetime will be broadcasting one game a week on Saturdays. This game will kickoff at 3 PM EST and all other Lifetime Game of the Week will kickoff at 4 PM.
Portland Thorns vs Orlando Pride Live Score and Result
Welcome to VAVEL USA's LIVE coverage the 2017 National Women's Soccer League opening weekend game between the Portland Thorns and the Orlando Pride. My name is George Burkett and I will be your host for this game. We will bring you pre-game analysis, roster updates, and any news that happens right here on VAVEL. This game will be televised on Lifetime and will stream live at lifetime.com.