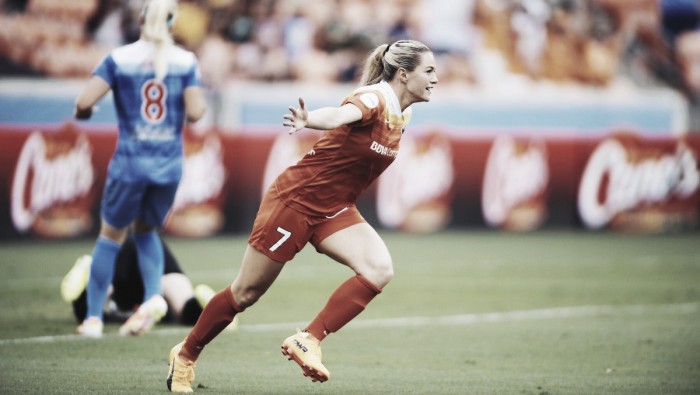 The Houston Dash opened the 2017 National Women's Soccer League season against the Chicago Red Stars. It was the first match for the whole league in 2017, and they certainly provided lots of entertainment to get the season started. The Dash were able to take a shutout and full three points from their visitors, winning their consecutive season home opener against Chicago. The Dash are currently tied for first in the league while Chicago is at ninth out of ten on the table.
Dash get things started
Both teams were off and running from the first whistle. Each team's keepers were busy, but Lydia Williams for the Dash was especially going to work with the Red Stars' quick attacks. None other than Captain Kealia Ohai would open up scoring in her home stadium. In the 15th minute, Chicago forawrd Steph McCaffrey's shot bounced off the post. The Dash quickly cleared and Brooks sent a long ball for Ohai, who chased it down and beat Alyssa 1v1 in the far corner of the net.
From there, Chicago was on fire - most notably Christen Press. Eager to get an equalizer, the visitors bulit up multiple attacks. Their efforts weren't enough though, as every shot either went out for a corner or was handled by Williams. Houston would also find themselves on the attack throughout the remainder of the first half, but neither side was able to come away with a goal. They headed into the locker room with the Houston Dash leading 1-0 in their season opener.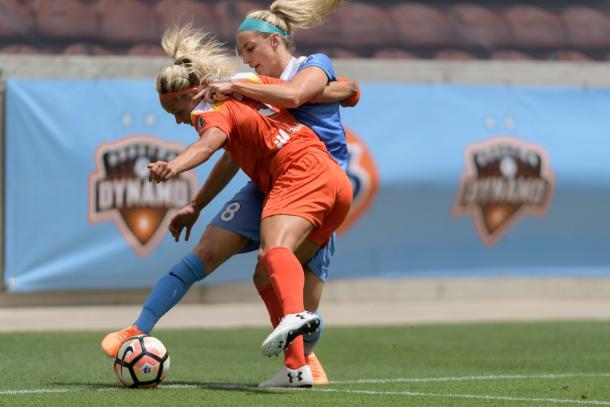 Daly adds some cushion
Chicago was desperate for a goal, peppering attacks on the Dash half. They were still unable to find the back of the net despite their best attempts. Claire Falknor and Sarah Hagen made their debuts for the Dash in the 68th minute. Only minutes later, Hagen almost had her first goal in orange when her head met Poliana's cross. After a weird bounce in front of Red Stars keeper Alyssa Naeher Chicago was able to clear. Sofia Huerta was able to counter for the Red Stars a minute later, but her shot in the box went to Williams.
Ohai helped the Dash find another goal in the 80th minute. She passed a low hard ball to Daly, who had defender Casey Short on her back. Daly was able to do a tight turn and shoot. Her curling shot found the upper 90 and the Dash were up 2-0. The Dash were able to keep the Red Stars at bay, and they earned their first win of the season.
Next week, the Houston Dash will travel west and face the Seattle Reign. The Chicago Red Stars will return home and host FC Kansas City at Toyta Park.