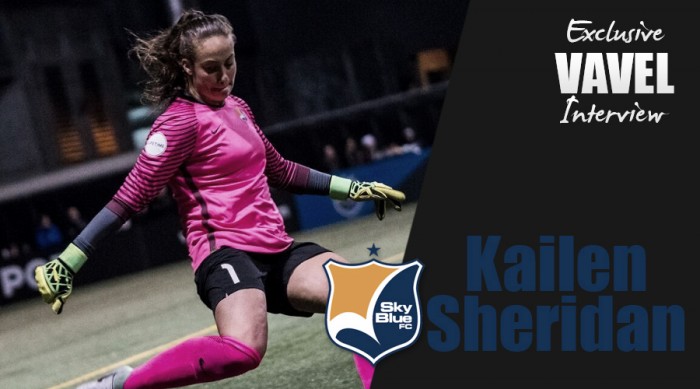 Kailen Sheridan, the 21-year-old goalkeeper, got her first professional start last week with Sky Blue FC. Sheridan, originally from Whitby, ON Canada, attended school at Clemson University. She was drafted no. 23 overall in the 2017 NWSL College Draft by Sky Blue.
The Canadian native is also a member of the Canadian Women's National Team. Sheridan minded the net against the Seattle Reign on the opening day of NWSL play for 2017. She only allowed one goal that came on a penalty. The game ended in a draw and Sky Blue got a point on the road.
Finding team balance
The Canadian Women's National Team (CANWNT) and Sky Blue have many similarities in their dynamic of the team. Both teams have a large mix of players from young to old, rookie to veteran. The CANWNT had seven players under the age of 20 on their recent roster for the 2017 Algarve Cup. On the other end of the spectrum, Canada has veteran players like Christine Sinclair and Allysha Chapman. Sky Blue matches that in a sense. While there aren't any players that haven't graduated college they have four players that are coming right out of college, one being Kailen. Sky Blue also has its share of veteran players like Christie Pearce and Kelley O'Hara who have both played in multiple World Cups.
Sheridan was asked about the importance of having an age-balanced team, "I think it's important to have a good mix of the older players and younger players. We learned that on the National Team, we bring in a lot of good flare and energy with the newer players, trying to try new things and challenge the older players. But then the older players kind of bring that intelligence of the game and they teach you what you're doing wrong and what you need to improve on, as well as taking that energy (Of the younger players) and that talent that you have and channeling it into what will come out on the field."
From Canada to New Jersey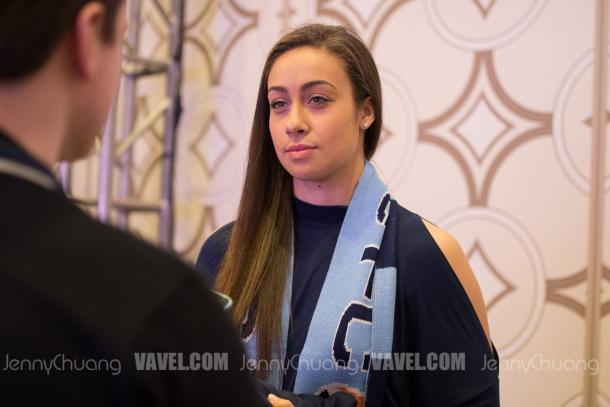 It is interesting to see how many players come from abroad to play college soccer in the US and how many of them continue into the NWSL. The NWSL has a fair share of players from outside the US with a heavy presence from neighboring Canada. Sheridan, born and raised in Canada, came to the U.S. for college, where she attended Clemson University.
Now moved further up the east coast in New Jersey with Sky Blue, Sheridan shares what she knew about Sky Blue and New Jersey before being drafted, "I knew a little bit, I knew Christie (Pearce) a little bit because she used to come visit Clemson, watch us play, talk to us about the NWSL, Sky Blue itself, get us pumped for the draft, and looking forward to what comes after college. Other than that I really just knew that it was in New Jersey."
Striving to be the best
Sky Blue FC did not end last season like they wanted to, finishing in seventh place. However after a successful offseason, acquiring four great college players and building on what they already had Sky Blue is a team to watch this year. With her rookie season getting its start here are Kailen's thoughts on the upcoming season, "Personally, I want to become a role on this team, a starting role, and do what I can to help the team progress and succeed. Goals for the season I think it's always, your goal should always be to win and to come out on top. I don't think if you're in this league if you have anything less than that, that you should be in this league. I think that everybody should be striving to win the Championship and just be the best in their position that they can be and bring out the best in everybody around them."
Eyes will be on Kailen who looks to help Sky Blue be on top where they aim to be at the end of the season. The next chance to see Kailen lead Sky Blue from the back is on Sunday, April 23rd, against the Boston Breakers.