In week two of the 2017 NWSL season, the Boston Breakers will host Sky Blue FC on Sunday at 4 p.m. ET at Jordan Field. Sky Blue is currently ranked in sixth place with one point while the Breakers are in eighth place with zero points.
Sky Blue with the winning advantage
In their first match, Sky Blue tied up game of 1-1 with Seattle Reign. Sarah Killion had a successful penalty kick that brought the team back after the Reign scored on a penalty kick as well.
In the 2017 NWSL College Draft, Sky Blue drafted defender Kayla Mills as the overall fourth pick and defender Mandy Freeman as the tenth pick. These rookies didn't hold back last week as Mills had 86 touches with the ball and made three tackles. Freeman also made a tackle against the Reign.
Sky Blue have an advantage of not losing to Boston since April of 2014. They currently have a three-game winning streak from the previous six matches that they have competed against the Breakers.
In regards to Sunday's game, Sky Blue FC head coach Christy Holly confirmed:
"We are very excited to get up to Boston and build upon our performance from last weekend in Seattle. Boston is a very dangerous team, and we definitely respect them. However, we know that if we play to our strengths and full potential, we will come away with the desired result."
With the new rookies and veteran Christie Pearce, Sky Blue have a strong lineup to prepare for their match.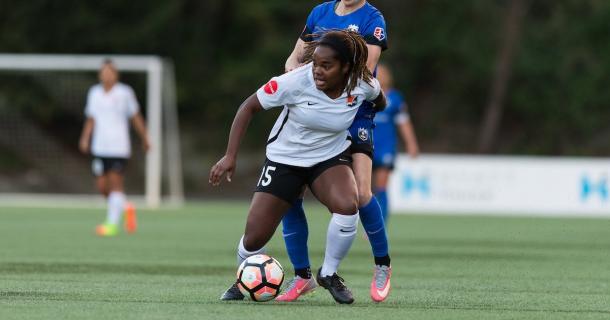 Boston looking for a comeback on home turf
Although the Breakers took a 2-0 loss last week against FC Kansas City, head coach Matt Beard shared his thoughts about the loss and the improvements for Sunday's game:
"We're really excited (about Sunday's home opener). We were disappointed with the result on Sunday. We've looked at the game and worked really hard on the training pitch this week just to tighten up in a few areas we feel where we should've been a lot stronger. With a new team and so many new players making their debuts, we knew it was going to take time but we want to hit the ground running on Sunday afternoon and make sure we start our home campaign with a win."
Boston comes into this match hoping to break the losing streak with New Jersey and to see a win so that their first two season games don't result in losses.
Midfielder Rose Lavelle played her first full 90 minutes with Boston against FC Kansas City and made a total of 81 touches with the ball.
Matt Beard gave rookies Morgan Andrews and Ifeoma Onumonu who were also recruited from the College Draft, a chance to see the game last Sunday as well.
Among their home openers, the Breakers hold a record of 1-2-1 (wins, losses, ties). Since 2015, Boston hasn't had a victory on their home turf. This Sunday they hope to have a breakthrough with a win that they will have to work hard for as they face Sky Blue, who holds a winning streak against them.