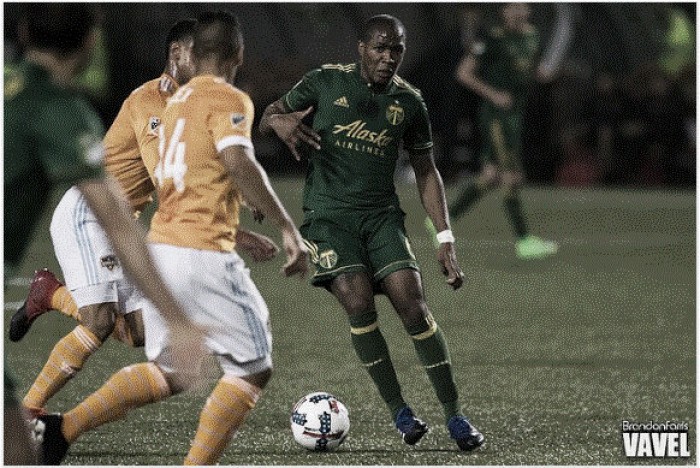 Oh, Cascadia. You never fail to excite me and surprise me. Saturday was no exception - without a first string GK, having the starting CB tandem return for the first time in a month, and with one of the Timbers' main playmakers on the bench, this game looked for all the world like Portland was ripe for the picking.
But happily, it was Vancouver that was picked off, with only a second half Fredy Montero penalty ensuring that Portland still doesn't have a clean sheet on the year. Which doesn't matter, because earning three points is way better than allowing zero goals.
THE GOOD
Angry Nagbe. We've seen flashes of it before, but when Darlington Nagbe decides to get mad and put the team on his back, he can do pretty much anything. It was only Tim Melia's fingernail that kept him from scoring a wondergoal last weekend, but David Ousted had no chance against this shot, which wasn't even going the way Nagbe's body was pointed. As someone who, unfortunately, can't remember who pointed it out on Twitter: what if Darlington Nagbe just decided to shoot a lot more? Not necessarily from wondergoal distance all the time, but just tee it up and see what happens. My guess? Good things would happen.
Shaking the rust off. As mentioned, this was the first game Vytas and Liam Ridgewell have played together in a month, and for the first 10-15 minutes, it showed. They both grew into the game as it went on, though, and Ridgewell in particular did a great job directing traffic from the back. That's always been one of his stronger points, his ability to yell at his linemates and put them where they need to be, and it's nice to see that command back in the lineup again.
THE BAD
The second half. Don't get me wrong; the Timbers won, and that makes me happy. But one thing I've noticed in this young-ish season is that the Timbers let their foot off the gas a lot. For the whole of the first half on Saturday, the Timbers were what we would have expected - quick to break, solid at the back, and never really under much in the way of a Vancouver threat. They scored two great goals, and it looked like Portland was on their way to a rout.
Then halftime happened.
In the second half, the Timbers were much more tentative, played back a lot more, and they allowed Vancouver to dominate the play a lot more than they should have. I'm not sure why the Timbers ease up, but it's a worrisome trend - they've done it a few times this season already, and against FC Dallas next weekend it will - not could, will - be fatal if they do it again.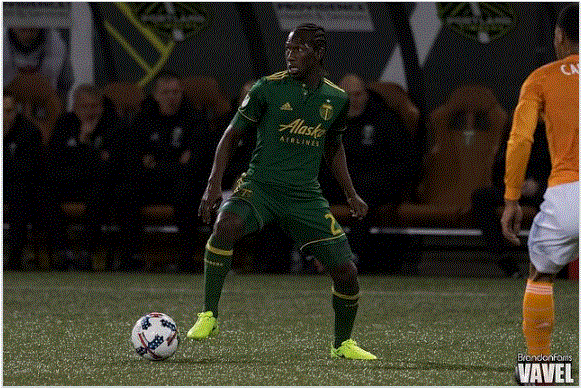 PICTURED: actual size
Alvas Powell's penalty. Oh, Alvas. You know we like you, right? That we want you to succeed? We really do! But you keep doing stupid stuff like this and it makes it really hard. Was it a hard foul? No. Have I seen calls like it not get made? Yes. But c'mon - you don't hip-check a guy in the penalty area. That's a schoolboy mistake. It was clumsy, it didn't even remotely look like there was intent for the ball, and it was the exact wrong thing to do as you tried to make up for being out of position.
THE UGLY
Nothing, really. The Timbers won, and there were no huge controversies or incidents to speak of. Now it's off to Dallas to take on probably the best team in the West and arguably in all of MLS. Portland didn't pass their test against Sporting Kansas City, so one hopes they'll have learned a thing or two in the two weeks between that game and this one.