Going to Frisco, TX to take on FC Dallas is never really fun, on many levels. But if the Portland Timbers have to go to Frisco, now's the time to do it on at least one front - it's "only" supposed to be 66 there at game time, albeit humid and with thunderstorms. That, however, is better than Dallas in July or August, when it's 92, humid, and may also be with thunderstorms, right?
The Timbers are flying, well, sort of medium-high right now; they took care of Vancouver Whitecaps last weekend despite missing several starters, and looked comfortable doing it for the most part, even if the second half was a little less so. Surviving that match should give them confidence heading into this weekend with Dallas, who are widely regarded as the best team in the league.
Why is Dallas so good?
Because their youth development is second to none. Dallas ranks 17th out of 22 active teams in total salary, and they only have one player making over $750K. The rest of their team is built from the ground up by academy products; at any given time, 6-7 of their starting 11 have some connection to Dallas' youth setup.
This allows Dallas to grow not just a team, but a philosophy; they drill their players in the way Oscar Pareja wants them to play from day one, and by the time they get to the senior squad, it's second nature, and they can just plug right in like they've been in the starting eleven forever. They play with a cohesion and a quality that few teams can match.
I'm agnostic on the whole "build vs buy" debate - there are merits to both approaches. But I love how Dallas does what they do, and I'd love it if more teams could/would emulate it.
Portland, meanwhile, is still struggling with injuries. GK Jake Gleeson and midfielder Diego Valeri are both out, Gleeson with a hip flexor injury and Valeri with a "grade one hip strain", which is different from a hip flexor injury in...ways. Both are expected back next week. Jeff Attinella proved a capable backup in Gleeson's absence, so the main worry is in midfield, where Dairon Asprilla will probably get another start, with either Darren Mattocks or Fanendo Adi up top. Mattocks gives the Timbers a little more speed and mobility but has struggled with the "put the ball in the net not next to it" bit a little, while Adi gets that part completely right, but doesn't move as much.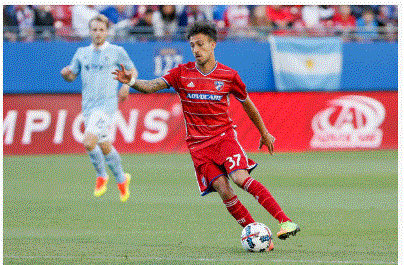 One thing I would like to see in Valeri's absence would be an increased presence from Sebastian Blanco. He arrived as a highly regarded (and not cheap) substitute for the not-highly-regarded (and not cheap) Lucas Melano, and while Blanco's been decent and is a lot of fun to watch with a ball at his feet as he dances out of impossibly tight situations, he hasn't produced as much as I would like. On the one hand, he hasn't had to, thanks to the fact that he lives in a midfield with both Diego Valeri and Darlington Nagbe. But on the other, the Timbers paid a lot of money for Blanco, and so far, he's been...ok. He needs to use Valeri's absence to step up and show us what he's capable of, which I believe is, and this is a technical term, Very Good Things.
Going to Dallas is always a tough ask, and without two or three starters, it gets even tougher. The 2017 Timbers have been good so far, but games like this (and like the one against Kansas City, which...didn't go well) are indicators if they're good-good or best-of-the-rest level good.
TEAM NEWS/LINEUPS:
As mentioned, Valeri and Gleeson are both out, but there are no other injuries to report, so the Timbers will be lining up close to what they were last weekend. Dallas is without Mauro Diaz but is otherwise fully healthy.
PORTLAND:
Attinella; Powell, Olum, Ridgwell, Vytas; Guzmán, Chará; Asprilla, Blanco, Nagbe; Adi
DALLAS:
Gonzalez; Grana, Zimmerman, Hedges, Figueroa; Acosta, Gruezo; Lamah, Morales, Barrios; Colman
WHAT/WHERE/WHEN/HOW:
FC Dallas v. Portland Timbers
Toyota Park, Frisco, TX
Saturday, April 29, 2017
7:00 PM CT/5:00 PM PT
TV:
Root Sports NW
KTXA Dallas

Streaming:
MLS Live (subject to blackout, subscription required)