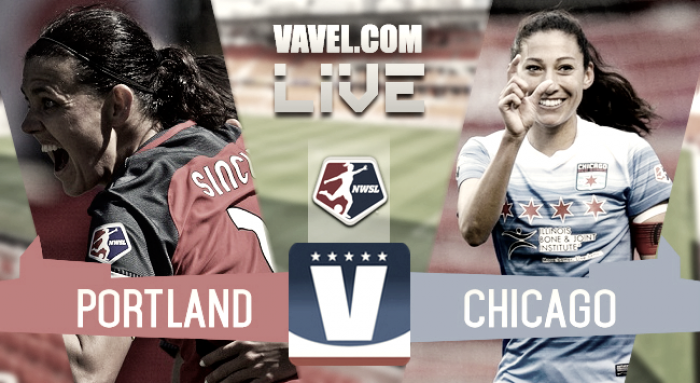 Portland Thorns FC 1 - 0 Chicago Red Stars
Full-time: Portland pick up a solid, gritty win against Chicago but the Red Stars will go away rueing the chances they missed.
90+2' YELLOW CARD: Chicago get a late corner which Franch again gets a great hand to. Portland then look to counter but Raso is tripped up by Press to stop Portland from being four players through on goal.
90+1' SUBSTITUTION: Kendall Johnson comes in for Horan.
89' Naeher sends in a deep ball into the box but Portland clear it. They eventually win possession. Sinclair gets forward and tries to setup Long but her pass is cut out.
87' Portland have their first attack in awhile but Chicago deal with it well.
85' Ertz finds Mautz out wide who drives towards the byline and tries to play the ball into McCaffrey's feet. It should be a corner for Chicago but the referee gives it as a goal-kick.
83' McCaffrey gets the ball from Hueta and rives towards goal but her shot doesn't have enough power and Franch catches it easily.
81' Chicago work the ball well and get in a great cross but Menges reads the play and clears the ball before it finds a Red Stars player in the box.
80' Chicago push forward again as DiBernardo swings the ball out to Huerta. Huerta goes for goal from far out and it goes wide.
78' Naeher, interestingly enough, takes the free-kick in midfield for Chicago which results in a corner. Naughton gets her head to the ball and it goes just wide.
77' Things have slowed down a little now as Portland try to see this game out.
75' SUBSTITUTION: Mallory Weber comes in for Nadim.
74' SUBSTITUTION: Stephanie McCaffrey comes in for Gilliland.
73' DiBernardo plays a great ball over the top that Franch has to come way out to kick away before Press gets to it.
72' Short wins the ball and finds Press at the top of the box. Press shakes off Menges and tries to curl the ball into the goal but it goes just over.
72' Comeau manages to dig out a cross from the sidelines and Mautz beats Cox in the air but she can't get her header on target.
68' Portland counter quickly and Raso drives forward as Portland is three-on-two on the break. Raso plays the ball towards Horan and Alyssa Naeher has to come out quickly to get the ball before Horan does.
67' Franch gets a solid punch to the delivery but Ertz gets the rebound. The ball comes to Colaprico who's shot is blocked.
67' SUBSTITUTION: Boureille picks up the first for Portland as she fouls Huerta.
66' SUBSTITUTION: Alyssa Mautz comes in for Hoy.
64' YELLOW CARD: Ertz picks up the second of the day after fouling Long in midfield.
64' SUBSTITUTION: Taylor Comeau comes in for Samantha Johnson.
63' Sinclair and Horan combine before laying the ball off for Henry who tries a long range effort but it goes well wide.
62' CHANCE! Huerta plays a nice little back heel to play Ertz in on goal and Franch has to have strong hands to parry Ertz' shot. The Thorns' goalkeeper gets up quickly to get the rebound ahead of on oncoming Hoy.
61' Horan strides into the box but her shot is right at the goalkeeper as well. Open game now
60' Now Chicago get forward with Press who accelerates past Portland's midfield. Her effort from outside the box goes straight to Franch though.
60' CHANCE! The ball comes to Sinclair in the box and her effort goes just wide of the far post.
59' CHANCE! Gilliland ghosts past Meghan Cox and puts in a great delivery that Franch just tips away. Sinclair then breaks for Portland and passes to Nadim who can't get her first touch right.
57' Portland get awarded a free-kick after some tough challenges come flying in from Chicago.
55' Raso wins the ball off of Huerta and breaks quickly with her speed. She finds Allie Long at the top of the box and it takes a smart tackle by Naughton to stop Long from being through on goal.
54' DiBernardo almost springs Press free on the break but Sonnett is there to cut the ball out and preventing Press being one-on-one with Franch again.
53' Portland stride forward and Sinclair lays the ball off for Raso who's shot is blocked.
52' Dani Colaprico sends in the free-kick towards Short but Franch comes out again and claims the ball well.
51' YELLOW CARD: Sonnett picks up the first one of the day after fouling a rampaging Short in a good position for Chicago out wide.
50' Portland come the other way with Nadim and Horan slips as she tries to get to the cross. Nadim then fouls DiBernardo and Chicago ins possession back.
50' Short wins her battle against Boureille and tries to set Hoy free down the flank but the striker is called for offside.
49' Huerta strides forward with pace and glides by a few Portland players but her effort goes into the side netting.
48' The corner finds Sinclair at the far post but she can't turn the ball back towards goal and the Red Stars get a goal-kick.
47' The Red Stars win a corner but can't make anything of it and Portland are able to move up the field. Now the home team have a corner.
46' Chicago starts us off in the second half.
Half-time: No extra time added on by the referee as the teams head into the locker room with Portland on top.
44' Celeste Boureille gets forward from the back and tries to find Sinclair with the cross. Gilliland is there again to head the ball away.
41' CHANCE! Press wins the ball back high and finds Ertz. Ertz then gets the back back to Press who slips Sofia Huerta in on goal but Huerta gets her angles all wrong and sends the ball over the crossbar. Chicago has to take on these soon.
40' The ball comes in towards Sinclair but Arin Gilliland is there to clean it up and move the ball out of her own box.
37' Hoy thinks she's earned a corner for her team but she's called back for a foul on Sonnett.
31' Portland may have the lead but Chicago have shown enough here to think that they could get an equalizer.
30' The corner comes in and Franch gets up high to catch it. A good claim by the goalkeeper.
29' CHANCE! Chicago almost get one back as their pressure wins the ball high up and Press almost capitalizes on it. Henry is forced into a rush clearance to prevent the goal.
It has a little harsh on Press but her hand was raised and the ball did hit her hand in the box.
Portland Thorns FC 1 - 0 Chicago Red Stars
27' GOAL! Naeher guesses the wrong way and Nadim converts to give the Thorns the lead.
26' PENALTY! The ball hits Press' hand and Portland have the chance to take the lead through Nadim.
26' Sinclair and Raso combine well down the left had side and Johnson is quick to put in a challenge and prevent the cross from coming into the box.
A replay is shown of Press' latest chance and it looks like Franch took her out with her challenge. Chicago's head coach Rory Dames has every right to ask why his team did not get the penalty there.
If Portland are not careful here, those passes back to Franch are going to cost them a goal. It's not the first time in this game, or this season, that the goalkeeper's foot work hasn't been up to par.
23' Franch almost gives the ball away as Portland try to play the ball out of defense. It works, barely, and then Naughton gives away the corner with a poor back pass to Naeher. Nothing comes from the corner and eventually Chicago get the ball back with a throw-in.
22' CHANCE! Short plays a fantastic cross for Press that she tries to get to as Franch comes off her line and the Red Stars player ends up kicking it out for a goal kick.
21' Ertz is doing a great job in that number ten role as she plays another pass for Press this time to run onto. Sonnett is strong though and holds off Press enough to stop her from getting to the pass.
20' Portland are trying to pass their way through Chicago's midfield but so far, the Red Stars have stood firm and are looking to use Press or Hoy's pace on the break.
16' Hoy thinks she's through on goal but she was just offside. Chicago get the ball again and Menges is alert enough to cut out the through ball by Ertz to Hoy.
16' We have a slight lull in action here and going back to Press' earlier chance; she was one-on-one with the goalkeeper and you would usually bet your house on her putting that away but she placed it right in Franch's hands.
14' Press fouls Amandine Henry and Portland get a free-kick in midfield. The ball returns to Chicago as Emily Menges is forced into conceding a throw-in.
13' Portland attack as Christine Sinclair finds Nadia Nadim who sends it out wide for Raso. Raso's cross is deflected for a corner by Short. The resulting corner leads to nothing.
12' Raso and Casey Short battle it out on the sidelines and Raso ends up conceding a needless free-kick.
11' DiBernardo tries to play Ertz through but her pass is just too long and Franch can collect the ball calmly.
9' The corner comes to nothing but Chicago maintain possession and are eventually called offside which halts their attack.
8' Portland maintain possession but they can't make the final pass count. Now Chicago break with Vanessa DiBernado and earn a corner. Their first of the day.
7' Lindsey Horan finds Hayley Raso in space and Katie Naughton gets across quickly to stop the Thorns forward from taking a shot.
6' Chicago win another free-kick through Julie Ertz and again, the Portland defense does well and clears the delivery away.
4' CHANCE! Christen Press has an early chance for the Red Stars as Jen Hoy finds her on the break. The striker hits it straight at Adrianna Franch and misses a great opportunity.
2' Chicago earn a free-kick but Portland manage to clear it away.
1' And we're off!
Tobin Heath is still not fit enough to make the match day squad For Portland, and Julie Ertz seems to be in Chicago's midfield again for this game.
Chicago Red Stars (4-4-2): Naeher; Gilliland, Naughton, Johnson, Short; Ertz, Colaprico, Huerta, DiBernardo; Hoy, Press.
Portland Thorns FC (4-3-3): Franch; Boureille, Sonnett, Menges, Cox; Henry, Long, Horan; Nadim, Sinclair, Raso.
Hello everyone and welcome again to VAVEL USA's coverage of today's game where the Portland Thorns welcome the Chicago Red Stars to Providence Park. The stating lineups are as follows:
Portland Thorns FC 1 - 2 Chicago Red Stars
Prediction: The games between these two teams are always full of goals and so far, the Thorns have come out on top each time the Red Stars have come to Providence Park. This may be the day that Chicago find a way to win in Portland though and set their stall out for another playoff run. It'll be close but I think Chicago may just edge it.
The referee assignments are out with Ramy Touchan being the center official for this one and he will be assisted by Chris Elliott and Eduardo Jeff on the sidelines. The fourth official on the day will be Cephas Quartson.
Projected Lineup for Chicago Red Stars (4-5-1): Naeher; Gilliland, Ertz, Johnson, Short; Huerta, Colaprico, DiBernardo, Naughton, McCaffrey; Press.
Projected Lineup for Portland Thorns FC (4-3-3): Franch; Boureille, Sonnett, Menges, Klingenberg; Long, Henry, Horan; Nadim, Sinclair, Heath.
The match will be played at Providence Park in Portland, OR on April 29th, 2017. The game will broadcast on go90, NWSLSoccer.com and the NWSL app at 4:00PM EST.
Press cannot be the only source of goals for Chicago however, other players will have to step up in case Press has an off day or if a team plans to mark her out of the game. So far, when Press has played, not many of her teammates have not been able to chip in with a large amount of goals. If Chicago wants to win against Portland, that is something the likes of Sofia Huerta and Stephanie McCaffrey will have to do.
The Chicago Red Stars were very sluggish in their first game of the season but rallied to perform very well in their second game of the season. A tactical change saw Julie Johnston play as an attacking midfielder instead of defense and Christen Press was shifted to the tip of the offense. Those moves allowed the Red Stars to create chances against a usually miserly FC Kansas City defense and if Nicole Barnhart had not been in fantastic form, they would have scored more goals. If Press stays as a forward in the center of the attack, she will cause any defense in the league problems so if that is where she starts against the Thorns, expect her to make some noise and terrorize the Thorns' defense.
Where the Thorns are susceptible is at the back. Goalkeeper Adriana Franch has been called upon to make nine saves in the two games she has started which means that there are gaps to be exploited in the backline for any team facing Portland. If the Thorns want to make it all the way to another championship game, that will have to be addressed and they can start resolving that if they can limit the amount of chances that Chicago have against them.
The Thorns have many assets in their team but the news that midfielder Tobin Heath is slated to see the field this weekend is a big boost for them. They have missed Heath's creativity in attack and will want her to get going this season as soon as possible. In her absence, Nadia Nadim, Christine Sinclair and Allie Long have stepped up to provide the Thorns with goals and an assist. It has not been enough however and after their poor efforts in front of goal and against a stout NC Courage defense, Heath's arrival cannot come soon enough for Thorns fans.
With one loss and one win on their record so far this season, both teams enter this match looking to make strides up the table by winning. The Portland Thorns will want to bounce back from their disappointing loss away last week while the Chicago Red Stars will look to build on their opening home win with another win against a tough opposition.
Welcome to Week 3 in the National Women's Soccer League! Hosting this LIVE update for VAVEL USA is myself, Kudzi Musarurwa, and we will be watching Portland Thorns FC take on the Chicago Red Stars in front of a boisterous crowd in Portland.