On Sunday afternoon, the BBC announced their five-player shortlist for their 2017 Women's Footballer of the Year award. The shortlist, while it features no USA players this year, nevertheless represents the NWSL well. In addition to Bayern Munich midfielder Melanie Behringer, Olympique Lyonnais striker Ada Hegerberg, and Chelsea goalkeeper Hedvig Lindahl, the Portland Thorns, and the Orlando Pride are represented by forwards Christine Sinclair and Marta, respectively.
Sinclair's nomination comes after a 2016 that saw her lead Canada to a second successive bronze medal in the Olympics, this time in Rio. With her as captain, Canada reached their peak FIFA ranking of fourth, and she contributed to a Thorns squad that won the 2016 NWSL shield. At 257 caps, the 33 year old striker is the second highest international goal-scorer of all time with 167 goals scored, after surpassing Mia Hamm's 158 in 2016. Only Abby Wambach's record of 184 goals stands higher on the international stage. "People should vote for me because I helped lead Canada to back-to-back podiums, which nobody else did, and just changing the state of women's soccer in Canada," Sinclair said of the nomination, "To win this award obviously would be a huge honour but it would be testament to our team and the run we had in the Olympics. We put our team on the map."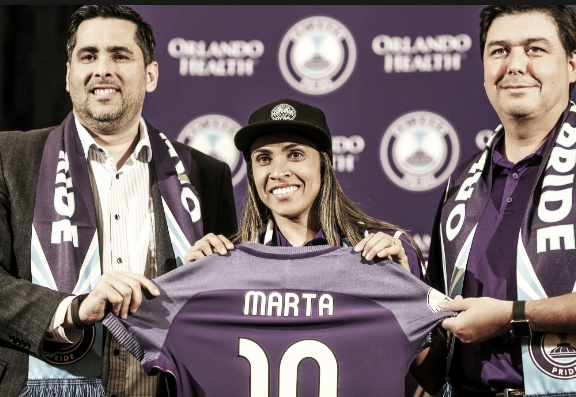 For her part, Marta was incredibly active on the field in 2016, though she wasn't a representative of the NWSL until recently. She's won FIFA's World Player of the Year award five times, and in 2016 she led Brazil as the home squad of the Rio Olympics, where the side took fourth place (losing to Sinclair's Canada team in the bronze medal match). The 31-year-old striker said of the nomination, "I think you should vote for me because everything I do, I do with love. This shows that really what we have been doing over the years has been fruitful. It would give me more motivation to pursue my best every year."