 For those of you who don't know, Portland Timbers owner Merritt Paulson can be...voluble. His first few years as Timbers owner were marked by an almost incessant Twitter presence that often devolved into petty fights (as Twitter often does), but in Paulson's case, he seemingly never met Twitter bait that didn't taste good. He started to become known more for that aspect of his ownership and for fighting with a segment of his own fans (and occasionally other fans as well) than anything else.
To his immense credit, in recent years he's dialed that back quite a bit. He still gets into the occasional online kerfuffle, but by and large, he's become an anodyne presence, cheering on his team and tweeting encouraging things about the Timbers, Thorns, and other soccer-related things.
One thing that hasn't changed, though, is the strength and depth of his opinions and convictions when it comes to his team. He firmly believes (and I agree) that the Timbers are one of the highest-profile teams in MLS, thanks in no small part to the unbelievable support of the Timbers Army, and he believes that with that profile comes a lot more pressure than people outside the Northwest might believe. Paulson went on the Max and Herc podcast the other day, and among other things, he had this to say about the level of expectation in Portland, relative to that in LA or another high profile media/sports market:
I'd argue you're under more of a microscope in the community of Portland. And Caleb Porter is more of a recognizable figure in the community of Portland as the head coach of the Portland Timbers than anybody who's coaching the LA Galaxy is as they walk in and around their community.
And the thing is, he has a point. The LA Galaxy is the most successful team in MLS history, but they're barely a blip on the LA landscape, competing with the Dodgers, the Lakers, the Clippers, and the Angels (plus the WNBA and the NHL, and soon another LA MLS team), as well as a little thing called the entertainment industry. If Curt Onalfo is walking down the street, in Carson or in Venice or in Silver Lake, maybe a handful of people would ever notice him, much less know who he was.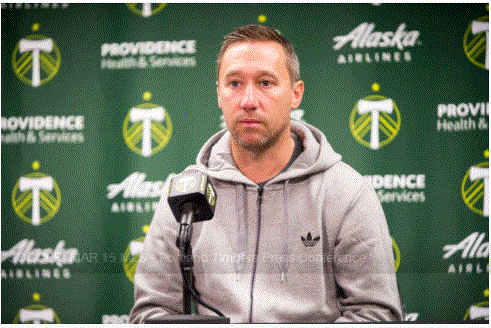 In Portland, though, the Timbers are one of two men's professional sports teams. Unlike the mega-millionaires in the NBA/NFL/MLB, MLS players mostly make real-world money, which means that, in the Timbers' case, the players live in real-world neighborhoods, for the most part, not in gated enclaves. For example, Diego Valeri shops at my grocery store, and Zarek Valentin lives about four blocks from our place.
What that tends to do is bring a lot more visibility and subtle pressure to anyone on or in the organization - these guys are our neighbors, we see them a lot, and we know who they are. When your neighbor wins a championship, it tends to make you think your neighbor can always win a championship. They've done it once, right?
But when it doesn't happen again the next year, maybe you give your neighbor a little grief. It's good-natured at first, but then if your neighbor's team keeps not winning, or keeps playing poorly, maybe that ribbing gets a little...edgier. And when you multiply that edgy ribbing by, well, everyone in the neighborhood, all of a sudden it's not so fun to be on the Timbers anymore.
That's not really the path that Timbers fans take, to be fair - the attention they give to their friendly neighborhood Timbers is almost overwhelmingly positive - but that said, as a Timber, you're always under a microscope in the community here. And as a Timbers coach, that scope is even more powerful.
That's what Merritt was talking about on the podcast, and I have to say that, despite all the "Oh, that's just Merritt being Merritt" reactions that his words often engender, he has a very good point.