 After a frustrating trip to Dallas last weekend which saw the Timbers drop two very winnable points, they regroup and make the quick jaunt down to San Jose this Saturday to try to right what went wrong last week against the Earthquakes. Currently fifth in the West, San Jose are always a tricky proposition, particularly at home, but they've gotten off to a rough start this season.
After winning their first two games of the year, both at home, the Quakes were winless in six - three wins, three draws - before beating Minnesota United last weekend, again at Avaya.
Goals are hard to come by
One of the reasons San Jose has struggled this season is goalscoring, or more accurately, the lack of it. In nine games, they've scored nine goals, which - and I'm not great at math, so bear with me here - works out to about one goal per game.
A goal a game is relentlessly consistent, but it's hard to win games when you generally only score one goal, particularly when your usually solid defense lets you down. The Quakes' defense hasn't been catastrophic, but it has given up one more goal than it has allowed.
Portland, meanwhile, is scoring at a pretty great clip - 20 goals in 9 games, the most in MLS. And the goals are coming from all over - Sebastian Blanco became the Timbers' 10th different player to score a goal last weekend. So if the Timbers can just sort out the defensive flakiness that allowed Dallas to climb back into last week's game, they'd be unbeatable. But they haven't, so they're not.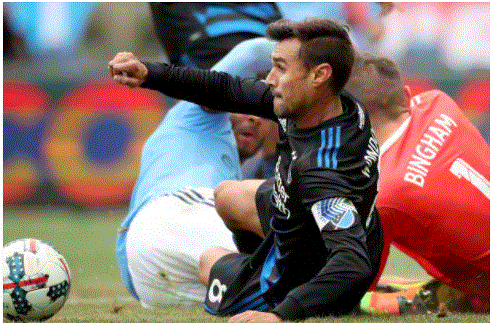 Road trips are fun again
The Timbers are having much more success on the road this year than last - their two wins so far in 2017 are, let's see, oh right two more than they had all of last season.
They'll want to erase the memories of two troublesome draws against the Revolution and the aforementioned FC Dallas, and a struggling-to-score San Jose team might be just the tonic for that.
Team news/predicted lineups
Injured Timbers Jake Gleeson, Liam Ridgewell, and Alvas Powell are all recovered and should be available for selection Saturday. Diego Valeri is still a doubt, as is Darlington Nagbe.
Timbers:
Gleeson; Ridgewell, Olum, Vytas, Powell; Guzmán, Blanco, Chará, Barmby; Asprilla, Adi
Earthquakes:
Bingham; Bernárdez, Junwirth, Sarkodie, Cato; Godoy, Hyka, Cerén, Ureña; Hoesen, Wondolowski
What/When/How
Timbers vs. San Jose
Avaya Stadium, San Jose
Saturday, May 6, 2017, 7.30 PM
KPTV 12 Portland
CSN California San Jose
MLS Live (subscription, subject to blackout)