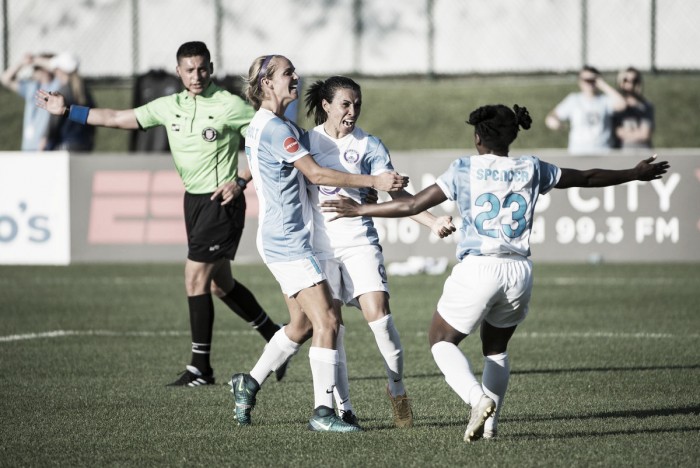 In a back and forth match, the Orlando Pride and FC Kansas City battled to the last minute. Although the Pride were able to earn the lead late in the second half, the Blues answered back only ten minutes later for an all-around draw.
Both sides eager in first 45
Hardly a minute into the match Orlando Pride's Monica went in for a tackle on Brittany Ratcliffe. Monica went down holding her knee and was down for awhile until she was assisted off the field and Dani Weatherholt went in for her. The two teams struggled to find a rhythm after that, but Kansas City was eager to find themselves on the board. They found themselves with plenty of early attacks from players such as Lo LaBonta, Shea Groom, and Sydney Leroux. Orlando was also able to come up with a few chances later on in the half, with Marta being a huge part of the attack. As the half went on, both teams were able to build more threatening attacks, forcing both goalkeepers - Nicole Barnhart for Kansas City and Ashlyn Harris for the Pride - to make saves.
In the 26th minute, FC Kansas City almost found their first goal since opening day. Groom fought off her defender at the top of the box, finding LaBonta a few feet away. LaBonta faced up and saw Groom running to the far end of the box, serving it in after a few touches. The ball was just a little too much for sliding Groom and went wide of the post. From there, both teams continued to press forward in hopes of a goal. Rookie Danica Evans took throw ins for the Pride, impressing many people with her flip throw-ins she was known for in college. At the end of the half, birthday girl and forward Sydney Leroux earned a yellow card for flying into a tackle with Pride defender Steph Catley. It was the last major event of the half before both teams walked into the locker room scoreless.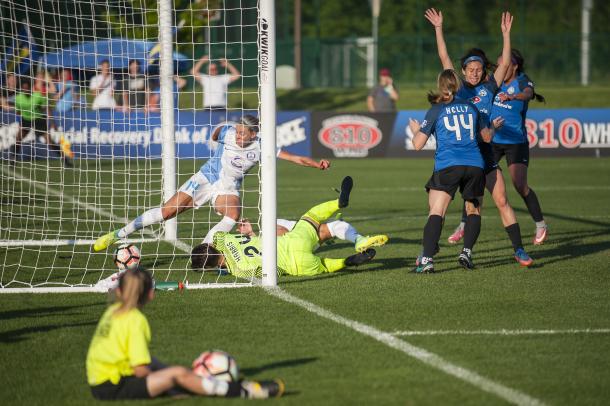 Late goals for both teams
Both teams came out just as strong as they ended the first half. In the 51st minute, Kansas City midfielder Desiree Scott went down after a tackle and after a few moments was able to walk off the field on her own. She quickly returned to the match to help Kansas City look for their first goal of the game. Orlando applied pressure early, finding majority of possession as well as quite a few chances at goal. In the 60th minute, Maddy Evans earned a yellow card for a hard come-from-behind challenge on Groom. Orlando pressed on in the minute that follow, hungry for a goal but unable to find the final pass and finish in the box. Kansas City was quick to find their own chances as well, when LaBonta took a big shot from outside of the box. Harris read it quickly and was able to hit it away. Leroux followed the rebound, but Harris popped back up quickly to get a hand on it and deny Kansas City a goal.
Orlando was finally rewarded for all their high pressure in the 74th minute. Brazilian international Marta was able to slip the ball past Barnhart to score her first goal since joining the NWSL, giving the Pride a 1-0 lead with almost 15 minutes to go. It seemed like Kansas City was out of time, but in the 84th minute LaBonta was taken down just outside of the box. Yael Averbuch took the free kick. Her initial shot was blocked by Harris, but three Blues players followed through, continuing to do their best to put the ball into the net. Finally, substitution Erika Tymrak was able to slip it past the flurry of defenders and Harris to level the game 1-1. With an additional five minutes of stoppage time, both teams attempted to find a game-winner, but when they whistle blew they remained at a 1-1 draw.
Next week, FC Kansas City hosts the Portland Thorns. The Orlando Pride return to Florida to host the North Carolina Courage, who are on a four-game winning streak.