On Sunday afternoon at Toyota Park, the Chicago Red Stars took on the Boston Breakers for the last game of Week 5 of NWSL action. This was always going to be an interesting matchup between two physical teams that are trying to elevate their game throughout the young season. With almost a completely new lineup, Boston no longer looks like a team completely lost, with solid wins against the Seattle Reign and Sky Blue FC. And the Red Stars had ground out results against the Houston Dash and FC Kansas City, but struggled to put games away, and particularly to out-score opponents (coming in with three goals in four games).
Feeling each other out
Chicago started the match with a high press, causing all sorts of pressure in Boston's defensive third, but ultimately the Red Stars continued to struggle to get shots on frame. The Red Stars seemed to show a frustrating lack of motion in their opponents box, sometimes to the point where Julie Ertz (today playing in the number 6 role, after bouncing round as a 10 in previous weeks) was actively instructing her teammates on how to move while play was still ongoing. Chicago's lack of a finishing touch allowed Boston to weather the initial storm, and push back a bit on their own. This was made possible by the continuously stellar play of rookie Rose Lavelle, who showed her innate ability to dribble around entire defenses seemingly at will. On Chicago's end, Alyssa Naeher's decision-making continued to show improvement from opening week, and she made a key stop by coming off her line (not necessarily her forte) around the 23rd minute.
Ultimately the first half had some good looks for both teams (and the wind didn't do Chicago any favors – there were certainly some unlucky bounces). However, neither team played with much urgency in front of goal, and the half ended in a scoreless tie, though Lavelle looked like she could be the difference maker in this one if she caught Chicago ball-watching.
Big players make big plays
The second half started with energy from both squads, with Chicago again pressing into Boston's defensive third, but struggling to pull the trigger when given opportunities. Throughout the second half it seemed that Boston was out-muscling the Red Stars, pushing them into poorly-weighted passes that made maintaining possession almost impossible for the home team. This type of a giveaway proved deeply costly, as in the 69th minute Lavelle cleverly dispossessed Ertz and dribbled all the way down the pitch, initiated a quick give-and-go passing sequence with substitute Midge Purce, before driving the final shot past Naeher to put Boston up 1-0.
Chicago responded to going down with energy, but still struggled to really challenge Boston keeper Abby Smith, until in the 77th minute there were some unexpected dramatics. A shot came towards Smith, who couldn't keep her hands on the ball. The closest Boston defender tapped the ball with her foot, and Smith had no time to react before she picked it up, resulting in an illegal back pass that was quickly called by the referee. This resulted in a Chicago indirect free kick in the box, which Boston defended with all 11 players, ultimately escaping unscathed.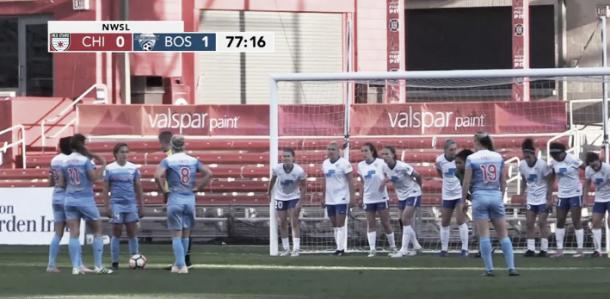 Drama towards the end
This would not be the end to the late-game heroics however, when in the 89th a great clearance by Naeher found the feet of Chicago midfielder Sofia Huerta, who sent the ball in for a diving header from Christen Press, who notched her first goal of the 2017 campaign and tied the game up at 1-1, where it would ultimately end.
Boston would have to be disappointed with the final score-line, probably feeling like a few different touches could've won them the game. Chicago would also have to be disappointed with their performance, in that they were not necessarily out-played (except perhaps by Lavelle), but were mostly inert in front of goal, and unnecessarily sloppy in the midfield. It will be interesting to see what both squads learn from this match, and how it could shade their strategies in the upcoming weeks.
On a somewhat unrelated note, Chicago's attendance for the match today was reported at 1,827, a low for them at Toyota Park, and their lowest attendance since May of 2015. Attendance has been a league-wide problem this year, but after the Red Stars' impressive re-branding this summer, it is somewhat alarming to see their numbers dip so low so early in the season. One would have to weigh factors such as location (Toyota Park isn't reachable by Chicago Public Transit), lack of evening games, and unwelcoming spring weather in the region, but one would have to wonder if this is something the club should start actively addressing in whatever way they can. Chicago's next home game is against the North Carolina Courage on May 27th at 3pm CST.