 There's things in life that set your pulse racing, right? Getting to see your favorite band, watching a movie by a director that you love, maybe even something participatory like driving an amazing car or something. There's always a thing that makes your heart skip a beat, makes you look forward to seeing/doing that thing.
Then, there was Portland Timbers vs Atlanta United FC on Sunday.
I love MLS. It may not be as technically proficient as other leagues, but it's a ton of fun to watch if you're invested in a team, and I love going to live sporting events so going to Timbers games really scratches a pretty deep itch for me. That said, though, going to Sunday's Timbers game was like paying to figure out what beige looks like.
On paper, it looked like quite the matchup. Two fairly potent offenses and two kinda mediocre defenses squaring off, and it would make sense that one of them would give, right? Well, not so much. It ended as it started, all even, and neither team could say they actually dominated or deserved to win.
The Good
Starting defenders. The Timbers have struggled to keep their back line guys healthy all season, and one of Sunday's bright spots, Vytas, showed us why that's so important. He was probably my favorite acquisition of last season and a lot of the reasons why were on display again Sunday.
He's calm, he works his tail off, and he's one of the few MLS defenders who knows what to do with the ball when it comes his way. He very rarely puts the Timbers in danger with tricky/bad clearances - when he stops the play from moving forward, he either puts the ball in row Z out of danger or gets it to a Timber midfielder to start an attack. It was good to see him back on Sunday, and here's hoping he can stay healthy for the rest of the season.
Sebastian Blanco. It's an unfair description to call Blanco "The guy who was brought in to be Not Lucas Melano", but in a lot of Timber fan eyes, that's who he is. But he's so much more than that. In a midfield with Diego Valeri and Darlington Nagbe, Blanco's contributions can often appear muted or even not appear, but the Timbers are a better team with him on the team.
On Sunday, he played both right and left wing, and he was equally dangerous either way - and the best part of his play was that he seemed to be one of the only attacking Timbers who didn't want to settle for a draw. Late in the game, Blanco was pushing forward a ton and trying to get his teammates to come with him and look for an equalizer. The Timbers need that energy and drive, and even if it's not showing in a goal tally, Blanco's making a huge difference in exactly the same way that Lucas Melano never did.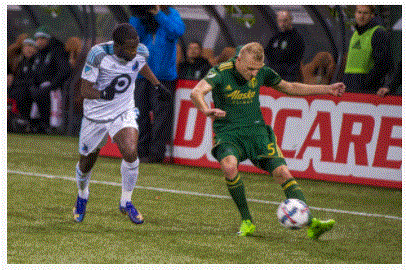 The Bad
Flat footed. One of the cliches that you always hear in soccer is "play to the whistle". You play until you're told to stop. But the converse of that is also true - you have to be ready to play from the moment you step on the field. And the Timbers were definitely not ready to start the second half. Atlanta had the ball to start the second half, and from the kickoff, worked the ball into the Portland penalty area, where Liam Ridgewell and Lawrence Olum were...I don't even know. Standing around chatting? Looking for birds in the sky?
Either way, their heads weren't in the game, and Julian Gressel took advantage, putting a shot past Jake Gleeson, who probably also expected his defenders to be doing defensive things, to score Atlanta's goal. This was a completely preventable goal and a goal that the Timbers can't concede if they want to be taken seriously as MLS Cup contenders.
Alvas Powell. I really, really, really want to like Alvas Powell. But he really, really, really makes it hard. For every good thing he does - and there are a few - he has a whole pile of head-scratching, WTF-level brainfart moments. He gives the ball away very cheaply, his passing is about 15% accurate on a good day, and it's becoming increasingly unclear to me how many more seasons we're supposed to wait for Consistently Good Alvas to show up. He hasn't arrived yet, and my patience with him is wearing thin.
Diego Valeri. Atlanta put a lock on his door and didn't let him out, and for once the Maestro sounded more like he was conducting 4'33" than Ode To Joy.
The ugly
Head games. In the first half, Atlanta's Yamil Asad took a ball square in the face and instantly fell down without bracing himself. From the stands, it looked like he was knocked unconscious. The Timbers' team doctor was closest to the incident, so he got to Asad first and began evaluating his condition. He was soon joined by Atlanta's team doctors, who almost instantly cleared him to play, over the objection of the Timbers doctor who wanted to run through the concussion protocol before allowing him to return.
Referee Alan Kelly, though, went with the Atlanta doctors' call and allowed Asad to resume play. Once this happened, the Timbers medical staff went ballistic and, a moment later, Kelly actually stopped play to check on Asad again. Asad was deemed to be OK and completed the game.
The whole incident was a mess, though, and it highlighted the need for MLS to have disinterested, unaffiliated doctors on the sidelines in order to evaluate head injuries properly. Any team doctor is going to look for reasons to keep a player playing, and if you remove that incentive, a player will get proper evaluation without regards to his immediate value to his employers. In this situation, it seems Asad is OK, but I hope MLS doesn't wait for something more serious to happen in order to take a look at how they handle concussion situations like this one.