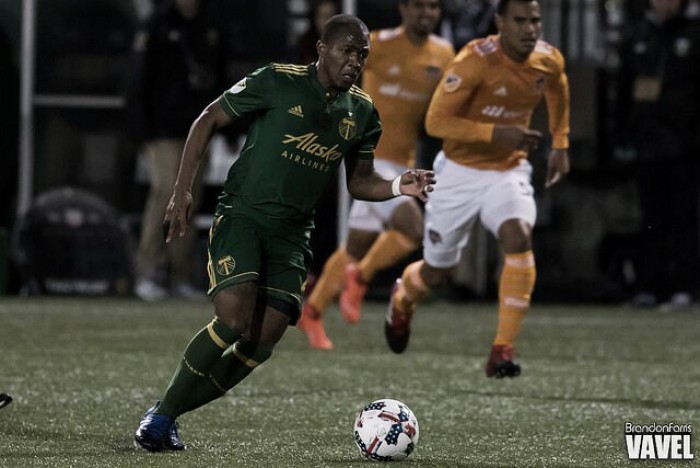 Well, here we are, 11 games into the 2017 season, and I'm not sure we really have a firm handle on who the Portland Timbers are just yet. Are they the attacking, pass-and-move, overwhelm the defense juggernaut that many predicted? Are they the leaky defense that many feared? Are they a legitimate threat to make a deep playoff run, or are they going to scrap for the last playoff spot and flame out?
Thing is, there's no one unifying answer to that set of questions. I mean, if I were feeling snarky, I'd say, in order: yes, sadly yes, probably, and I don't think so, but there's always nuance to these things. MLS is such a tight league that a two or three game winning or losing streak can have a hugely outsized effect on a team's position in the table. What this means, then, is that MLS tends to reward what the Timbers have been so far in 2017: good, but inconsistent.
There are reasons for that inconsistency, of course; injuries have really made a mess of the concept of a regular starting defense, and the normal age-based degradation of players (I'm looking at you, Mr. Ridgewell) is also playing a part. Bottom line is that the Timbers aren't dominating, but that's OK because they're earning points and staying above water most of the time.
They have a golden chance to get three big away points this weekend, though, at last-in-the-East Montreal Impact. "Last in the East", though, is kind of misleading, again because of the parity in MLS; if Montreal wins on Saturday, they're right back up by the magical red line. Portland's job, then, is to keep that from happening and ensure the Timbers stay on the correct side of that line.
Good News, Everyone
After missing two games with a hamstring injury, midfield linchpin Darlington Nagbe is expected to return to action in Montreal. It's reductive to say the Timbers are a much lesser team without Nagbe in the lineup, but it's also true; he may not score 12 goals a season, but the passing and movement Nagbe brings to the side can't be underestimated. Just look at the San Jose game a couple weeks ago, or to a lesser extent last week against Atlanta, for what happens to a Portland midfield lacking that particular spark.
Also, with Nagbe back, Caleb Porter, for one of the first times this season, can field pretty much his first choice XI. That will hopefully be enough to pull the Timbers out of their mini-funk and let them bank some precious road points against the Eastern Conference.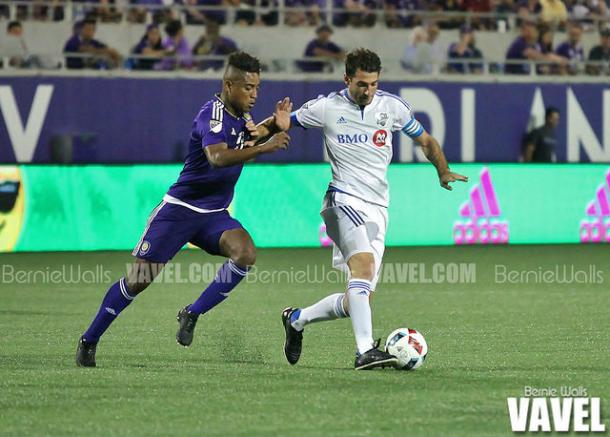 Insert lazy Canadian joke, probably about Poutine because it's time to talk about Montreal
The Impact, as mentioned, are last in the East right now. They're looking to avoid their third straight home loss, and they hope that the addition of Designated Player Blerim Džemaili, on loan from Bologna, can haul them up the table. Fresh off the plane last weekend, he set up a goal against Columbus last week, and the Impact will be looking to him to energize their midfield as they begin the climb back to the playoff places.
Džemaili made 31 appearances for Bologna this season, scoring eight goals. With Bologna safe from relegation and having nothing else to play for, the club let him go on loan before the Serie A season ended.
Team News/Predicted Lineups
Both Montreal and Portland should be at more or less full strength for this game.
Montreal:
Bush; Oyongo, Ciman, Fisher, Duvall; Arregui, Dzemaili; Bernardello, Piatti, Tabla; Oduro
Portland:
Gleeson; Vytas, Ridgewell, Miller, Powell; Chará, Guzmán; Blanco, Valeri, Nagbe; Adi
Referee: Jair Marrufo
WHAT/WHERE/WHEN/HOW
Timbers v. Montreal Impact
Stade Saputo, Montreal
Saturday, May 20
Noon PT/3PM ET
Portland: Root Sports NW
Montreal: TVA Sports
Streaming: MLS Live (Subscription, subject to blackout)