The Boston Breakers come into Week 6 of the season standing in fourth place with seven points. Having the advantage at playing on their home turf at Jordan Field, they will see the Portland Thorns who are just one spot above them in third place with eight points.
Both teams tied in Week 5
Last Saturday, the Chicago Red Stars hosted the Breakers and midfielder Rose Lavelle scored the opening goal, which also marked her second goal of the season in the 69th minute of the match to give the Breakers a lead. The Red Stars came back and forward Christen Press scored her first goal of the season late in the match to tie up the game 1-1.
The Breakers match against the Red Stars wasn't the only match that resulted in a tie as the Portland Thorns had a scoreless 0-0 result against FC Kansas City. The Thorns currently have a 2-1-2 record.
Breakers look to top Portland in NWSL standings
Both teams are just one point away from each other in the NWSL standings and come into this match looking to conquer in order to gain the placement advantage. Although Portland is in third place, they have their work cut out for them as the Breakers have a 4-2-0 home record against the Thorns.
The Thorns have won their three previous matches against Boston, who hope to stand their ground and give Portland a challenge.
Players on the move
Angela Salem of the Breakers saw a ton of action as she played a key role in last weekend's match with 73 touches and 51 passes throughout the game. She even fell back into a defense position to where she made six tackles against the Chicago.
Last season was her first time around with Boston and the 28-year-old midfielder played 1,699 minutes on the pitch. Her ability to contribute to the defense in crucial circumstances will definitely be vital as the Thorns are expected to be fearless to score.
Thorns goalkeeper Adrianna Franch made two saves last weekend to earn her third shutout of the season. With this match ahead of them, fans will hope she will be able to stand her ground and maintain control of the goal once again.
Midfielder Allie Long of Portland is also on the edge of making her 30th goal and being the third player in NWSL history to reach such a landmark as she currently has 29 goals behind her.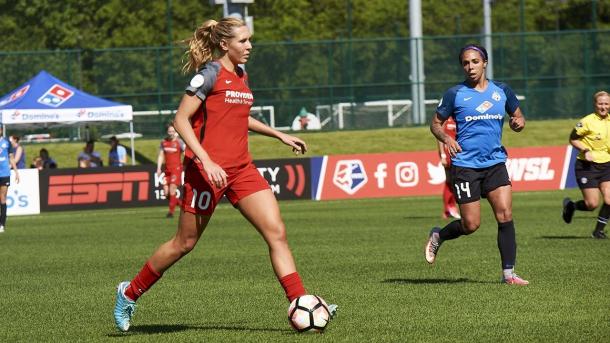 Game Information
The match between the Breakers and the Thorns can be arched live on the go90 app and will take place at 7:00 pm ET at Jordan Field, home of the Breakers.