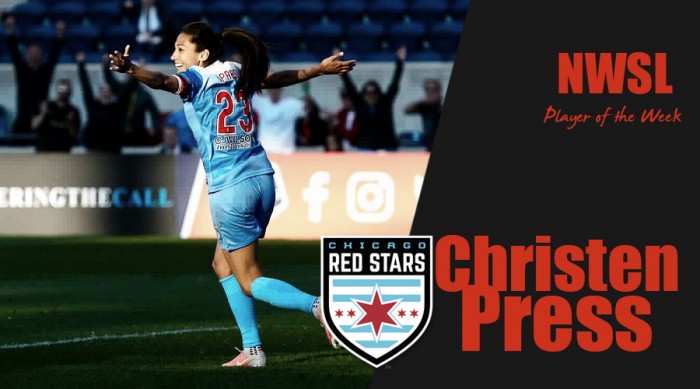 Chicago Red Stars captain forward, Christen Press, is named NWSL Player of the Week for her performance in week 6. Press and the Red Stars traveled to face the North Carolina Courage who before Sunday had a 4-1-0 record. After their 3-1 loss to Chicago, they move to 4-2-0. While the Red Stars are now 3-2-1.
The Red Stars win came off of three goals and an all around tremendous team effort. Goals for Chicago were scored by Press, Sofia Huerta, and Vanessa DiBernardo. Press's goal came from the penalty spot in the 30th minute after being fouled in the box by Courage goalkeeper, Sabrina D'Angelo. Press calmly buried her second penalty attempt of the season. The penalty was Press' second goal of the season.
Press also recorded an assist during Sunday's victory over the Courage. Her assist was a ball into the top of the box to Huerta where she brought the ball down and maneuvered around center-back Abby Dahlkemper. Huerta got a shot off in front of Dahlkemper and curved it into the upper 90 out of the reach of D'Angelo. That goal was named NWSL goal of the week.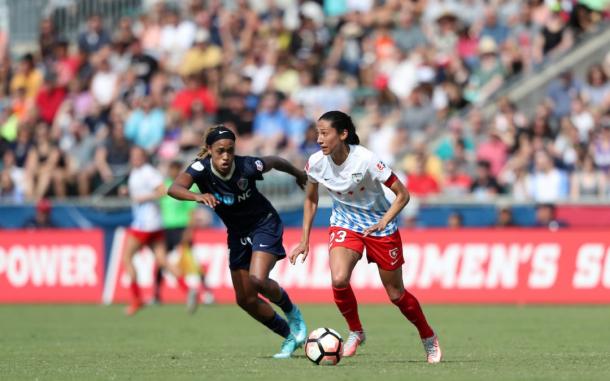 Press has played all 540 minutes of this season's games. She has 14 shots on goals which are a league high. In addition to her goal and her assist Opta recorded that Press completed 86.2 of her attempted passes.
Press is also a member of the U.S. Women's National Team and was on both the 2015 World Cup winner roster and the 2016 Rio Olympic roster. Press plays alongside Chicago Red Stars teammates Julie Ertz (formerly Johnston), Alyssa Naeher, and Casey Short. Since her first cap in 2013 Press has 83 caps and 41 goals for the National Team.
Captain Press and the Red Stars are back in action on Saturday for week 7 play. The will face the Courage again, but this time the match will be in Chicago. Kickoff is set for 4:00 p.m. EST on Saturday at Toyota Park. The two teams second meeting in as many weeks can be watched on NWSLsoccer.com as well as the go90 app and website.
Previous Winners