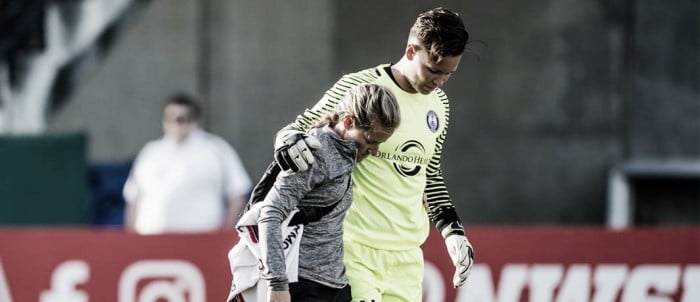 After a match that saw the Orlando Pride come away with a credible point after a 1-1 draw against Seattle Reign FC, all eyes turned to the team's official website to hear news about Ashlyn Harris and the injury she picked up during the game. The team announced today that the goalkeeper is set to miss eight weeks due to a quadriceps injury near her hip.
Harris will be a big loss for Orlando
No team would like to lose their first choice goalkeeper so early in the season but that is the position that the Pride finds themselves in. Not only was Harris named the NWSL Goalkeeper of the Year in 2016 but she had also registered NWSL Save of the Week honors twice so far in this season as well. Harris had been in good form for Orlando has well, saving 23 shots in her six starts so far this season and averaging 1.3 goals per game. Her experience in the leading a backline will be missed as well as her talents in goal, and Orlando will have to hope that their backups can hold the ship steady until Harris is healthy and match fit again to start in goal.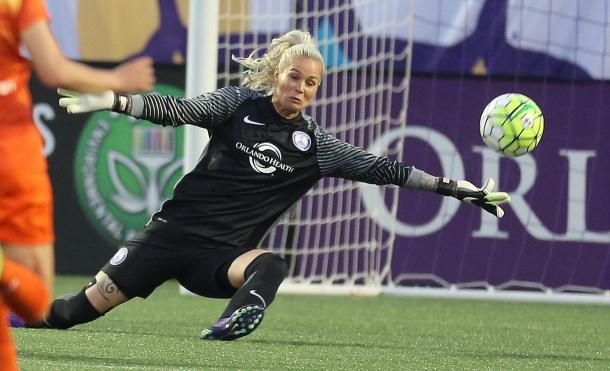 Replacements may be needed for Harris
The current number two on the Pride's roster is Caroline Stanley who was signed to them team after the previous number two, Aubrey Bledsoe, was ruled out of the match against the Seattle Reign. If Bledsoe recovers in time, she will be expected to start against the Pride's opponents this weekend, Sky Blue FC. If not, Stanley will be in between the sticks for the team just as she was against the Reign after Harris had to leave the game in the first half.
Stanley will no doubt want to fight for the starting spot considering Harris' extended time out but Bledsoe was signed to be the backup goalkeeper by the Pride and her overall game is a better fit for the team that Stanley's. Head coach Tom Sermanni will have to make a tough choice in the coming weeks, one that could likely impact his season even more after Harris' injury, as selecting the wrong goalkeeper to start could influence the team negatively during a long stretch of games without their first choice goalkeeper.