 Every season, there are several clashes between Portland, Seattle, and Vancouver. They're always highlights of the schedule - the Cascadia Cup is a great adjunct to the MLS trophies handed out every year - and the six games against Portland's Northwest (or Southwest, in Canadian geography terms) rivals are, playoffs aside, the biggest dates on the MLS calendar.
I mean no offense to the wonderful city and team of Vancouver when I say this, but the Seattle rivalry is probably the biggest one that Portland has - Seattle's geographically closest to Portland, of course, and the two cities have a rivalry in most things, except NBA basketball. One city is always trying to outdo the other in whatever - best beer, best food truck, best doughnut, you name it, Portland and Seattle have a rivalry in it.
That rivalry, of course, extends to the soccer field. Both the Timbers and the Sounders have been around for more than 40 years. That's a blink of an eye in European soccer terms, but in the US, that's positively Colonial in its age and intensity. And for most of those 40 years, let's be honest, Seattle's had the better of the rivalry - they've had more success, won more trophies, and generally been the higher profile of the two teams nationally.
If the winning of MLS Cup is taken as the point of the playoffs, though, Portland have a far superior success rate in those playoffs, winning a championship in half of the playoffs they've participated in. Seattle, of course, have never missed the playoffs in their MLS existence, but that long playoff tenure only bore fruit for the first time in eight tries last season, when they beat Toronto FC to claim their first MLS Cup, a year after the Timbers won their first.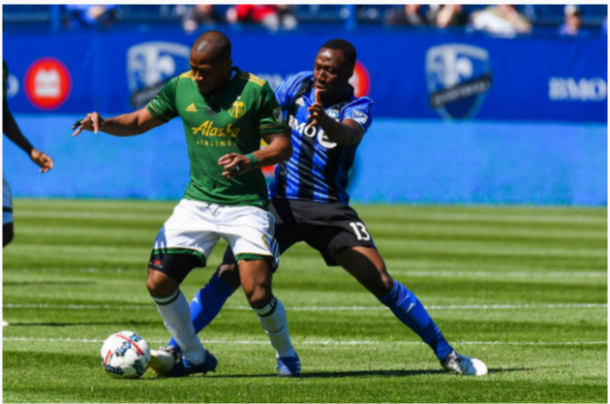 Darlington Nagbe will have to bring more to Seattle than he did to Montreal
David Kirouac/Icon Sportswire via Getty Images
The one problem with the Portland/Seattle rivalry, as far as Saturday is concerned, is how lopsided it is in favor of the home team. This is what has happened in games between Portland and Seattle since Portland entered MLS in 2011:
POR results in SEA: 8 GP, 0 W, 2 PTS, -10 GD
SEA results in POR: 9 GP, 2W, 8 PTS, -6 GD
So yeah, there's definitely a home team advantage in this rivalry. Which is where Saturday poses a huge problem for Portland - they have never won in Seattle in a regular season MLS game, and in this game, they'll be without the services of Diego Chará, who is serving a suspension for a stupid slap to the stupid face of stupid Ignacio Piatti last Saturday in Montreal.
Fortunately, other than Chará, the Timbers are fully healthy, so while we'll probably see more of Amobi Okugo or Ben Zemanski than we'd like to see, it should be more or less a full strength squad otherwise, which will be helpful against a Seattle team who seemed to find their feet for one of the first times all season last week against Real Salt Lake.
Predicted Lineups
Portland Timbers predicted starting XI: Gleeson; Vytas, Ridgewell, Miller, Powell; Okugo, Guzmán; Blanco, Valeri, Asprilla; Adi

Seattle Sounders predicted starting XI:
Frei; Evans, Marshall, Alfaro, Jones; Roldan, Alonso; Shipp, Lodeiro, Dempsey; Morris
Referee:
Mark Geiger
What/Where/When/How
Portland Timbers v. Seattle Sounders
CenturyLink Field, Seattle
Saturday, May 27, 2017
12PM PT
TV:
Fox/Fox Deportes