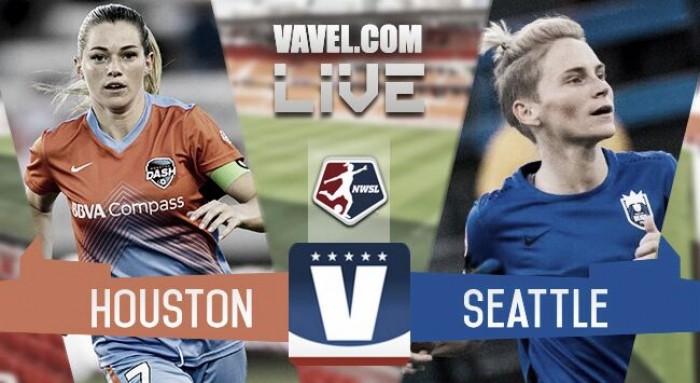 FULL TIME: Houston Dash 0-2 Seattle Reign
90+5' - Daly colapses on the ground.
90+5' - Daly tries from distance but Kopmeyer catches it
90+5' - Andressa flicks it behind in and just barely misses by hitting the post! Defense kicks it out for a corner
90+5' - Beckie takes a look at goal and it's expertly tipped over the bar by Kopmeyer for a corner
90+5' - Houston earns a corner
90+5' - Poliana's shot goes right into a defender, playings calling for a handball, but none given
90' - 5 minutes stoppage
84' - Kiersten Dallstream checks in for Rapinoe
82' - Andressa attempts a curler, but it goes over
81' - Poliana takes a shot outside of the box, but Kopmeyer is able to catch it without much difficulty
79' - Poliana checks in for Ohai
77' - Teams take a hydration break
77' - Ohai tries her luck at goal but her shot is off target
75' - Lindsay Elston checks in for Christine Nairn
74' - Flurry of chances for the Dash, but Seattle earns a free kick in their half.
72' - Houston earns another corner
72' - Hagen already making an impact as she steals the ball from Utsugi and her shot is deflected out for a corner
71' - Sarah Hagen comes on for Prince
70' - Andressa tries her luck at the edge of the box, but Kopmeyer handles it easily
69' - Ohai beats her defender and tries her shot, but Kopmeyer blocks it. Ohai tries against and it goes over for a corner.
68' - Ball played through to Ohai on the wide left, but she's called offside
66' - Houston Dash 0-2 Seattle Reign
64' - GOAL! Seattle patiently builds the attack until Johnso is able to slot the ball into the net, beating Williams
60' - Daly dribbles all the way down the field and tries to play Ohai, but Stott is there to receive
59' - Fishlock tires a similar shot, but it's over once again
57' - Fishlock tries from the top of the box, but it goes over
56' - Prince and Beckie play off of each other, but Beckie's shot is bobbled then collected by Kopmeyer
55' - Nairn is back up and play continues
54' - Nairn is on the ground
53' - Andressa dribbles arounds defenders but is fouled by Rapinoe a few feet away from the box. She plays it quick but Brooks' shot is off target
52' - Right in front of the face of goal, the Dash are unable to put the ball away and ti geos out for a throw in
51' - Dash earn a corner
51' - Kawasumi plays a ball through for Johnson, but Johnson is called offside
50' - Dash counter quickly after clearing the ball, but Prince's shot goes just wide
49' - Seattle earns a corner
46' - Denise O'Sullivan checks in for Brian
HALFTIME: Houston Dash 0-1 Seattle Reign
45+7' - Utsugi tries her luck from distance, but it goes over
45+7' - Rapinoe dribbles into the box, but Daly comes to tackle it out of her possession
45' - Minimum seven minutes stoppage announced
45' - The Dash earn a corner
45' - Johnson the rookie for Seattle almost scores, but Williams dives to the ball in time
43' - Levin walks off the field, Privett and Rapinoe are fine
42' - Rapinoe almost gets another, but Williams tips it away and Daly collects. There are multiple players on the ground and the referee stops play.
40' - Andressa tries for a nice corner at the corner of the 18, but Kop catches it easily
38' - Ohai takes a similar shot on the opposite side of the box, but Kopmeyer is there to save it once again
38' - Andressa plays a ball through to Ohai, but her shot is saved by Kopmeyer
34' - Game resumes. Houston trails 1-0 to Seattle
31' - Both teams will now have a player hydration break.
31' - GOAL! Seattle counter immediately after the corner and after a quick 1-2 with Rapinoe and Johnson, Rapinoe is able to beat a backtracking Williams for a goal with a deflection
30' - Prince gets on the end of a ball played through to her, but her shot hits off the cross bar. Ohai tries for the rebound, but Stott heads it out for a corner first
29' - Johnson and Privett get caught up in a tumble and the foul goes Houston's way
28' - Privett jumps high for the service but she's called for the foul with her hands on a defender's back
27' - Ohai threads a ball through to Beckie, but before Beckie can get a shot off, a Seattle defender slide tackles it out for a corner
24' - Johnson checks in for Yanez
23' - Yanez is carried off on a stretcher, Katie Johnson is warming up
22' - Play is called to a stop as Yanez is down on the edge of the center circle
21' - Dash player comes up for a high kick and Seattle earns a free kick
20' - Dash earn a corner kick
19' - Ohai collects the ball endline and she crosses it, but a Seattle defender heads it out for a deep throw-in
17' - Ball played through for Ohai, but she's called offside again
16' - Daly comes off the field by herself, seems to be a rolled ankle
15' - The ball goes out for a Dash throw in, but Daly is down and ref stops play
14' Andressa is fouled just behind the halfway line. Rocarro plays it short to Levin
10' - Seattle's counter leads to Rapinoe getting end line, but her service is over everyone
10' - Beckie sneaks best the Seattle backline and goes one-on-one with Kopmeyer, but her shot past the wide goal post
9' - Ohai called offside after trying to chase after a through ball
8' - Patient build up from Seattle before Rapinoe finds the ball and plays it over the top of Yanez whose shot goes just over the bar
7' - Pickett crosses the ball, but it goes over everyone and Levin sees it out for a Dash goal kick
3' - The ball is jumbled quite a bit in the box until Rapinoe finally clears, but it falls to Levin who plays it wide. The cross by Beckie goes over everyone and out for a goal kick
3' - Houston earns their first corner of the match
2' - Andressinha plays a ball over the top of Ohai, who battles with her defender until someone opens up. Beckie tries the shot, but it's over the bar
1' - Seattle off to the attack early, but Houston is able to clear it
1' - And we've kicked off!
Due to today's temperature, the game will consist of player hydration breaks.
Seattle Starting XI: Kopmeyer; Barnes, Corsie, Stott, Pickett; Nairn, Fishlock, Utsugi; Yanez, Rapinoe, Kawasumi.
Houston Starting XI: Williams; Daly, Roccaro, Privett, Levine; Brooks, Brian, Adressinha; Prince, Beckie, Ohai.
Keys to the Game for Seattle: Expose all of Houston's holes. For some reason, the Dash can't seem to find the perfect Starting XI, and even when it's solid, they don't click on the field. The Reign's offense could very much have a field day - like they did in their last match up - if they find the right areas to penetrate in Houston's line up.
Keys to the Game for Houston: If the Dash want to keep the score low and have a chance to split points or win, then defense has to be solid. In their last match up against the Reign, not having Janine Van Wyk available truly messed up the organization of the back four, and throwing rookie Jane Campbell in goal against a team with a perfect record against Houston wasn't the best of ideas. In addition to locking down the back, having Kealia Ohai wide on the right side is crucial for Houston. Having her all over the place may help at times, but Ohai has been known to be most dangerous on the right flank.
With the game in the late afternoon of the Texas heat, it will be interesting to see how both sides react. Although they have the advantage of being acclimated to such conditions, it seems like the heat is even too much for the Dash sometimes.
On the other side, the Seattle Reign have a perfect record against the Houston Dash since 2014, when Houston became the first NWSL expansion team. Although the Dash can be a tough opponent for the Reign at times, they always come through with the win in the end.
Houston Dash vs Seattle Reign Live Stream
Houston enters the match with a record of 2-4-0 (win-loss-tie) for the 2017 season, with 1-1-0 record at home. So far, it seems like the same Houston Dash everyone is familiar with, struggling to win despite having enough of the right pieces to get results. This game will be huge for the Dash, seeing as they're back at home, and they are facing a club who became the first to overcome a 2-0 deficit in the NWSL - against none other than the Dash in Houston. Most recently, the Dash suffered a huge 5-1 loss to the Seattle Reign last month.
The Seattle Reign is coming off of a tough 1-1 draw wth the Orlando Pride at home. Being on the road will be difficult with all the travel, but Seattle has been known to be able to produce despite being away from home.
This is an important game for the Houston Dash. Back at home after losing on the road to Sky Blue FC, they will need to keep their heads up. The last time they were at home, on May 13, they lost to Sky Blue FC in a 3-1 match.
Houston Dash vs Seattle Reign Live Score and Result
Welcome to VAVEL USA's LIVE coverage of the 2017 National Women's Soccer League match between the Houston Dash and the Seattle Reign. My name is Bianca Verar and I'll be your host for this game. We will provide you with pre-game analysis, roster updates, and news as it happens here on VAVEL. This game will be broadcasted with the Lifetimechannel and app.