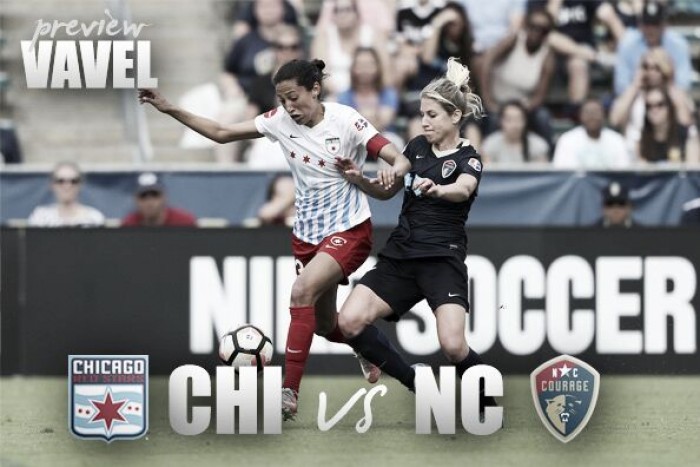 The NC Courage still stand in first place as their previous game against Sky Blue FC on Wednesday resulted in a 2-0 win. Last Sunday, the Courage hosted the Chicago Red Stars, who celebrated a 3-1 win.
NC Courage looks to comeback from previous lost against Chicago
The victory against Sky Blue broke North Carolina's two-game losing streak and created a momentum for the Courage as they still managed to stay in first place. This win also set the Courage to be in the lead by five points as Chicago is just below them in second place with 10 points.
Forward Christen Press scored the leading goal in the last meeting for the Red Stars, which had a domino effect as midfielders Sofia Huerta and Vanessa DiBernardo managed to score within 15 minutes of the match. Press had many opportunities, which allowed her to also assist Huerta's goal in the 37th minute.
The Courage need to see more victories rather than two consecutive losses in order to remain at the top. Since their last game against Chicago didn't play out well on their home field, North Carolina will have to work past being visitors on the pitch of their rivals who conquered them on their own home turf. They will have to come out strong and ready to see results that will benefit them in the long run to keep them on top.
Chicago hungry to reach the top
The Red Stars currently have a 3-2-1 game record and are in second place in NWSL standings. If they manage to see another victory against the Courage, they could gain up to three points, but Sky Blue FC is just behind them with 10 points and could also achieve three points against Orlando Pride this weekend as well.
Chicago has managed to score in their past 14 home matches and seeing that their last game result was a 3-1 win against the Courage definitely puts them with a higher advantage. Forward Christen Press has been on the run and was even named Player of the Week as she's created new opportunities and has scored significant goals for the Red Stars, which will put the Courage defense to the test.
Courage goalkeeper Sabrina D'Angelo was at the back of the net when Chicago saw their 3-1 victory and made five saves throughout the match. In North Carolina's recent 2-0 win against Sky Blue, backup goalkeeper Katelyn Rowland made her first start of the season and was successful in doing so as she made two saves. Based on these results between the two goalkeepers, this puts a heavy decision on head coach Paul Riley to see which goalie will be a perfect fit for this competitive match.
The Red Stars will host the Courage at Toyota Park this Sunday at 4pm ET and can be viewed live through the go90 app.