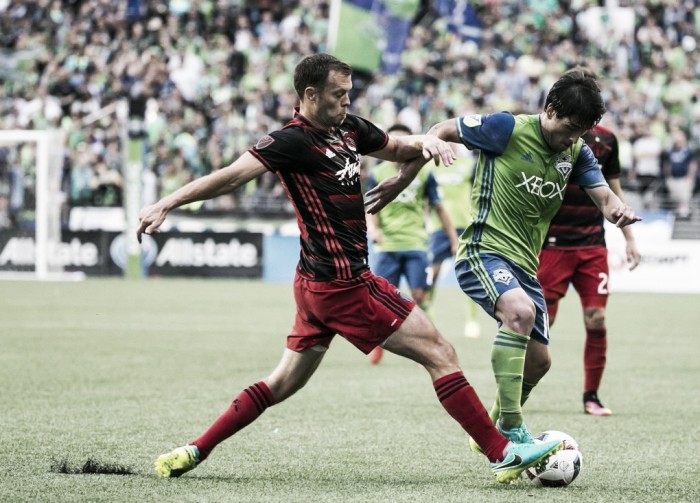 At the beginning of each Major League Soccer season, fans in the Pacific North-West always circle a few games in particular; the home and away series between the Cascadia teams. This weekend, Seattle Sounders FC welcome Portland Timbers FC to CenturyLink Field as the hosts look to move up the Western conference table after taking some unexpected results over the last few weeks.
The Sounders backline looks to find its footing again
With only one win in their last five matches, the Sounders have found themselves languishing in eighth place so far this season in the West. A large part of that is due to ease that teams have found in exploiting an injury-ridden Sounders defense. Over the last few games, Seattle has conceded multiple goals in each game which has made it difficult for their attack to find enough goals to eek out draws, let alone wins. The doubt over Roman Torres and Osvaldo Alonso's fitness coming into this weekend's match up makes things even more difficult for the Sounders as Torres had been playing well so far this season and Alonso is one of the premier defensive midfielders in the league. Should these two players not be able to play tomorrow, that leaky Sounders defense will have a hard time containing a very potent Portland attack.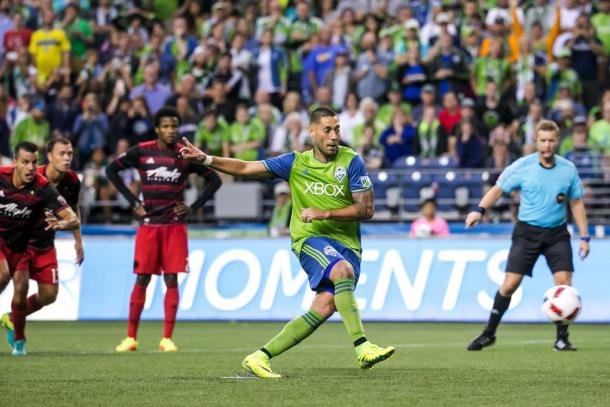 That is not to say that Seattle does not have it's own strengths. Their attack is, on paper, on of the best in the league but they have struggled to put away the numerous chances they have been creating. Head coach Brian Schmetzer believes it's only a matter of time before his team finds the back of the net on a regular basis. He believes that they are a good team and that all they are lacking is "the belief that they are a good team". That may seem strange to say of a team that has the likes of Clint Dempsey, Jordan Morris and Nicolás Lodeiro but as evidenced by Dempsey's penalty miss last time out against Real Salt Lake, confidence is low within the Sounders camp at the moment. A game against Portland may exactly what they need to push more self-belief into themselves.
The returning Valeri and Nagbe may be game-winners for Portland
The Timbers come into this game in a similar position to the Sounders. They too have only managed one win in their last five games and it has seen them slide from the top of the West to fifth in the conference. During that period, Diego Valeri and Darlington Nagbe were out through injury but they are both set to return for this massive game. They will be needed as well as Portland are coming from a 4-1 loss against the Montreal Impact and need to show their fans that they still have some fight in them and have not given in to the issues that are currently plaguing their form. Head coach Caleb Porter stated that the team knew how unhappy fans were and that they are "going to get back to work" and find their form again. He also added that the "best way to make it right" was for the Timbers to get a result in the next game against their "biggest rival".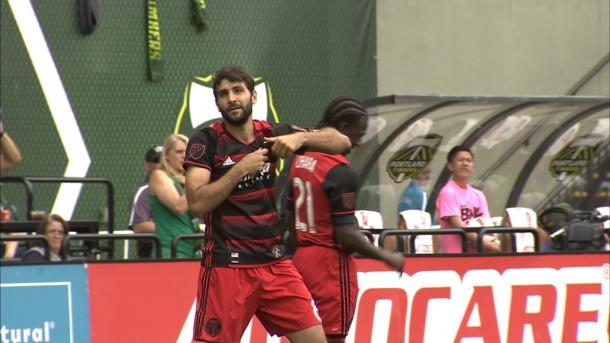 At the back, Portland will continue on without defender Liam Ridgewell who is still out due to injury. That will not make the Timbers' backline's task any easier against a Seattle offense than can dismantle the very best teams in the league on their day. Portland's defense will have to operate at their very best to keep Seattle out and hope that their front men cause enough damage further up the field to limit the amount of touches the likes of Dempsey and Lodeiro can get on the ball in the attacking third.
Prediction
Last year, in the three matches that the two teams were involved in, Portland won two of those three matches and lost one. The one match they lost against the Sounders was at CenturyLink Field and the Timbers have never won in Seattle during the regular season. The Sounders do have an advantage at home against their fiercest rivals and will look to use it. The Sounders may not have performed up to expectations so far this season but if any game could kick start their season again, it's this one. Even with the returning Valeri and Nagbe, Seattle may just prove too much for the Timbers with their vociferous fans pushing them all the way.
Seattle Sounders 3 - 2 Portland Timbers FC
Quotes via Mlssoccer.com