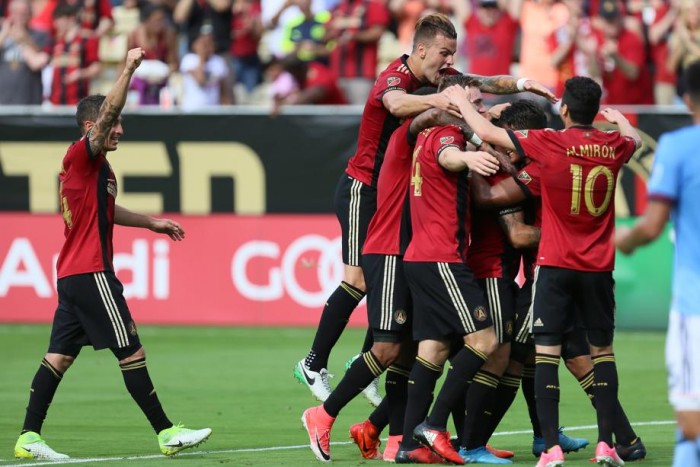 Atlanta United take their high-flying attack into Vancouver on Saturday afternoon to face a Vancouver Whitecaps team that's yet to take off this season.
The two sides both sit in seventh place in their respective conferences, but their paths have been a little different up to this point in the MLS campaign.
Team News
Vancouver Whitecaps: Vancouver will not only have their hands full on Saturday with Atlanta United, but also due to their large injury report. Defenders Brett Levis, David Edgar and Christian Dean all miss out, with the latter expected to return sometime this season. They'll also be without two midfielder as Yordy Reyna and Nicolas Mezquida are also confirmed to be out for Saturday's clash.
Forward Erik Hurtado is likely out with a foot problem, while his counterpart Bernie Ibini is a doubt with a hamstring issue.
Atlanta United: Tata Martino's men have been red-hot the last two weeks, scoring seven in their last two games, and will have the entire squad travel to Vancouver. That full squad includes star forward Josef Martinez who aims to make a return to the field after missing the last two months. Jacob Peterson is the lone member of the squad that it is confirmed to be out for Saturday.
With the potential return of Josef Martinez, Atlanta's form has a chance to improve against a Vancouver side that has yet to make a big statement this season.
Background
Atlanta United are the leading goalscorers in Major League Soccer this season, scoring 27 times in 12 games. On the other hand, Vancouver have mustered just 15 goals in their 12 outings.
Miguel Almiron has won two consecutive Player of the Week awards, scoring five times from five shots on target in his last two games.
The two sides have been just as impressive defensively as they have both allowed 17 goals on the season, ranking middle of the pack for the entire league.
While the season has been full of ups and downs for both sides, it should make for a good game as Vancouver will aim to sit back and invite pressure before countering, which may play into Atlanta's hands.