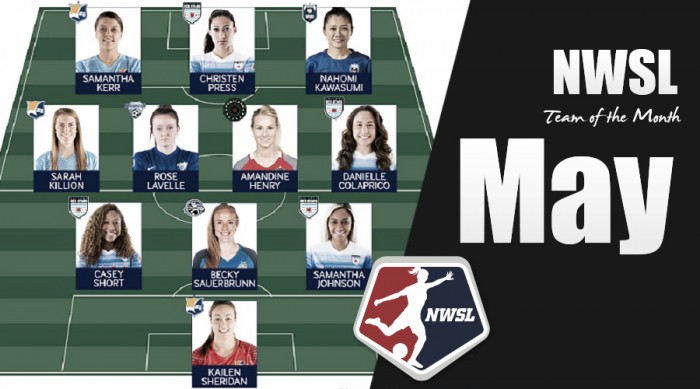 Earlier on Wednesday, the NWSL released its best XI for the month of May, reflecting the players that have had the most impact in their position for the past 4 weeks of NWSL play. The team includes Sam Kerr, the NWSL Player of the Month, as well as the Chicago Red Stars' Christen Press and Seattle Reign's Nahomi Kawasumi up front. The XI also acknowledged the continuously strong play of Rose Lavelle in the Boston Breakers' midfield, and Sky Blue FC's keeper Kailen Sheridan's ability to keep her team competitive in tough matches (though one could also certainly argue for a spot from Seattle's Haley Kopmeyer or Boston's Abby Smith in that position, showing the NWSL's strength and depth at goalkeeper.)
Another nice piece of recognition for the month went to Chicago's Sam Johnson, who has anchored a brand new center-back pairing for Chicago, along with Katie Naughton, to back up Julie Ertz's new role in the Red Stars' midfield. Even though the NWSL only selected three defenders for the honor, her work (Chicago was unbeaten in May, with 4 goals allowed) was deemed fit to be recognized, along with FC Kansas City's Becky Sauerbrunn and Johnson's Chicago counterpart Casey Short. Rounding out the XI is the midfield group of Sky Blue's Sarah Killion, Portland Thorns' Amandine Henry, and Chicago Red Stars' Danny Colaprico.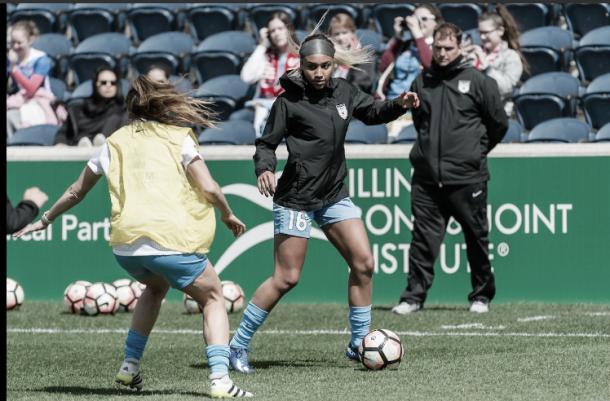 The makeup of the XI reflects a month of May where the Red Stars in particular excelled, and where a low scoring season really started to pick up with some fantastic goals. The players really standing out for their teams tended to be on the offensive half of the field, sometimes for the first time (Henry tallied her first Portland goal in last week's match against the Boston Breakers.) A mix of youth and experience here really goes to show who some of the breakout stars of NWSL season 2017 are turning out to be.
NWSL May 2017 Best XI:
Kailen Sheridan (Sky Blue), Casey Short (Chicago), Becky Sauerbrunn (Kansas City), Samantha Johnson (Chicago), Sarah Killion (Sky Blue), Rose Lavelle (Boston), Amandine Henry (Portland), Danielle Colaprico (Chicago), Samantha Kerr (Sky Blue), Christen Press (Chicago), Nahomi Kawasumi (Seattle)