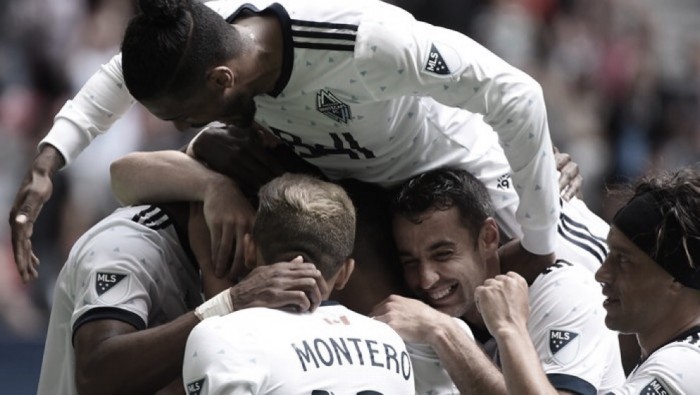 The Vancouver Whitecaps hosted new expansion side Atlanta United in a West versus East showdown. However, Kendall Waston and Cristian Techara had the last laugh as they lifted their side to victory.
Atlanta defender Greg Garza opened the scoring early in the match with his goal in the seventh minute. But Vancouver came from behind to claim all three points.
Kendall Waston: The hero
Captain Kendall Waston received a great ball from teammate Andrew Jacobson inside of the penalty area. Waston used his chest to control the ball, then on the half volley ripped it past Atlanta keeper Alec Kann in the 31st minute.
A little while later, Waston got his second of the game when Techara sent in a corner kick to the penalty area and found Waston's head. The goal made it 2-1 as the teams headed into the locker room for halftime.
The 'Caps really put Atlanta under pressure during the first 15 minutes of the second half. A good chance came in the 57th minute when Techara picked out Fredy Montero. The header from the Colombian international, however, went just over the crossbar.
Atlanta did have their fair share of possession. One attack was broken up by Montero and company. With Vancouver on the break, Bolanos was in on goal when he took a shot but Kann tipped it over the bar for a corner kick.
On the ensuing corner kick, a clearance from captain Michael Parkhurst found Techara again, who picked out Waston in the 18-yard box. The header from the captain was on target but just went wide of the net.
Who Scored Vancouver's Third Goal?
Well, the third 'Caps goal was a rather, interesting one. Cristian Techara curled in a ball, which found the head of Tim Parker. The ball crossed the line but was smacked out by Kann. There was no signal from head referee Robert Sibiga. When Kann cleared the ball, it fell to the feet of Montero who made sure it went into the back of the net.
Now here's the thing. The initial header from Parker, upon replay, crossed the line. But since there was no signal from the official or his assistant on the near side, Montero's shot is what stood.
Speaking of Sibiga, he was the center of attention when he awarded a controversial penalty to Atlanta. In reality, Montero was kicked from behind. After communication with his assistant, Sibiga corrected the call and gave the Whitecaps a free kick.
Vancouver Seal Win
Kendall Waston and company sealed the 3-1 victory over Atlanta United at home. Both sides fought hard until the referee blew for full time, but the 'Caps prevailed and took all three points.