 One of the things that I both love and hate about soccer is that the result of the game doesn't always correlate with your feelings about the game. There are absolutely fantastic games, where your favorite team can play transcendently well and end up having nothing to show for it because of a flukey thing that happens like a momentary defensive lapse or a long-range shot that takes a deflection and goes in, tying the score, or whatever. There is also the opposite: games where your team plays like hot garbage and still manages to get something out of it, despite all evidence that they shouldn't.
Then, there's games like Friday night in Portland, where the Timbers, for the first time in weeks and arguably all season, controlled the game from start to finish. It never for one second felt like they were going to concede a goal to the Earthquakes, much less drop points. It's the first game I've been to this season where, after 15 minutes, I was just confident that the game was going to go the Timbers' way.
And go their way it did; Portland cruised to a 2-0 win, aided by Darwin Ceren's sending off for his second yellow inside a minute in the 37th minute. From then it was only a matter of time before the Timbers made San Jose pay.
The Good
Diego Valeri. In recent weeks Valeri hasn't been great; whether he was carrying a minor injury or just going through one of those stretches players go through, he has been ineffective and not his usual dominant self for most of May. But it's June now, and Valeri seems back. Not only did he score both goals, but he was a dynamic presence all over the midfield, always getting himself into dangerous positions and drawing a lot of attention from the San Jose defense, which opened up space for a lot of good Timber motion. In a game without Darlington Nagbe to do a lot of that work, Valeri definitely stepped up and more than filled Nagbe's boots as well as his own.
Zarek Valentin. Valentin is, as I've mentioned before, pretty much the dictionary definition of "journeyman". He's not going to dominate games, you don't necessarily want to build a team around him, but he'll definitely do a job for you. On Friday night, though, he played like a) he knew who I was and b) he was desperate to prove me wrong. He was a revelation in defense, pressing like crazy, disrupting all over the back, and basically making life miserable for the San Jose attack, which in no small part thanks to Zarek registered a whopping zero shots on goal in the first half. This was easily his best game as a Timber, and it was a ton of fun to watch.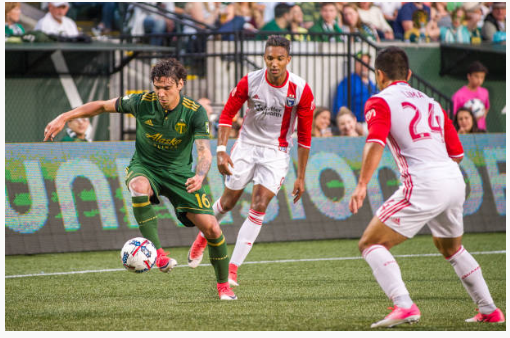 The Bad
Finishing. It may be churlish to complain about finishing in a game that the Timbers won easily, but this game should have been probably 5-0 at the half. Fanendo Adi, scoreless now in five games, should have had at least two goals, and overall the Timbers will look back on this game and shake their heads at what could have been, while at the same time being happy about the win. Still, with FC Dallas coming to town next weekend, the Timbers will need to be much less profligate.
Discipline. David Guzmán picked up a yellow card Friday night, which means he's suspended for Portland's next match. Problem is, Guzmán will be away on international duty this weekend, so he'll actually miss two games in a row, with his suspension to be served in Portland's next league match, against Colorado on June 17 (he will be eligible to play in the USOC match at Seattle on the 13th). It's not the worst thing in the world, but with the Guzmán/Chará pairing really starting to mature, it's frustrating that Chará has to go it alone for a week.
The Ugly
C'mon. On a gorgeous Friday night in Portland, when the Timbers broke a five game winless streak and played well in doing so? There was no ugly.