 Ashley Hatch made the most of her first ever NWSL start, bagging the insurance goal for the North Carolina Courage in a 2-0 win over FC Kansas City.
Limited Looks in opening 45
The opening five minutes set the tone for the half. North Carolina created their first opportunity in the fourth minute through the play of Sam Mewis. The midfielder dribbled forward and as FCKC's backline took a step, played a ball in behind for the run of Lynn Williams. The striker struck her shot cleanly but it landed on the wrong side of the near-side netting. The Courage continued to lay on the pressure, sometimes a bit too forcefully. Ashley Hatch received a yellow card in the 12th minute for a high kick to the face of Becky Sauerbrunn, who wasn't hurt and played the full 90.
The Courage's next best opportunity came in the 40th minute. Debinha took a corner kick and Abby Dahlkemper jumped to get a head on it. It went past FCKC goalkeeper Nicole Barnhart but ricocheted off the post, and Brittany Taylor attempted to clear it but sent it off the goalpost again. Williams had a go at the deflection, but her shot was blocked and cleared by Christina Gibbons. It wasn't meant to be for the Courage in the first half, and the teams went into the locker room tied 0-0.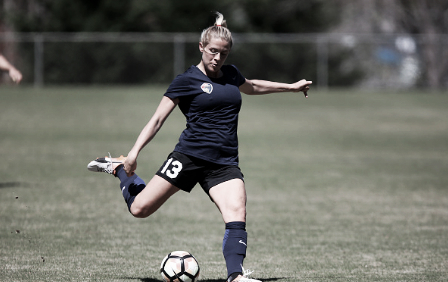 The Courage finally break through
North Carolina broke the deadlock in the 60th minute through an Abby Dahlkemper corner. Abby Erceg headed the ball goal-wards, and Zerboni was there to flick it backwards into the net for a 1-0 lead. It was Zerboni's second goal of the season.
The Courage didn't need much longer to double their lead. In the 67th minute Lynn Williams played a curling ball into Hatch, who took a touch beyond her defender and buried the ball for a 2-0 score.
"Lynn had the ball and I just looked up and made eye contact with her and she gave me a beautiful ball and I just had to finish it," Hatch said.
The goal was Hatch's first for the Courage, and it came in her first career start. After scoring, she sprinted into the arms of her teammates on the sidelines.
"I've been on the bench for most of the games so we've been cheering everyone on and anytime one of us goes on we always say 'if you score make sure you come over and give us a hug' so I had to make sure I did that," said Hatch.
Hatch's goal sealed the win for the Courage, who retain the #1 spot in the NWSL standings through the upcoming break. For FC Kansas City, the loss snapped a 2-0-2 run by the Blues in their last four games.
"It was tough. It was a tough loss," Sydney Leroux said. "I think we definitely could have played a lot better so I think we're a little upset with that and we're gonna have to go home and figure it out. We had such a good run up until this point so it's not awful, but it's a tough loss today."
Leroux's work rate off the ball was a bright spot for Kansas City, but the club are still struggling to create goals. Leroux found her scoring touch last month, but after taking 2016 off to give birth to her first child, she's still bringing elements of her game up to par.
"It's not my finishing touch I'd say it's my speed," Leroux said. "My body is different, so it's trying to figure out how to work this new body like I used to work it and it doesn't work that way. It's almost like you feel like you're running in quicksand, so I don't feel fast, so I have to think of other ways to score goals or other ways to help the team, if that means me checking in rather than looking behind, then that's what I'm gonna do. I think it's actually made me a better soccer player, having a baby, because I can't just use my speed like I used to, so I've gotta play some good soccer."
FIFA Break Plans
After the game, several players will pack their bags and head to Europe for international duty with the U-23 and full US Women's National Team. Three of them, Ashley Hatch, Lynn Williams, and Abby Dahlkemper earned their first cap together on October 19, 2016. Dahlkemper was named to the USWNT roster for upcoming friendlies against Sweden and Norway, along with North Carolina teammates Jaelene Hinkle, Samantha Mewis and Lynn Williams.
"It's always an honor to play for the US, so excited to get back out there," Dahlkemper said. "It'll be nice and comforting that they're going to be there too, but everyone is awesome on that team and everyone's very welcoming and comforting. So I'm just really excited to get out there."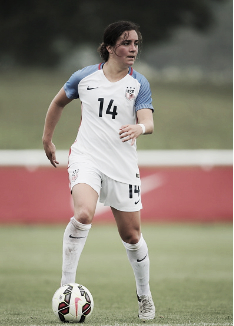 They will be joined by Sauerbrunn. Hatch and Gibbons will travel to Sweden to compete in the Open Nordic Tournament with the U-23 WNT.
"I think anytime that you put on the crest it's a humbling experience, so first and foremost I'm enjoying it, and second of all I'm excited to get some international competition, see something a little bit different that maybe what the NWSL has," Gibbons said. "It's a different challenge because you're playing with different people so you can pick up different things and learn different traits from different people, so I'm hoping for a good week and just to learn a lot."