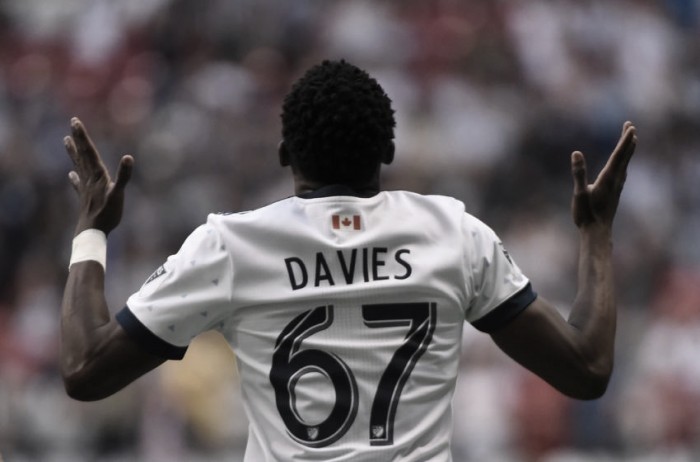 Alphonso Davies, a midfielder for MLS side Vancouver Whitecaps earned his Canadian citizenship this past Tuesday. In addition, he earned his first national team call-up as well. He accepted a call-up for Canada's match against Curaçao on June 13th.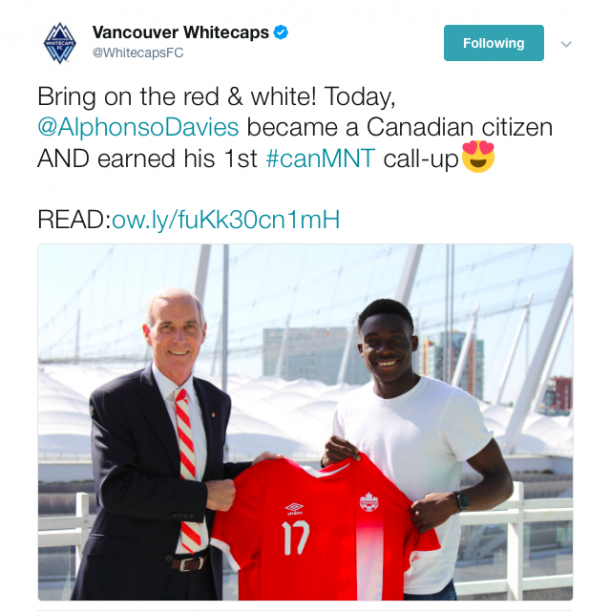 Originally born in Liberia, the 16-year-old has lived in Ontario since his family moved about 11 years ago. Since his league debut, Davies has made 19 MLS appearances; seven of those starts. Davies has four goals in his career across all competitions. Thus including the Canadian Championship and the CONCACAF Champions League.
The Early Years
Before his move to Vancouver, Davies lived in Edmonton, Alberta where he played for a number of teams. Alphonso was only five-years-old when he and his family made the switch.
The Whitecaps phenom has been part of Canada Soccer's Men's EXCEL Program since 2014. He joined at the age of 13. Davies made his pro debut at age 15 on July 16 of last year. In addition, he became the youngest goal scorer to ever score a goal in the Canadian Championship at the age of 16.
Davies said in a statement, "I am really excited to be called into Canada Soccer's Men's National Team. Canada Soccer worked extremely hard to get me where I am right now and I am very grateful. I am really glad they took their time and put the effort in me in helping me get my citizenship."
"I'm not worried for him at the moment," head coach Carl Robinson told MLS. "But as the train moves slowly along, and more people jump on the train, and more hype goes with him, then there will be bigger expectations for him."
Canada National Team
The new Canadian head coach, Octavio Zambrano wants to get the 16-year-old cap-tied with the national team. He obviously is wasting no time at all. In addition to the friendly as stated above, he and Toronto FC counterpart Raheem Edwards have also been named to the provisional 40-man Gold Cup squad this upcoming summer.
Davies and the 'Caps take on FC Dallas June 17th at 10:00 pm EST. You can catch the match on TSN 1, TSN 4, MLS Live, and TXA-21.