 One of the problems with MLS running a March-October schedule is that the MLS schedule runs through the international calendar; most major leagues are done for the season now, so this weekend's friendlies and World Cup qualifiers are perfectly planned and have no impact on them.
Every year, though, MLS has to deal with several international breaks, and teams with called up players are left shorthanded during often crucial stretches of games. It's hard to call a few games in June "crucial", but the operational reality of MLS, particularly the Western Conference, is that the gap between first place and out of the playoffs is so small (there are currently six points separating first place Sporting Kansas City and seventh place San Jose Earthquakes) that most games are important, if not crucial.
This game is no exception - FC Dallas is in third place, but only two points ahead of fourth-placed the Portland Timbers. Portland, coming off a comfortable 2-0 win over San Jose last weekend, will look to keep their good home form going and jump over Dallas into that third spot this weekend.
ABSENCE MAKES THE HEART GROW FONDER
Portland will, however, have to do so without the services of both Darlington Nagbe and David Guzmán, who were both called up for their respective international sides last week. Guzmán's spot will be filled, again, by Lawrence Olum, who is arguably more effective at the DM role than as a central defender. Nagbe's replacement will probably once again be the Dairon Asprilla Experience, which works better as a theoretical exercise than an actual thing.
In his first spell with the Timbers, Asprilla played well enough but didn't really mesh with the team, and was reportedly let go for non-performance reasons. Now, his head's apparently on straight, but his performance hasn't been great. But, he is what he is, and as long as Diego Valeri is back to his normal Valeri-ing and Sebastian Blanco can pick up more of the slack, Asprilla's not a huge concern. Zarek Valentin should get another start over Alvas Powell, as Valentin continues to impress in his recent starts.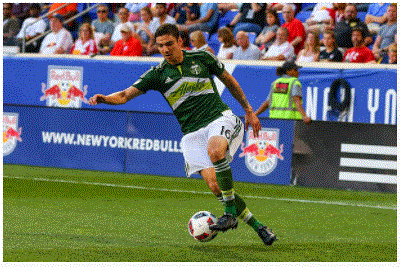 This is a good weekend to face the young juggernaut that is Dallas, though. They are missing Walker Zimmerman through injury, and through callups, they'll have to do without Matt Hedges, Kellyn Acosta, Maynor Figueroa, and Tesho Akindele. That's a whole lot of talent that isn't wearing cow horns this weekend. Dallas is coming off a 6-2 beatdown of Real Salt Lake, though, so they'll at least have confidence in their patchwork defense, which will need all the help it can get from the attack so they don't go behind too early.
PREDICTED LINEUPS
Portland:
Gleeson; Valentin, Ridgewell, Miller, Vytas; Chará, Okugo; Asprilla, Valeri, Blanco; Adi
Dallas:
Gonzalez; Grana, Harris, Hume, Guillen; Gruezo, Ulloa; Barrios, Diaz, Lamah; Urruti
Referee:
Chris Penso
WHAT/WHEN/WHERE/HOW
Timbers vs. FC Dallas
Saturday, June 10, 2017
Providence Park, Portland
Broadcast:
KPDX Portland
TXA 21 Dallas/Ft Worth
MLS Live (Subscription, blackout rules apply)