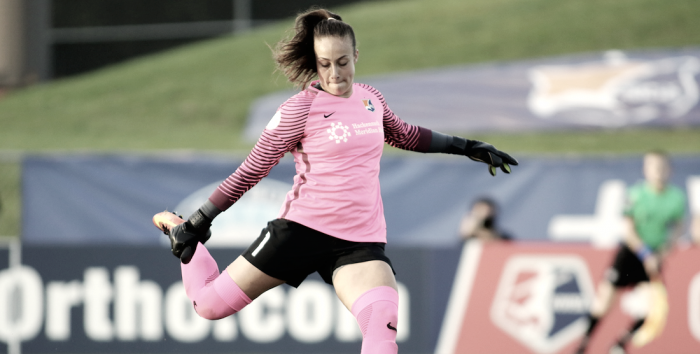 A huge problem preventing the success of Sky Blue FC has been their inability to find a consistent goalkeeper. Year to year the role of the goalkeeper has bounced around from player to player. Things changed for Sky Blue on draft day 2017. Christy Holly had two first round draft picks and most people thought he would have taken Jane Campbell for her highly regarded career at Stanford and experience with the U.S. Youth National Teams. However, Holly waited to the third round and was delighted when Kailen Sheridan was still available. Sheridan was selected no. 23 overall from Clemson University. With the results Sheridan has been giving Sky Blue this season it is fair to say that Holly and the Sky Blue fans are thankful that she was not scooped up by another team.
Early impact for Sheridan
The 21-year-old is from Whitby, Ontario Canada and has represented her country on multiple stages. Since coming to New Jersey the rookie has played every minute and has not disappointed. Sheridan has made 35 saves over the course of 9 games, making 11 in the team's meeting with the first-place North Carolina Courage. Her impressive performances throughout the month of May earned her a spot on the NWSL May Team of the Month. If Sheridan stays in New Jersey it is safe to say she will have a huge part in making the Sky Blue defense a difficult one t get through. She is driven to be the best she can be and in turn make the team the best it can be.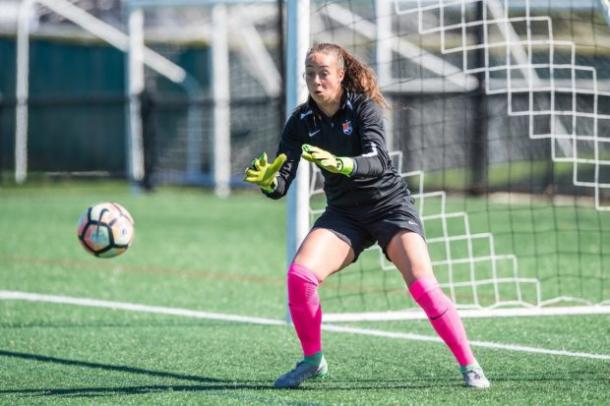 Missing piece for Sky Blue
Sheridan is exactly what Sky Blue has been missing. Sheridan is a pleasure to watch not only for her skill but for her confidence. She is rarely shaken when the opposing side is charging at her. Her decision-making abilities are far beyond her years, she knows when to come off her line and take on a player and when to hang back to wait for the attack. Those types of decision-making skills are usually ones that take years of experience to develop. While Sheridan is experienced representing her country the goalkeeper looks like she has been playing in the NWSL for years.
Young but experienced nationally
Sheridan has been with Canada's Youth National Teams since she was 15. She participated in the 2012 U-17 Women's World Cup and the 2014 U-20 Women's World Cup. Sheridan got her first cap with the full National Team in 2016 during the Algarve Cup. With the Canadian Women's National Team she has three caps with one clean sheet. Canada has three great keepers made up of Stephanie Labbe, Sabrina D'Angelo, and Sheridan. If Sheridan continues to have the season she's having she deserves to have more starts in goal for Canada.
Sky Blue's backline is young, but it is hardly noticeable
Perhaps the most important thing worth noting is the back line that Sheridan has been directing this season. Sheridan has been leading an incredibly young and inexperienced backline. Sky Blue's defenders include Mandy Freeman, Kayla Mills, Christie Pearce, Domi Richardson, Erin Simon, and Erica Skroski. With the exception of Pearce, no one on the Sky Blue defense is over 24. Sheridan, Freeman, and Mills are all fresh out of college and in their rookie season. Skroski is 23, and Richardson and Simon are 24. Having a young backline allows the defense to grow together as the seasons go on, thankfully Sheridan is a great leader that can make that happen.